We all are very well aware of the various health effects that Sugar gives to our bodies like obesity, diabetes, heart disease, and tooth decay but still, we love to spoon it to our tea/ coffee or cereal. So in a way, if you have tea or coffee every day you're consuming a lot of sugar in excess every day, additionally processed food not only increases your sugar quantity thus increasing your chances of a more unhealthy lifestyle. Say no to sugar and adapt to a healthy lifestyle with various artificial sweeteners or sugar substitute in India available in the market.
With our selection of best sugar substitute, you can add that sweetness to your beverage or dessert without worrying about those calories or carbs. Our blog shows some of the most common but best brands that can be used as tabletop sweeteners in hot or cold food items. Here is the list of top best sugar substitute in India 2022.
1. Sweetherb Stevia liquid drops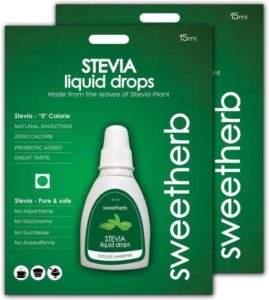 Stevia is found naturally growing in subtropical and tropical areas of Latin America. Stevia is much sweeter than sugar and contains no carbohydrates or calories. According to research stevia increases insulin sensitivity, reduces post-meal blood glucose and delays the development of insulin resistance. In short, stevia is very beneficial for alleviating sugar levels and diabetes risk. A great sugar substitute for everyone who is health-conscious and wants to cut down sugar in his or her diet. Suitable for every age group stevia liquid drops are 100% natural and safe with no additives such as aspartame, saccharine, etc. Stevia liquid drops do not only taste great but improves your overall well being with the added probiotics. Sweet herb Stevia sugar-free liquid can be used in tea, coffee, smoothies, cakes, protein shakes or any recipe that requires sweetening. With its delicious taste and healthy ingredients, it fits perfectly well into everyone's lifestyle.
How to use ?
Just one drop is used in a cup of milk/tea/coffee
Quantity – 15ml
Shelf life – 18 months
Buyers Feedback
Pros
100% safe and pure
Zero calories
Probiotics added
Increases insulin activity
Reduces diabetes risk
Cons
Inconsistent in taste
Doesn't taste exactly like sugar
Buy Sweetherb Natural Stevia Liquid
View on Amazon.com View on Amazon.in
2. Wisdom Natural Stevia Sweetener
Sweetleaf natural sweetener contains the world's best tasting stevia as its main ingredient. Sweetleaf natural sweetener contains zero preservatives and no artificial ingredients. Also, it is on the glycemic index which makes it an ideal sugar substitute for diabetic patients. Sweetleaf Natural sweetener caters to your everyday needs and satiates your desire for sweetness without any bitter aftertaste.
How to use ?
Just sprinkle it to enjoy Wisdom Natural Stevia Sweetener in your favorite hot or cold coffees, teas, lemonade or any beverage
Quantity – 35 packets in 2 packs (1 packet equals 2 teaspoons)
Buyers Feedback
Pros
No artificial sweeteners
Zero bitterness
Contains no calories and carbs
Best replacement for sugar
Cons
poor storage, seems to be clumpy
Some customers complained about weird taste
Buy Wisdom natural stevia sweetener
View on Amazon.com View on Amazon.in
3. Natures Velvet Lifecare Stevia Leaf Powder, Natural Sweetener & Detox
A quality product from nature's velvet, stevia natural sweetener is a 100% natural sweetener with no added preservatives. You get approximately 300 servings from a pack of 300grams. It also works as a herbal detox with zero calories. You can use nature's velvet stevia sweetener for every kind of sweet dish instead of sugar. Stevia also helps in alleviating blood sugar levels and keeps a check on diabetes.
How to use ?
1 gm Stevia Powder (0 cal) is Equivalent in Sweetness to 4-5 Teaspoons of Sugar (100 cals), Can be used in Cooking and Baking as Stable when Heated up to 200 Degrees, The Powder can be used in it's Natural State also Stevia is used in Soft Drinks, Pastries, etc.
Quantity – 300 gms,1000 gms (pack of 1 ,2,3 and 4 )
Shelf life – 24 months
Buyers Feedback
Pros
300 times more sweet than sugar
Works as a herbal detox
Zero calories
Value for money
Healthy and suitable for every age group
Cons
Stong leafy taste, could taste weird to some people
Buy Natures Velvet Lifecare Stevia Leaf Powder
View on Amazon.com View on Amazon.in
4. Sugar-free Natura Sweetener
Sugar-free natura is a zero calories sugar substitute which is not only beneficial for diabetic people but also is useful for your overall wellbeing. It is twice as sweet as the normal household sugar and helps you keep a check on blood sugar levels and bad cholesterols. Sugar-free natura is available in pellets, powder and liquid drop variant. Also, the packing is travel-friendly and easy to carry.
How to use ?
The pellets are sweet enough that only 1 pellet is sufficient for a cup of tea and 2 pellets are enough for a cup of sweet dish.
Quantity – 100 gms powder, 200, 300 , 500 Pellets , also comes in 0.75 gm sachet form.
Shelf life – 24 months
Buyers Feedback
Pros
Suitable for all dishes
Easily dissolvable
Zero calories which makes it a perfect choice for those who want to cut down on their weight
Buy Sugar-free natura sweetener
View on Amazon.com View on Amazon.in
5. Magicleaf Stevia Drops with 99.9% REB-A Purity

Next we have Magicleaf Stevia drops with 99.9% REB-A Purity, which acts as a natural sweetener and can be used as a healthy substitute for sugar. There are ample benefits associated with Magicleaf Stevia such as its natural ingredients directly by organic processes. All the other artificial sweeteners use chemicals such as lactose but Magicleaf Stevia has no chemicals and it is produced by farmers straight from stevia plantations. It has no added calories which in turn helps all the fitness enthusiasts to keep their sugar intake in check and enjoy all sweets as well. Another mind-blowing fact is that it runs twice as long as sugar. 4-5 drops is equivalent to 2 tablespoons of normal sugar and enough for a cup. This makes it really cost effective. Just imagine, you will be saving money and improving your health!!
The Magicleaf Stevia drops can be used in baking as well as cooking so now you do not have to bid goodbye to your favorite desserts. It is safe to consume for all including children and pregnant women. Diabetics can opt for this Stevia drops as their permanent sugar alternative for a better control of their sugar levels.
Do you know that Magicleaf uses proprietary organic technology for the farming of Stevia so that the chemical process is minimised almost completely. One key feature of this Stevia drops is that it does not have any Bitter Aftertaste. There are many reasons such as zero chemical, organic processing and unique precision in making of Stevia.
Quantity – 30ml bottle
Magicleaf Stevia Drops Benefits
Buyers Feedback
Pros
100% natural ingredients are used to make the drops
Vegan and
Sweetens the Green Tea and enhances its taste
Zero calories
No aftertaste or offnotes
Effective for weight loss
Excellent for Keto and other lower calorie diets
Safe for elderly, pregnant women and even children
Cons
Need to work hard to get the drops out of bottle
Try Magicleaf Stevia Drops
View on Amazon.in
6. Erythritol Organic Pure Sweetener Powder
Erythritol is a sugar substitute which looks and tastes just like sugar but has zero calories and is very low on glycemic index. Erythritol is very much useful to people on low carb diets. One important advantage of erythritol is that it does not cause tooth decay.
Quantity – 1 lb, 2.5 lb
Buyers Feedback
Pros
100% natural and free of additives
Vegan
Does not cause tooth decay
Zero calories
Perfect for every age group
Tastes like sugar
Very low on the glycemic index
Cons
Expensive
gets you addicted to desserts because of perfect taste and cause water weight gain so have in moderation
Buy Erythritol organic pure sweetener Powder
View on Amazon.com View on Amazon.in
7. Splenda No Calorie Sweetener
Splenda is a low-calorie sugar alternative which tastes just like sugar eliminating the side effects of sugar. Splenda sweetener is the best choice for health-conscious people to satiate the desire for sweetness without compromising with their health. You can use Splenda sweetener in every sweet dish in place of sugar. It comes in portable packing which is to carry. Splenda sweetener is fit for your everyday lifestyle.
Quantity- 100/200/400/1200 sachets, 300 / 500 tablets
Shelf life- 36 months
Buyers Feedback
Pros
Splenda sweetener is low in calories
Ideal for every age group
Suitable for people with diabetes
Buy Splenda No Calorie Sweetener
View on Amazon.com View on Amazon.in
8. So Sweet Stevia Sweetener
So sweet stevia is 100% natural and contains zero calories. Ideal for diabetic patients and diet conscious people, so sweet stevia contains naturally occurring stevia as its main ingredient. Stevia assists in weight loss and lowering bad cholesterol. Also, stevia has been proven to exhibit anti-carcinogenic properties. It is available in powdered and liquid drop variants too.
How to use- You can use So Sweet Stevia Tablets in beverages, or use for cooking, boiling or baking.
Quantity- 100, 200, 300, 500, 600, 700 tablets
Buyers Feedback
Pros
Low on calories
100% safe and natural
No side effects
No bitter after taste
Contains Reb A, purest form of stevia
One tablet is equivalent to a teaspoon full of sugar
Cons
Some customers complain about bitter taste
Buy So sweet stevia sweetener
View on Amazon.com View on Amazon.in
9. Stellar Stevia Sweetener
The Stellar stevia sweetener made from a lifestyle solution company called Preetikaya is a 100% natural and organic sweetener brand made from original stevia leaves. Its one of the most popular sugar substitute brand which is 30 times sweeter than sugar. The best part is that it has no bitter taste unlike other sugar substitutes obtained from ClearTaste treated Reb A, which is one of the tastiest extracts directly from the stevia leaf. Some added benefits of Stellar stevia is that it has zero calories and anti oxidant properties.
How to use- The Stellar Stevia can be used just like any other normal sugar to cook, bake or caramelise. Suitable for hot and cold beverages like smoothies,shakes, cereals, coffee or tea and even for making any dessert.
Quantity- Available in sachet and tablets
1 TABLET (0.05 gms) equals 1 teaspoon of sugar (4gms) in sweetness
1 SACHET (0.75 gms) equals 2 teaspoon of sugar (8gms) in sweetness
Buyers Feedback
Pros
Zero calories
100% natural
Anti oxidant properties
No bitterness
Contains Sucrose, Stevia extract Reb-A
Zero chemicals
Great alternative to artificial sugar-free
Gluten free and keto diet friendly
Ideal for adults, children , diabetics, obese and health conscious people
Cons
Too much quantity will lead to bitterness so thorough measuring required while using
Buy Stellar Stevia Sweetener
View on Amazon.in
10. Stellar Gold Sweetener
Another version of sweetener by the brand Stellar is their Gold stevia Powder available in 150 gms of bottle. The uniqueness of this sugar substituent is its zero bitterness an anti oxidant properties. The crystal form of stevia allows you to use just a pinch of Sugar Crystals that are 10 times sweeter than an ordinary sugar. Its healthy, safe, delicious and natural to use in any form of beverages and desserts.
How to use- The Stellar Stevia can be used just like any other normal sugar to cook, bake or caramelise. Suitable for hot and cold beverages like smoothies,shakes, cereals, coffee or tea and even for making any dessert.
Quantity- Available in 150 gms bottle
Just a pinch sweetens like a full teaspoon of ordinary sugar
Buyers Feedback
Pros
Zero calories
100% natural
Anti oxidant properties
No bitterness
Ideal for all ages
Diabetic friendly
Cons
Can't use to much quantity at one go
Buy Stellar Stevia GOld Sweetener
View on Amazon.in