We can call a Fitness tracker watch as a missing ingredient in our daily exercise regime. You could be a fitness freak who exercises daily or someone who wishes to start adding exercises for a healthy lifestyle or someone who gets demotivated too fast; a fitness tracker is the best gadget for each one of you.
There are so many fitness trackers available online that comes with so many added features but before you put in your money in buying the best fitness tracker its essential that you know how you plan to use your device.
You can use your fitness band for measuring the basics like step count, heart rate or calories burnt but if you are someone who regularly enjoys outdoor activities like running, cycling then a smart fitness tracker with built-in GPS connectivity will suit you best.
Read the Fitness Tracker Watch Buying guide for buying the Best Fitness Tracker Watch 2019
Best Fitness Tracker 2019 Review
1. Fitbit Versa Lite Health and Fitness Smart watch

[ BEST FITNESS TRACKER WATCH FOR WOMEN ]
Fitbit Versa Lite is the Best overall in all the other smartwatches due to its affordable price and features. It's very user-friendly with just one button design. This Lite edition by Fitbit Versa includes all core fitness features like activity, heart rate, sleep tracking with four-day long battery life. Its an excellent choice for women as it logs the menstrual cycle, gauge ovulation, records symptoms and comes in varied bright color options.
It has an easy to use app that connects you with Fitbit large user community that always help be motivated. The app syncs automatically and wirelessly to computers and 200+ leading iOS and Android devices.
Key Features
Band is made of flexible and durable material
3 axis accelerometer
24/7 Heart rate tracking
Activities, sleep score and sleep trackings
15+ goal base exercise modes
GPS connectivity
Water Resistant till 50 mts.
Buyers Feedback
Pros
Easy to use
Very light weight & durable
Comes in different colors
Friendly reminder to keep you motivated
Female health tracking
Personalized on-screen coaching
Real Time alerts
Gets connected with all devices through Bluetooth
Buy Fitbit Versa Lite & Health and Fitness Smart watch
Buy on Amazon.in Buy on Amazon.com
2. Fitbit Versa 2 (NFC) & Versa Special Edition Smartwatch

[ BEST OVERALL ]
The new launch in the Versa series is Fitbit Versa 2, which is a perfect blend of smartwatch and fitness tracker. The features of this fitness tracker watch are endless. You can control your whole through your wrist. Compared to other Versa watches the display is larger with less border. It has both WiFi and Bluetooth connectivity and can sync 200 + leading iOS and Android devices. The battery life is unbeatable with five days long on a single charge.
Key Features
5+ day battery life
Built in Amazon Alexa
24/7 Heart rate tracking
Automatically tracks activities & sleep score
Make Secure payments through its Fitbit Pay
GPS, Bluetooth & WiFi connectivity
Water Resistant till 50 mts.
Buyers Feedback
Pros
Connectivity with all devices
Large Display
Tapered silicone band gives comfort fit
Tracks all-day activities
Store and play 300+ songs
Easy to use display
Cons
You have to download the App to set up the watch
Buy Fitbit Versa 2 (NFC), Health and Fitness Smart watch
Buy on Amazon.in Buy on Amazon.com
Also, the Fitbit Versa comes in a special edition with all features of Versa, plus a unique woven band in charcoal color and on-the-go payments with Fitbit Pay, Syncs with Mac OS X 10.6 and up, iPhone 4S and later, iPad 3 gen. and later, Android 5.0 and later and Windows 10 devices.
Buy the Fitbit Versa Special Edition here :
Buy on Amazon.com
3. Xiaomi Mi Smart Band 4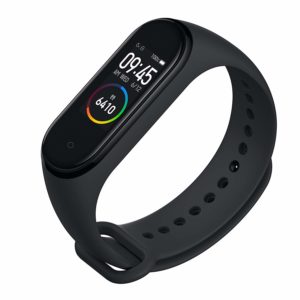 [ BEST BUDGET FITNESS TRACKER ]
The Mi smart band 4 a much more improved version from the earlier Mi band 3. The new Mi band by Xiaomi comes with a clear color screen that is easy to read. The features it offers are hard to find at this price so we can call the best budget fitness tracker of 2019. The UI is amazing, easy to use with six different workout modes including treadmill running, running, cycling, walking, swimming and general exercises. Swim tracking mode can even recognize different swimming styles. A 20 days battery life that is unbeatable and all-day heart rate monitoring.
Key Features
20+ day battery life
Sturdy 50 mts. waterproof built
Six workout modes
color amoled full touch display
Pre-installed watch faces
Music Controls
Buyers Feedback
Pros
Larger Display which is brighter than Mi band 3
Battery life is amazing
Value for money
Wearable wile swimming
Easy setting options
Compatible with both Android and iOS devices
Cons
It lacks smart watch features
Buy Xiaomi Mi Smart Band 4
Buy on Amazon.in Buy on Amazon.com
4. Apple Watch Series 5

[ BEST FITNESS TRACKER FOR iOS DEVICE ]
This one is only for the iOS users who are fond of the Apple series and owns the Apple phone and want to track their fitness regime with a full-featured smartwatch. The Apple Watch Series 5 has a bigger display screen than series 3 and two times better performances. The watch offers plenty of functionality but its a more of a fitness-oriented for serious fitness enthusiasts. It includes GPS tracking, onboard heart rate monitoring, altimeter, improved Siri support and the most impressive feature is that it offers an ECG app that keeps a watch on your heart 24/7. It comes in two series, the Apple watch series GPS and GPS + Cellular that lets you go for your swimming or running without carrying your cell phone.
Key Features
Always-On Retina display
Built-in compass to identity the direction
International emergency calling feature
Electrical and optical heart sensors
Water Proof
Noise alert app
Buyers Feedback
Pros
30% Larger display than Apple series 3
Always-on watch face rather than black screen
Voice memos app syncs across all devices
Has compass and elevation readings
Has emergency SOS
You can swim till 50 mts. with this watch
Comes in variant color options
Cons
Not compatible with other devices and only works on iOS
Buy Apple Watch Series 5
Buy on Amazon.in Buy on Amazon.com
Also see here The Apple Watch Series 4
5. Samsung Galaxy Fit
[ BEST ACTIVITY TRACKER ]

The Samsung Galaxy Fit can be described as the best activity tracking suite as it automatically tracks any activity you have in your mind. It is built for endless activities, complaint with military level durability standards and is water resistant to 50 mts. Additionally, it allows you select 90 workout manually through Samsung Health app out of which 10 workout modes can be customized and can be set as preferred activities.
Key Features
Automatic fitness Tracking
Swim Ready Design
Military level durability
Monitors sleep patterns
Detects irregular heartbeats
Buyers Feedback
Pros
Very affordable
Light weight but extremely durable
Tracks all kind of fitness activities
Two color options
1 week battery life
Very affordable
Stylish Look and design
Cons
Doesn't offer customization in watch face
Doesn't gave built-in speakers or microphones
Buy Samsung Galaxy Fit