Necessity leads to invention, and one of the best-invented devices among millions is the Immersion rods. No one would like to bathe with cold water in winters. Thus Immersion rod here comes into the scene. It was invented years ago, and since then, it has been fulfilling the needs of people. Immersion rods are made in a way that they can withstand any environment. This is the reason that they are also used in industries. They can be immersed in any liquid substance even acid. They can heat up acid equally as much as they heat up water. But here in this article, we are going to discuss the Best Immersion rods in India for personal use, that can be used daily only or one that is used to heat up water other than the expensive electric water geyser or gas geysers. There is enough introduction now, let's go further to the topic and understand it more closely.
How Immersion Rods Work?
If we talk about the structure of the Immersion rod, then it has got an element coil at the base, a case at the top, and thermostat. Element coil is the main part of this device, which gets heated up. It consists of a resistor. It is made up of metal because metals are good conductors of heat and electricity. The element coil at the base has a rod inside, which is coiled by nichrome wire. When electricity passes through the coil, it gets heated up, and that heat energy thus generated gets transferred to its surrounding medium that is water. This way, the water gets heated in a couple of minutes.
Also, there is a thermostat that is used to regulate the temperature of the device. Usually, there are two thermostats. One is a manual one that is used to set the temperature according to the requirement. Then there is also a limit thermostat, which is like a long rod. It acts only when the manual thermostat fails, thus cutting off the power once the temperature of the water reaches at 90-degree centigrade. This way, it prevents water from boiling up. Then there is a case that is the topmost part and is the only visible part when the device is immersed in the water. This case is made up of plastic, which consists of all the wiring inside. There is a hook also at the back which is attached to the bucket, or should I say hangs by it. The principle works it works on is Joule heating. The element coil and the thermostat are wholly immersed into the liquid, and this way, this device gets its name Immersion rod.
Also, read reviews on more products for Winters
– 10 Best Instant Water Heater
– Best Room heaters
– 10 Best Electric Blankets
Buying guide for Immersion rods in India
BENEFITS OF BUYING IMMERSION RODS
1. CONVENIENCE
One of the most important benefits is that this device is very convenient. Unlike, Gas geysers and electric geysers, Immersion rod doesn't capture that much space with a permanent installation. Being small in size, it can be stored anywhere either in the storeroom or your bedroom. During the off-season, when there is no more requirement, it can be stored apart. Whether you need one bucket or a jug of hot water, you simply have to immerse it into the water and plug it on. As soon as you get the desired temperature of the water, switch it off, and use the water.
2. PORTABLE
Another most important benefit is its portability. Being small in size, you can carry it anywhere you want, or you can store it into your cupboard or shelf or any other similar place. It comes in various sizes, like 340, 75, 65 mm. If you are a student and reside away from your home, then this is the most suitable option for you. The people who get transferred frequently from one city to another have this device as a great option as geysers that are required to be permanently installed can not be carried again and again from one place to another by uninstalling and installing again and again. Not only this but for overnight travels also, the Immersion rod is a great example and can be carried as a backup when suddenly there arises a need for hot water.
3. ECONOMICAL
Now there is no need to spend thousands on electric geysers to just heat up the water when we provide you a budget-friendly and pocket-friendly Immersion rods. This is something that can be afforded by all. Besides, it is only used when required, so you also escape from high electricity bills in the long run. Since it uses electricity, which is a clean form of energy, so you don't have to worry about carbon release unline in gas geysers. You won't get so many advantages in any water heater other than this Immersion rod.
THINGS TO CONSIDER BEFORE BUYING IMMERSION RODS
1. BRAND
The brand is the most important thing to be considered before buying Immersion rods. A good brand ensures quality. Purchasing this device from an unknown company may lead to an unsafe situation. The lousy quality appliance can be dangerous for you, so be aware of the brand to prevent any kind of accident.
2. AUTO OFF FEATURE
The most important thing to be known to a customer before buying this device is that Immersion rods do not consist of Auto-off features, unlike the expensive geysers where after obtaining a specific temperature, the machine gets automatically switched off. But here, in this case, you have to frequently keep on checking while the water is being heated and manually switch it off when the desired warmness of the water is obtained; otherwise, it may lead to boiling up.
3. POWER
Immersion rods are available in two options – 1000 watt and 1500 watt. Obviously, 1500 watt is a better option than the other one. But if you want to choose an affordable device along with the quality also then 1000 watt is a good option for home purposes. Choose wisely according to the need.
4. WARRANTY
Another critical point to be considered while purchasing Immersion rods is the warranty. All the Immersion rods belonging to a good and renowned brand come with a warranty. So along with looking at the above factors, as a homeowner, you should keep in mind this point and also provides a better value for money.
5. SAFETY MEASURES
When you finally decide to go for Immersion rod, then what comes first in your mind is the safety measure. Make sure whichever brand you purchase ensures all the safety measures and is safe to use for you and your family to prevent any kind of accident or hazards. The above factors are also essential to be considered before buying the right immersion road but do not go for cheap ones just for the sake of saving money. You being alive, will earn a lot. Be alert.
How to use Immersion Rods safely
– Using Immersion rod in the container or bucket with no water or insufficient water can lead to the burning of the appliance and the container.
– Keep it away from the reach of the children when it is in use or when the switch is on.
– Never touch the water directly when the immersion rod is immersed in the water, and the switch is on.
– Always use plastic buckets and never use metal buckets as that can lead to electric shock.
– Never switch it on before immersing the rod in the water.
7 Best Immersion Rods in India Review
We have picked up 7 most popular, most reviewed immersion rods in India that are from high-quality brands, economical as well as safe to use.
1. AMAZON BRAND – SOLIMO 1000 WATT IMMERSION WATER HEATER ROD

Solimo brings you one of the best immersion rods. With safety, reliability, and quality, you don't need to shiver in the chilling cold anymore. It displays the minimum and maximum water level, which makes you ensure that the level of water in the bucket is up to the safe limit. The heating element is made up of copper, which is plated by nickel, and this is how it ensures no corrosion.
KEY FEATURES
– 1000 watt power.
– ISI certified mark.
– Hairpin tubular designed heating element makes it sit at the base of the bucket.
– Shockproof appliance.
– Safe water level indicator.
– Protective handle
– Easy usage and storage.
Buyers Feedback
Pros
Easy to use
No installation required
1-year warranty
10 minutes of heating time
All safety measures included
Not very costly
Buy AMAZON BRAND – SOLIMO 1000 WATT IMMERSION WATER HEATER ROD
Buy on Amazon.in
2. BAJAJ METAL 1000 WATT IMMERSION ROD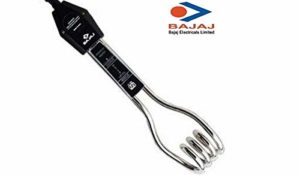 Bajaj Immersion rod is the easiest way to heat up your bathing water quickly. It won't capture any space and thereby can be easily carried along. Besides, it takes less time to heat and lesser effort, of course. It is safe to use as there is no combustion process and runs by electricity. The temperature can be easily controlled by turning it off and on.
KEY FEATURES
– 2 year warranty period.
– 1.5 ft long wire.
– Tubular element which is anti-corrosive.
– No rusting.
– Safety measures included.
Buyers Feedback
Pros
Easy to handle
Shockproof
Hook present for attachment with a bucket
Budget-friendly
It can be used in a five-pin socket
Cons
The heating time is 20 minutes
Buy BAJAJ METAL 1000 WATT IMMERSION ROD
Buy on Amazon.in Buy on Flipkart
3. RICO 1500 WATT METAL WATER HEATER IMMERSION ROD

Rico having engineering expertise has manufactured this Immersion rod to cater to the most onerous requirements. Due to its compact size, it can be accommodated anywhere. Its advanced technology makes it a safer option to use. This is designed with the copper element with nickel plating.
KEY FEATURES
– Consuming 1500 watt and shockproof
– Best heating option at a low cost
– Convenient bucket handle
– Safe and easy to use
– Efficient performance and prolonged use
– 1-year warranty
Buyers Feedback
Pros
Superfast heating
Best and cheapest alternative
Easy-grip
Sufficient wire length
Buy RICO 1500 WATT METAL WATER HEATER IMMERSION ROD
Buy on Amazon.in Buy on Flipkart
4. Eveready Immersion Rod

Eveready, a well known and renowned company, presents you one of the outstanding appliances it manufactures. This Immersion rod uses 1500 watt of electricity and thus is more efficient and good in quality than other ones. With a powerful 1.5 kW heating element, it indulges in a hot and refreshing water bath.
KEY FEATURES
– Copper tubes with nickel plating.
– Anti-corrosive
– Hanger present to hang it on the bucket.
– 2-year on-site warranty
– 1500 watt power usage
– 5-meter length of wire
Buyers Feedback
Pros
Faster heating
Value for money
Shockproof
Pocket-friendly
Cons
No Auto cut off feature is there
Earthing should be there to avoid any electric shock
Buy EVERYDAY IMMERSION ROD
Buy on Amazon.in Buy on Flipkart
5. STARVIN ELECTRIC WATER HEATER IMMERSION

Starvin brings you a new generation immersion rod. This Immersion rod comes with lots of features that you won't get in any other at the same price. It is extremely useful and convenient for heating water. This is something that you must have at your home. It facilitates optimum heat transfer, thus giving you exceptional performance.
KEY FEATURES
– Auto cut off feature
– Shockproof and Waterproof
– Energy efficient & economical
– Dual ISI marked
– 1-year warranty
– Anti-corrosive and Very durable
– Heatproof plastic handle for comfortable and firm grip during use
– Easy to clean and maintain.
Buyers Feedback
Pros
All safety measures included
Automatic switch-off/on depending on water temperature
Thermostat sensor
Fully shockproof
Pocket-friendly
Buy STARVIN ELECTRIC WATER HEATER IMMERSION
Buy on Amazon.in Buy on Flipkart
6. Usha IH2415 1500-Watt Immersion Rod

The Usha Immersion Rods are the most popular brand in India offering two power watts option of 1000 as well as 1500 watts. it is built bakelite covering to give complete safety protection against electric shocks. the heating element is made of copper with long-lasting nickel plating that makes it highly durable.
Key Features
– Copper tube with a nickel outer covering
– The bake lite handle is cool to touch
– Neon Power on indicator
– Aesthetic design
Buyers Feedback
Pros
Fast heating
Long cord length
Safe to use
Metal hook
Cons
The bigger watt plug doesn't get fit in al sockets
Buy Usha IH2415 1500-Watt Immersion Rod
Buy on Amazon.in Buy on Flipkart
7. Crompton greaves 1500 w immersion water heater

The Crompton Immersion Rod comes with mos unique safety features with a hook on one side with a water level marker on another side that helps you to safely use it with a bucket to heat water. It is ISI marked and comes with a 1-year warranty.
Key Features
– Anti Corrosive Body
– Heats water very quickly
– Energy Efficient
– Water Level indicator
– Side holding pin for safe operation
Buyers Feedback
Pros
Automatic cut off
Easy and safe to use
Sturdy build quality
Long cord
LED power indicator is added advantage
Buy Crompton Greaves 1500W Immersion Rod
Buy on Amazon.in Buy on Flipkart
Best Immersion Rods in India 2022 – Final Conclusion
So we have listed the 7 Best Immersion rods, on the basic criteria of them being economical and perfect for the job of heating water. All of them are below Rupees 2000, so that makes them very affordable for not only middle-class people but also economically weaker sections. Be it a student or a traveler; it is the best choice to heat water anytime and anywhere (and almost anybody). Don't wait for long, do order now and enjoy a hot water bath this winter.