Hey guys! Winters have revisited you this year, and so the room heaters also. Lots of options have come and gone, but Room Heaters have been accompanying you since the 80s era and will continue to do so in the coming years. Since that time, this appliance has been evolved a lot, not only in terms of looks but also technology. There was a time when only quartz heaters were available consisting of burning rods. With time, gradually, the room heaters have come a long way emerging into its new forms as fan blowers and convections. When the temperature goes down to 7-degree Celsius or below, then blankets and even quilts do surrender. Then comes the time when you find Room Heaters standing beside you to help you to cope up with the nail-biting winters. Below is the guide to provide you one of the best Room Heaters for winters. Let's start with the introduction first. Have a glance once.
About Room Heaters
Room heaters are used to increase the temperature of the air in the room or any small space you are present. These are also called as space heaters. Room heaters are portable and can also be fitted in the wall. An ideal option for anyone who wants to get cozy this chilling winters that too in a budget-friendly manner. Now no more shivering in this nail-biting winters when you have options for so many room heaters online to buy.
Things to be considered before buying a Room Heater
Thorough research should be done before investing in-room heaters so that you don't get trapped in a product that is not good. So we are here to help you to pick one of the best heaters being sold online that are not just right, both quality-wise and budget-friendly.
1. Type
The first thing that should be known is the type of Room heaters. These are basically of three types – Convection (oil filled), Radiant (infrared), and lastly, fan or blower heaters.
Convection Room Heaters or oil-filled heaters are the most silent heaters that work by warming the surrounding air by pouring oil in the heating element, which then transfers its warmth to the further portion of the room, and this way, the process goes on till the whole room gets heated up. These heaters are both with fan or without a fan, but one with fans is great for heating larger rooms and are expensive.
Radiant Room Heaters, which radiate a concentrated beam of heat on the person or object in its front and warms it up very quickly. Though it covers a small area only but consumes less power and is silent.
Fan or Blower room heaters are the most budget-friendly, which pushes the warm air through dashboard vent. Warm air keeps on coming out of it, which then circulates in the room, thereby transferring its warmness to the cold air and thus covering the whole room. The only disadvantage it has its noise level consumption of electricity.
2. Room Space
Next comes is the heating ability of the room heater, according to the spae of the room. Make sure it is sufficient for the space you want to use it for. Generally, 10 watts of power is used to warm up one square foot of space entirely. This means if you want a heater for 200 sqft room, then you should go for 2000 watt power of the heater. It's not the exact value but approximation because it differs from heater to heater and the technology used in it. But more or less, the cost goes near the ratio given above. So, in spite of going on just the type, you should also consider the technologies.
3. Energy efficiency
One of the essential points to be considered is energy efficiency. You should determine how much the room heater you are interested in is energy efficient. Of course, we cant stand chilled winter, but you would never like to cope up with this problem at the cost of high electricity bills. Along with the winters, you should look at your pocket also. There are very few heaters which are actually energy efficient. So you have to look for a heater that uses fewer watts, adjustable thermostat, auto- cut feature, and energy-saving mode.
4. Noise Level
Noise pollution is another factor to be considered here. Almost all the electric appliances produce noise either more or less, but they do. You have to look for a heater that produces either minimal sound or no sound at all so that you don't get disturbed.
5. Safety features
Last but not least is the safety measure. If an appliance is run by electricity, then safety becomes one of the primary concerns. The body of the heater should be portable, shockproof; there should be an automatic power cut upon overheating, thermostat, cool to touch and lengthy power cord, etc. will prevent any accident to pets or children.
Safety Tips for Room Heaters for Winters
– Never use an extension cord with room heaters
– With radiant or blower room heaters that use oxygen in the air, you can keep a bucket full of water to avoid humidity in the air.
– Heaters should be placed on the floor to avoid any contact with flammable items like curtains, bedsheets, cushions, etc.
– Try to buy heaters with protective grills that cover heating coils.
– Look for room heaters with a sidearm or handle for easy portability.
– To avoid noise pollution, check the decibel rating as the more higher the score, the higher will be the noise.
Here are our Best-picked Room Heaters for Winters 2022
1. Usha Room Heaters (QH 3002)

Usha room heater is an ideal option to keep yourself warm and your room too. Unlike other heaters, this one automatically adjusts its temperature according to the surrounding. Keeping in mind the safety of customers, it has been designed in a way that it gets switched off before overheating or in case it falls. The heating element used in it is a quartz tube. Besides, it has been coated with a powder to avoid corrosion. Along with all these features, it is quite budget-friendly.
Key Features
– Ideal for Upto 150 sq ft or small room.
– Powder coated finish to prevent corrosion
– Automatic shut off against overheating
– Two-way positioning
– 1-year warranty
Buyers Feedback
Pros
Low power consumption
Easy to use
very Lightweight
Safety features included
Very reasonable
Cons
Not suitable for large rooms
Buy the Usha Room Heaters(QH 3002)
View on Amazon.in View on Flipkart
2. Orpat OEH-1220 2000-Watt Fan Room Heater

Orpat brings to you this outstanding fan heater. It covers an area of approx. 250 sqft. It has got a setting where you can adjust its power either at 1000 watt or 2000 watt according to the heat and warmness you want. There is a handle also which is inbuilt to move it from one place to another. It comes with a thermal cut to ensure the safety of the consumers, and this way, it can work throughout the day. Not to forget, there is a one year warranty too.
Key Features
– Ideal for a small to a medium room only up to 250 sq. ft
– Safety cut-off
– Overheat Protection & Thermal cutoff
– Cool-to-touch exterior
– Two separate heat settings
– 1-year warranty
Buyers Feedback
Pros
Safety mesh grill
2 heat setting knob
Wattage capacity of 2000 watts
Easy to use
All safety features included
Cons
The fan makes too much noise at times
Buy Orpat OEH-1220 2000-Watt Fan Room Heater
View on Amazon.in View on Flipkart
3. Singer Fan Room Heater

This room heater presented by Singer is going to stop all your shivering in winters. Chilled air is not going to be a problem for you anymore with this, not too big nor too small in size. The Singer Fan Room heater comes with a handle so that you can carry it anywhere. It has got two heating positions and a thermal cut, which automatically shuts it down after the desired temperature is obtained.
Key features
– Cool to touch external body
– Thermal & Thermostat cut out
– Easy to carry handle
– Can be used vertically and horizontally
– 1 year warranty
Buyers Feedback
Pros
Lightweight & portable
Safe to use
Good quality plastic body
Great for larger rooms
Good length cable
Cons
It gives little smells when its first switched on
Buy Singer Room Heaters
View on Amazon.in View on Flipkart
4. Havells Cista Room Heater

Havells brings you the most affordable and equally good room heater. When quilts and blankets stop preventing you from the chilled nights, then this gadget stands for you and provides you the desired warmness. This room heater works on the principle of convection that equally distributes its heat in the air. It has got a thermostat which helps you to maintain the temperature. It's built with a cool fan function, this heater has a provision for the adjustment of the temperature, overheat protection and a night light indicator for dark rooms. The lightweight and portability make it an ideal choice for your home.
Key features
– Cool touch body
– Over heat protection
– 2 power settings of 1000 & 2000 watts
– Night light indicator
– Cooling fan function to cool down the machine
– Smart adjustable stand
– 1 year warranty
Buyers Feedback
Pros
Premium smart design
Auto cutoff function
Lightweight & safe to use
Adjustable temperature knobs
Buy Havells Cista Room Heater
View on Amazon.in View on Flipkart
5. Bajaj Radiant Room Heater

Bajaj is one of the leading companies in India which manufactures products like appliances, fans, lighting, etc. The Bajaj Radiant room heater is one of the excellent products made by this famous Indian appliance company. Unlike other radiant heaters, it ensures full safety of consumers preventing any mishappening. This 1000 watt heater is sufficient to warm up a small room. It comes with an adjustable thermostat for your personalized comfort. Last but not least, it comes with a warranty period of 2 years.
Key Features
– Ideal for small rooms
– Cotton braided cord for safety
– Anti-corrosive nickel chrome plated mesh grid
– 2 years warranty
Buyers Feedback
Pros
Compact & stylish design
Flexible adjustable stand support
Long cotton braided cord
Uses only 1000 Watts of power
Good build quality
Value for money
Cons
Extra care to be taken when used with kids
Buy Havells Cista Room Heater
View on Amazon.in View on Flipkart
6. Warmex hot air room Heater

Warmex brings to you a unique room heater, black in color, which has got a setting to adjust its temperature. Great design and very easy to carry it along. It comes with a feature of quick heating having a warm hot blower. It includes a lot of safety features like safety switch at the bottom so if it is lifted off a flat surface it automatically shuts off.
Key Features
– Compact yet elegant design
– Easy to use
– Included safety features like auto shut off safety switch
– Lightweight & portable
Buyers Feedback
Pros
User-friendly
Unique design
Takes less space
Efficiently heats the room
Cons
Cord wire is smaller in size
Buy Warmex hot air room Heater
View on Amazon.in View on Flipkart
7. Azod Electric Heater

Azod introducing you with the most advanced handy room heater, which can get fitted in a socket just like a simple mosquito repellent machine-like All-out. Not only at your home, but this heater can be used in an office or any other place besides your residence. It is small in size and light in weight and captures no space at all. This 500 watt can warm up an area of 250 sqft quickly. You can call it a personal heater which is great for travel. It is equipped with automatic power cut off when the temperature is too high.
Key features
– Only 500 watts of power consumption
– Wireless heater
– Smart handy heater the wall-outlet
– Thermo-ceramic design gives powerful heating
– Auto cut off
– Equipped with overheat and thermal fuse protection
– Compact plug-in portable heater
Buyers Feedback
Pros
Compact and great for travel
Automatic timer control
energy efficient
Includes remote control
All safety protection included
Cons
Doesn't warm-up bigger rooms
Buy Azod Electric Heater
View on Amazon.in
8. Morphy Richards Aristo Fan Room Heater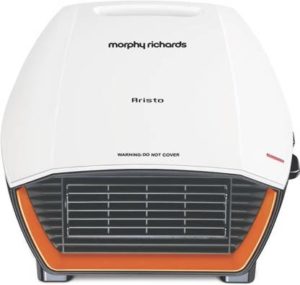 The Morphy Richards Room Heater has been designed to ease your winters and make your winter more friendly. With all the key features, this heater provides you international quality standards. It is provided with two heat settings – 1000 watts and 2000 watts which you can set according to the intensity of heat you want. Thermal cut off is there for added safety.
Key features
– Power capacity of 2000 watts
– Great looking than other heaters
– Two power control knobs
– Indicator light for easy operation
– 2 years warranty
Buyers Feedback
Pros
Beautiful and elegant looking
Powerful heating temperature
Easy carry handle for portability
Very silent
Buy Morphy Richards Aristo Fan Room Heater
View on Amazon.in
9. Enamic UK Fan Heater

When all the measures fail to ward off the cold that is when you need to introduce this heater from Enamic UK to yourself. It provides all the needed warmth. It is built in a way that ensures even distribution of heat throughout the room. Provided with features like the thermostat, thermal cut-off, noiseless operation, portable, handle, two heat settings like 1000 watt and 2000 watt and an adjustable stand. What are you waiting for then?
Key features
– Power consumption – 1000/2000 watts
– Quick heating
– Adjustable temperature control
– Value for money
– 1-year warranty
Buyers Feedback
Pros
Thermostat control
Temperature indicator
Easy operation with temperature knobs
Very lightweight
Buy Enamic UK Fan Room Heater
View on Amazon.in View on Flipkart
10. V-Guard Electric Quartz room Heater

V-Guard has built this product keeping its customers at the forefront. This Quartz room heater is stylish in looks still resembling its ancestors and thus bringing you back to your 90s era. Very classic in looks and so equally good in quality. It has got auto cut-off upon overheating. Noiseless with 400 and 800 watts heat setting. You get one year warranty period.
Key Features
– Compact & stylish design
– Auto cutoff
– 1-year warranty
– Consumes just 40 to 800 watts of power
– Very silent
Buyers Feedback
Pros
Lightweight and portable
Very effective and powerful heating
Uses less electricity
Automatic tip-over protection
Buy V-Guard Electric Quartz room Heater
View on Amazon.in View on Flipkart
Best Room Heaters for Winters 2022 – Final Conclusion
Here are 10 best room heaters for winters that are safe, well built, consumes less electricity and are very affordable to make your winters warmer. All these room heaters we have picked are below 5000, from well-known brands and with assured quality and warranty. So don't wait and choose the best one for your home.