Microwave ovens are now one of the most essential kitchen gadgets for our home. If we talk about the convection ovens, it has made the cooking very easy. You can even prepare a variety of dishes within a few minutes without putting much effort into it. It is a multipurpose gadget that you can use for heating up the leftover food, or to bake delicious fresh cakes and make your own pizzas and also steam your favorite veggies. Convection microwave ovens are ideal for the busy people whether they are students, working parents, bachelors and even for those who don't have enough time to prepare food for them. And to find the best microwave oven which is reliable and dependable would be so perfect for anyone.
Before buying any product, you almost go through a lot of confusion in your mind such as which one is best for you, what purpose the product will serve, and much more. The same thing happens when you are going to purchase a microwave oven. To overcome this you can read the Microwave Buying Guide or just go through the points discussed in this post that covers what a microwave oven is, types of the microwave oven, and how to choose the perfect one, as well as the list of best convection ovens from the well-picked brands. All these points matter a lot while you are purchasing an oven. And will surely help you to choose the perfect one as per your needs. Before getting into the list of the best Microwave Oven in India, first let us discuss a little about what we know about an actual Microwave Oven.
About Microwave Ovens and its types
The microwave oven is one of the best kitchen gadgets invented for the urban users. It helps you in heating and cooking of food using high-frequency electromagnetic waves. You can cook food incredibly speedy and also warm up the refrigerated leftovers in just a few minutes with this great featured gadget. Now, let's see the type of Microwave ovens.
Which is the best Microwave Oven to buy? … is the first thing that strikes in your mind while buying a microwave oven. There are three types of microwave ovens available in the market each having the distinct features.
1. Solo Microwave Oven
Solo type microwave ovens are used for simple cooking and are fitted best for basic cooking solutions. It comes with microwave mode only and also performs defrosting and reheating functions well.
2. Grill Microwave Oven
The grill microwave oven is a combination of the solo microwave with additional grilling accessories. These ovens are used to make toast, tikkas, and kebabs, as well as grilling meats and vegetables. You can also use this oven in combination with microwave mode to cook a variety of food.
3. Convection Microwave Oven
The convection microwave oven comes with the combination of two technologies: a conventional microwave as well as the convection oven. It is perfect for baking and grilling. These ovens use a fan along with a heating element to create an airflow pattern inside the oven.
Tip: You can buy the Microwave Oven which has the settings for different cuisines and based on your choice you can see which one is suited for which kind of cuisine.
What to look for in a microwave oven before buying ?
1. The Capacity
The ability of a microwave oven determines the volume of space available inside the microwave and is measured in "liters." Just pick the right size of microwave depending upon your family size as well as usage. Choosing the right one helps you save time and electricity both.
2. Power consumption
The output power of microwave is measured in "Watts". You must also consider the power ratings based on your usage. If you like to cook heavy food items in bulk quantity for a large family, just find a powerful microwave. To cook food for a small family of two or three members, a low wattage microwave oven is pretty sufficient.
3. Auto Cook Menu
Auto cook menu feature is having with some quick microwave recipes surprisingly basic. For the beginners, it can be difficult to specify few settings like power wattage and cooking duration while cooking in the oven. With this feature, just select the type of dish you want to cook, and it automatically adjusts the power wattage and time depending upon the weight of the food.
4. Auto Defrost option
Just pick the microwave with having auto defrost feature. It makes your task simpler by selecting the best program for you, once you choose the type and weight of food.
These points are pretty important to decide upon which type of microwave oven you should purchase and fits your purpose. Now, here is the list of top five best microwave ovens in India under Rs 10000. Just go through the list and pick the desired one as per your requirement and budget.
Let us list out all the best Microwave Ovens in India, which costs under or around 10k in Indian Rupees, which you can buy from Amazon, Flipkart or from your local electronic store.
Comparison of the Best Microwave Oven in India Under 10,000
1. IFB 20SC2 20L Convection Microwave Oven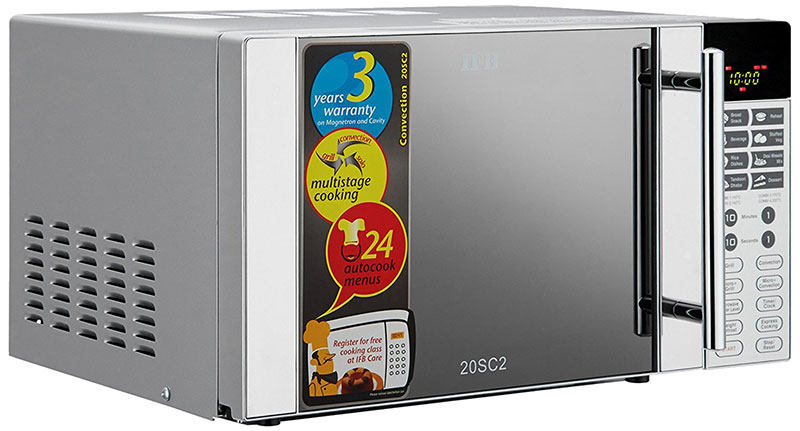 With a decent capacity of 20 Litres, this convection type microwave oven from IFB is perfect for nuclear and mid-sized families. It has a touch control panel with LED display and stainless steel cavity material. It comes up with ten power levels as well as ten temperature levels allowing you to choose your preferences depending on the food you are preparing. Its multi-stage cooking facilitates you to use the micro, grill and convection at the same time making your cooking experience more pleasant.
Features of IFB 20SC2 Microwave Oven
Stainless steel cavity and LED display with a clock
Consumes 1200W on microwave and grill, and 2200W on the convection
800W output power
Microwave, Grill & Convection
Express cooking – quick start, keep warm function & auto reheat
Child safety lock
VIEW ON AMAZON.INVIEW ON FLIPKART
2. Whirlpool 20L Convection Microwave Oven (Magicook Elite)
This convection type microwave oven with a capacity of 20 Litres from Whirlpool is a versatile addition to your kitchen. It is equipped with advanced technology, enhanced functions, as well as premium design giving you a pleasant cooking experience. This microwave oven uses the combination of micro, grill and convection technology and thus making it easy for you to cook a broad range of food in various styles. It comes with 6 pre-programmed magic menus, 118 auto cook menus, multistage cooking as well as combi cooking.
Features of Whirlpool 20L Convection Microwave Oven
118 auto cook menus with 10 power levels
Combi Function: 2 (Microwave & Grill) and 1 ( Microwave & Convection)
Child safety lock
LED Display and multi stage cooking
Magic menu
Clock, pre heat/quick heat mode/start mode and quick defrost/defrost
Includes: Grill Rack, Turntable, Turntable Support, Grill rack and User Manual
VIEW ON AMAZON.INVIEW ON FLIPKART
3. IFB 20BC4 20L Convection Microwave Oven
This convection microwave oven with the capacity of 20 liters from IFB is designed in such a way that imparts convenience in our rushed lifestyle and also a great addition to our kitchen. The oven has a stainless steel body that ensures an evenly cooking your food. This convection microwave oven comes with a digital display that helps you to monitor both the time for your food to be prepared and the heating temperature. It has ten power levels and ten temperature levels. It is also featured with express cooking, preheat, deodorize, keep warm, power save, steam clean, 71 auto cook menus, and multistage cooking.
Features of IFB 20BC4 Microwave Oven
71 auto cook menus
Auto protection and ten power levels
Child Lock Option
Combination and preset cooking
Microwave Power consumption: 1200Watts; Grill Power Consumption: 1250Watts; Convection Power Consumption: 2000Watts; Operating Voltage: 230Volts
Includes: Microwave oven, Roller Ring, Glass Turntable, Grill stand, and User Manual with Warranty Card
VIEW ON AMAZON.INVIEW ON FLIPKART
4. Whirlpool 20L Convection Microwave Oven (Magicook, MW20BC)
This convection microwave oven from Whirlpool gives you the best cooking experience. It comes with a variety of exciting features letting you cook the more tempting meals most easily. It is packed with features like digital timer, mirror glass door, and auto cook menus, for easy operations. It is also featuring pre-programmed menus for instant meals at the touch of a button. It has a stainless steel interior body and comes with 10 power levels that you can adjust with ease. This microwave oven consumes 800W of output power and 2200W of input power.
Features of Whirlpool MW20BC 20L Convection Microwave Oven
Convection and Grill model
Multiple Power Levels and electronic control
Digital timer, keep warm and steam clean function
20 litres capacity
Included: Grill rack, Turntable, Turntable Support, Super Chef Starter Kit and User Manual
VIEW ON AMAZON.INVIEW ON FLIPKART
5. Morphy Richards 23MCG Convection Microwave Oven
Morphy Richards is a well-known brand and famous for their quality products and reasonable price ranges. This 23 liter capacity microwave oven from Morphy Richards is available in black color and has a mirror door enabling you to see through it to check the cooking progress. It has a stainless steel cavity that ensures the heat is uniformly spread inside the oven and also keeping the interiors of the cavity scratch free and strain resistant. The inner cavity is round and not having with any sharp corners. This convection type microwave oven has a power output of 800 watts and consumes 1200 watts in Convection and Grill modes. The cooking alarm provides you the completion alert when the cooking process is completed. It is equipped with five power levels that help you giving a combination cooking of micro, convection, and grill and also with its ten auto cooking menus, you can just choose the required setting for the type of food you want to cook or warm up.
Features of Morphy Richards 23MCG Microwave Oven
23 L capacity and mirror glass door
Varied convection cooking
Stainless steel cavity and child lock option
Ten auto cook options with five different power levels
Power Consumption: Microwave 1300 Watts; Grill 1200 Watts; Power Output 800 Watts
Combination cooking (Micro, grill, and convection)
Overheat and sensory protection
Defrost function
VIEW ON AMAZON.INVIEW ON FLIPKART
So, this is all about listing the best microwave oven in India under Rs 10000. You can trust these products without any doubt as these are from the well-known brands that need no introduction. Also, there is no reason to worry about the quality, as all these products are from the brands that assure the best quality and excellent customer service. These products will surely live up to your expectation and help you in making elegant dishes with utmost ease.