This blog is for all new mommies and new babies. It's about an essential must-have product for new-borns, a feeding pillow yes, indeed a necessary product for both new moms and babies. A feeding pillow helps mothers who have had a C section delivery and find it difficult to hold the baby on her tummy and hands for breastfeeding due to surgery stitches. Also, with multiple births, a mother finds it difficult to feed babies and need support. A nursing pillow or a feeding pillow (as some people prefer to call it) inevitably reduces the pressure on the back and neck, thus making you feel relaxed and in a comfortable position, which is very important for good milk flow for the babies. It is quite a valuable investment until you are breastfeeding or till your baby is grown enough to play with these cute feeding pillows. So don't think more, and if your expecting and going to deliver soon, start preparing your hospital bag with one of the Best feeding pillows in India.
Before you start looking for the feeding pillow, it's important to know specific things to look for that will help you choose the best feeding pillow for yourself. I have researched few tips to buy the most suitable feeding pillow in for your ease and mentioned all the Pros & Cons of the Best feeding pillow in India to make it easy for you, so go ahead and read the review. And please do check out the buying guide to help you choose the best for your child and you.
Our Best Picks for Feeding Pillows in India 2022 Review
Brand Name
Shape
Features
Buy Now
Kradyl Kroft
13 different colors
Detachable zipper
Baby hoop
Hypoallergenic
Multipurpose

Amazon.in
Lulamom
Multipurpose
Convenient for travel
Amazon.in
Chicoo
Reduce the muscular tension
Firm yet soft
Adapts to shape
removable slipcover
Amazon.in
MomToBe
Twin Feeding Pillow
Prevents back pain & supports spine
Amazon.in
WeKidz
Self Feeding Pillow
soft, breathable, comfortable skin-friendly
Amazon.in
Hoopa
Feeding Pillow cum infant carrier
Recliner
Ergonomically design
Amazon.in Flipkart
My Brest Friend
Promotes better posture
Doesn't slip or slide
wrap-around design secures the body
Amazon.in
MomToBe Blue Feeding Pillow
Secure & Adjustable Fit
A bit of arch in the tummy section for ceaserean birth
Amazon.in
Baybee
Portable Breast Feeding Pillow
100% fine eco-friendly, non-toxic cotton material
Amazon.in Flipkart
Best Feeding Pillow in India Review
So, here is the detailed review of the best brands of Feeding Pillows in India that will help every new mom and baby to enjoy the feeding time and will let the mommy have her bonding time with baby without any pain distractions.
1. Kradyl Kroft Nursing Pillow 5 in 1

The Kradyl Kroft Nursing pillow is a multipurpose 5 in 1 pillow that can bed used for feeding after feed relaxing and burping, tummy time that strengthens baby muscles, situp support, and baby hooped for playtime. It can be used by moms in different positions laid back, cradle, side-lying, and even football hold for a cesarean birth. That's quite a lot of work handled by just one pillow. The pillow comes with a 13 different design and color pillow cover that is detachable.
Key Features
– It comes with a detachable zippered cover and baby hoop
– Used till 0 to 4 years babies
– 5 in 1 multipurpose pillow
– Pilow is allergen-free
– Great for baby playtime and tummy support
Buyers Feedback
Pros
Attractive color and designs
Very useful and comforting
Secures the baby
Quality & softness is amazing
Removable & washable cover
The child enjoys its warmth
Cons
No attachment to support back
Buy Kradyl Kroft Nursing Pillow 5 in 1
View on Amazon.in
2. Lulamom Feeding Pillow
The Lulamom Feeding Pillow is a portable nursing pillow that is a multipurpose and versatile pillow. It can be used for breastfeeding, Bottle Feeding, propping, etc. You can also use it on the floor to support your child as they learn to sit upright or play. The material of this pillow is soft, lightweight, and is allergen protected.
Key Features
– Available in 19 different pattern & colors
– Come with Add-on loops
– Easy removable & washable covers
– Portable & great travel companion
– The washable anti-bacterial polymer fiber material
Buyers Feedback
Pros
Multipurpose pillow
Very soft and calming material
Great for both mom and baby
Easy to use
Cons
Few customers suggested that stitching can be improved
Buy Lulamom Feeding Pillow
View on Amazon.in
3. Chicco Nursing Pillow

Chicco nursing pillow are high-quality multipurpose pillows made of unique soft fiber filling and compact internal padding keeps the baby in the right position without any sinking. All the Chicco feeding pillows come with a removable slipcover and both the pillow and cover are machine washable and dry-able.
Key Features
– Safe support for both mother & baby
– A multipurpose pillow that helps in baby motor skill development and after feeding burps
– Ergonomic shape provides a snug and secure fit for every mum
– Come in 4 different color and design
– Removable cover and pillow are washable at home
– Miracle middle insert adapts to different body shapes
Buyers Feedback
Pros
Extremely fluffy & high quality
Easy to use
Travel-friendly
Very versatile and can be used after feeding for baby
Cons
Very expensive than other brands
Buy Chicco Moon and Stars Boppy Pillow
View on Amazon.in
4. MomToBe Twin Feeding Pillow / Nursing Pillow

This feeding pillow is specially designed for twin babies by MomTobe brand. The material is 10 % cotton that gives both stability & comfort to both the babies. It's highly durable, form, and designed to maintain the right posture for all moms who might have issues in the back by lifting the weight of two babies. It maintains a posture that helps in back pain reduction, and tension stress on the neck, shoulder, arms, etc. The best part is its encircling design and handy pockets to safely hold two babies at one go and let you keep the nursing bottles and cloths within reach.
Key Features
– Suitable for twin babies
– Made of HD Foam 100% Cotton Fabric
– consistent padding helps reduce pain in the back, arms, neck, etc
– Includes handy pockets
– Removable, machine-washable slipcovers
– Adjustable, silent-release strap
Buyers Feedback
Pros
Provides good back support
Big enough to hold two babies
Supports football position for twins
Releases all the stress & baby weight
Cons
Product is expensive and cannot be used by both babies in later stage
Buy MomToBe Twin Feeding Pillow / Nursing Pillow
View on Amazon.in
5. WeKidz™ Baby Self Feeding Pillow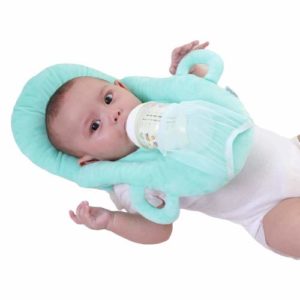 Wekidz self-feeding pillow is thoughtfully & beautifully designed to give the correct posture and comfort to your baby. Its made of soft cotton skin-friendly material that gives proper support to the child. It's extremely lightweight and can be carried around even while traveling.
Key Features
– Self-feeding pillow
– detachable bottle-feeding option
– Material is 100% cotton
– Pillow is machine washable on gentle cycle
– Lightweight for traveling
– Ergonomic design gives proper neck support
Buyers Feedback
Pros
Versatile pillow
Soft fabric and quality
Helps Moms to relax from the tedious task of holding the bottle but never leave the child unattended
Breathable & comfortable skin-friendly material
Cons
It's advised to feed the baby reclining position and not in lying, so this pillow is not designed that way.
Buy WeKidz™ Baby Self Feeding Pillow
View on Amazon.in
6. Hoopa Feeding Pillow Plus

HOOPA nursing pillow plus cum infant carrier is a unique reclined feeding pillow and carrier for the infant for 0 to up to 4 months. It specially designed to give support to the baby's delicate neck and keep them in reclining position. The plus new version by Hoopa has an adjustable shoulder strap for parent's comfort, which is firmly stitched into Hoopa Feeding Pillow for safety. The ergonomically designed gives the best position to new-born for feeding and burping. The pillow is 100% washable, and anti-microbial prevents the contagious disease from approaching infants.
Key Features
– Innovative design for dual-use for infant feeding and carrying
– Includes adjustable shoulder straps
– Helps in proper reclined feeding postures, height adjustment, and tilting infant towards mother
– Washable at home
– Hands-free feeding pillow
Buyers Feedback
Pros
Easy to use
Gives proper height and posture to baby
Good value for money
Keeps one hand always free
Buy HOOPA Feeding Pillow Plus
View on Amazon.in View on Flipkart
7. My Brest Friend Original Nursing Posture Pillow

This nursing/feeding pillow by the brand My Brest friend encourages back support & helps maintain a good posture. Unlike a crescent-shaped pillow, its Wrap-around design helps for easier nursing and bottle feeding. It gives support to arm & elbow rests and thus causes less fatigue. It has Convenient pockets to carry handy nursing and baby necessities products. The adjustable strap comes with a quick-release silent buckle for amazing quality.
Key Features
– Perfectly design to position baby for latch-on
– Helps prevent soreness in your back and neck
– Easy reach extra pockets for keeping baby essentials
– Wrap-around design secures the baby
– Adjustable strap with quick-release silent buckle
– Available in 8 different color and patterns
Buyers Feedback
Pros
Adjusts to fit most sizes
Gives an ideal position
Prevents baby from rolling out
High-quality material
The little pocket is very functional
Cons
It's a little hard but sturdy
Buy My Brest Friend Original Nursing Posture Pillow
View on Amazon.in
8. MomToBe Blue Feeding Pillow

Momtobe feeding pillows provide comfort to all moms who have gone through a c- section delivery by designing this pillow that offers you half pillows with a bit of arch in the tummy section, so the tummy has some space to breath and stitches to recover. It comes with adjustable straps that get fit in any tummy size and don't hurt you and the baby. The support & comfort it gives is beneficial for your health. It also provides baby back massage and promotes blood circulation.
Key Features
– Feeding pillow with a front belt
– Available in 11 different color & patterns
– Soft And Comfortable material
– Ultra-soft foam cushioning for baby & mommy
– Covers the whole waist completely
– Two variants available – half & full pillow
Buyers Feedback
Pros
Its stylish, trendy & affordable
The half pillow is very comfortable for mothers who had c section delivery
Soft but firm enough to hold the baby properly
Cons
The pillow cannot be washed
Buy MomToBe Blue Feeding Pillow
View on Amazon.in
9. Baybee Nursing Pillow Portable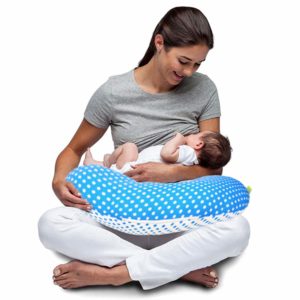 The Baybee Feeding pillow is made from Eco-friendly, breathable, and comfortable cotton fabric, which is hypoallergenic. All the patterns and colors are gender-neutral and are very eye-catching. The cotton pillow covers are easily removable and machine washable. The hidden zipper gives easy insertion or removal of cushion. The pillow is very lightweight and portable.
Key Features
– Made of 100% fine Eco-friendly, non-toxic cotton
– EN71 Certified (European standards for the safety of Babies and Toddler)
– The cushion cover is hypoallergenic
– Cover can fit in any standard nursing pillow
– Removable and Machine washable slipcover
Buyers Feedback
Pros
Great for travel purpose
Cozy and comfortable
Material is high-quality cotton
Easy to use & maintain
Fits perfectly around the waist
Buy Baybee Nursing Pillow Portable
View on Amazon.in View on Flipkart
Best Feeding Pillow in India 2022 – Buying Guide
Why use a Feeding Pillow ?
Many issues come with breastfeeding like inadequate milk supply, back pain, c-section delivery pain, bad posture, mastitis, etc. These problems make it difficult for you to feed your baby, but don't worry; that's where these feeding pillows help by making the breastfeeding experience more relaxing and less exhausting by supporting your lower back, spine, hands that can get pressured while holding the baby.
How to use a Feeding pillow for breastfeeding?
A feeding pillow surely makes your life a little easier, so if you have decided to buy them, I will let you know how to use these feeding pillow to make the most of it. Just follow these steps below:
Step 1- Sit in the most comfortable quiet place of your choice, your favorite chair, or couch or your bed because you don't want any distractions when its time to bond with your baby.
Step 2- Secondly, Place the pillow around your waist or at the back according to your seating position and shape of the pillow. All feeding pillows come with adjustable straps, so when you feel you are comfortable with the height of the pillow, you can fasten that straps securely. Also, make sure the baby's head and neck are fully supported.
Step 3- Lastly, when you and baby are in the right posture, start feeding the baby.
Note: Even if you bottle-feed your baby, a feeding pillow will be of great support with the same steps.
Note: I would highly recommend for mothers who have a 'c section delivery' to use feeding pillow in initial breastfeeding days till your back and stomach is out of pain.
Benefits of using a Feeding pillow while breastfeeding
A feeding pillow is not just for back support but can do a lot more and comes with a few amazing benefits and functions.
– It relieves the tension on your hand, neck, back, shoulder while holding the weight of the baby.
– It secures the baby in the right posture, thus providing a good latch and close to your body.
– A few of the pregnancy pillows can also be used as a nursing pillow that initially supported your growing belly and helped you sleep when you were pregnant.
– It is a great option to give your relief from C section pain and lets you recover by protecting the incision stitches.
– Feeding pillow helps support nursing mothers with twin babies properly and holding other items while you are feeding as your hand is free, and you don't need a third hand.
– It can also be used as a sitting up pillow for babies who are learning to sit up.
– It positions your baby correctly in the right posture, to the mother's nipples to drink milk.
– The only drawback I could find with the nursing pillow was that most of these pillows are bulky and takes a lot of space.
Tips while buying the best Feeding Pillow
A feeding pillow comes in many different shapes, quality, fillings, added features, etc. So, it's important to know certain tips that can help you buy the right one for you as purchasing a wrong feeding pillow will only result in wasting your money. Here are a few things to consider while buying the best Feeding Pillow in India.
1. Shape & Firmness
Its a very important factor while considering a feeding pillow. You must look for the pillow firmness, and if your baby head will sink, which happens when the pillow is not firm enough. Other than the firmness, you need to select the right shaped pillows. In the market, you now have the option of different shapes of feeding pillow wherein a "C shaped pillow" is considered the most comfortable and popular due to being lightweight and easy to carry around. The other "O shaped pillow" comes with adjustable straps to wrap around the body. There is a more specific option available like a twin baby feeding pillow or a feeding pillow for c section delivery. So you can choose accordingly.
2. Perfect fit & size
Always try and see how a feeding pillow fits your body as every mom has a different waist size. The pillow must come up to the height where you can easily feed your baby. Don't buy a pillow that is too tight or too wobbly on your waist.
3. Durability & easy cleaning
A feeding pillow will always get dirty due to any spillage of milk or spitting up, so you must buy a pillow that has a removable cover that can be machine washed. Also, it should retain its durability and remain in shape after many washes.
4. Added features
Always look for some unique features that come with these cute nursing pillows like easy to carry during travel and fits in your bag, twin baby pillows, or a pillow that is good for baby refluxes.
5. Design & cuteness
These days, feeding pillows come in many patterns and color choices that attract a baby and look cute, so you can choose as per the preferences that you feel matches your baby nursery room or looks lovely too.
Best Feeding Pillow in India 2022 – Conclusion
You might be thinking that a feeding pillow is not of great use; however, I hope this blog has been able to give you some insight into how helpful and comforting it can prove for both mom and babies, especially during initial days when the mother has just delivered the baby. I can surely tell you that it makes the most daunting yet important task like breastfeeding so much enjoyable and will give time to the baby to bond with his/ her mother. Invest on these above given best feeding pillows in India that are multi-purposeful and full of amazing features, and you won't ever regret it.