We all agree that we get a sleepless night when we cradle our baby and find out that he/she is feverish in the middle of the night. It's sure that we do get panicked and are unable to make the right decision for if we should rush to the emergency hospital or take care of this fever at home. Wouldn't it be more easy for us if we have the right information about our babies temperature anytime to make the best decision. With babies there, can be no space for errors and babies need the extra gear so it's always better to get the precise & accurate information that can help us make the best decision at the right time. for that, we need the best thermometer for babies. We think that any other thermometer in our home will do best, but it's a mistake to not use the thermometers specifically for babies.
Why buy the Best Thermometers for Babies ?
A regular thermometer is difficult for babies to hold them under their tongue and if you think the thermometer can be used under the arms, then that is not the best way to get the accurate temperature.
Secondly, the old type of thermometer with mercury can be dangerous if it breaks, and the mercury is inhaled. <//li>
An ear thermometer which is known to be the most accurate can only give the perfect temperature if you can find the small ear canal one for the babies.
For accurate weight of your baby read our blog on Best Digital Weighing Scale for babies
Types of Best Thermometers for Babies
There re various types of Baby Thermometers that will help you get the most accurate temperature without making your baby feel uncomfortable.
Digital Thermometer – A digital thermometer has an electronic sensor that takes a minute or less to record the temperature. It can be used orally, axillary that is under the arms, and the best way to get the proper temperature with a digital thermometer on toddlers less than six months is rectal use. This way is the most reliable because first, the baby can't hold the oral thermometer properly, and the underarms one will never give ou accurate readings.
Glass Thermometer – Glass Thermometer is the old school type which can be very dangerous for the babies. It is made of mercury which you placed under your tongue, and the mercury inside it rises and indicates the temperature. If by mistake, mercury is inhaled, it has been associated with neurological problems and also death, so it's always better to not use the glass thermometer that comes with mercury. These days glass thermometers come with other substance than mercury that also can be used orally or under the arms that give a precise reading.
Ear Thermometer– To take an accurate reading with ear thermometer it's advised to keep the ear clear of wax, and it should be of appropriate pf size of the babies ear canal. It is used on a child older than three months. An ear thermometer measures temperature through infrared heat that comes from ears.
Pacifier thermometers– Though convenient, a pacifier thermometer is not a great choice as it takes a lot of time to measure the temperature and also is not a great option as it can pose a choking hazard.
Forehead Thermometer – In medical term, the Forehead Thermometer is also called the Temporal Artery Thermometer that measures the infrared heat that comes off from the head by sending the temporal artery. These are considered as the most accurate one. There is also forehead strip thermometers that are plastic disposable strips that you place on the baby's forehead, and it displays a temperature reading, but again these are not accurate.
Features to keep in mind before buying the best thermometer for Babies
1. Accuracy
An essential feature to keep in mind while buying a thermometer for a baby is it must give the correct temperature reading so always choose the one that a doctor agrees to be accurate.
2. Consistency
A reading that contrasts every other minute will be frustrating and also worrisome, so buy a thermometer that is consistent in giving the same reading.
3. Thermometer designed for baby's body
Baby's body is more soft and sensitive that needs extra care so its better to choose the thermometer specially designed for an infant, toddler. A child will be more comfortable with the thermometer that is designed according to his body.
4. Type of Unit
You must choose a thermometer that measures temperature in either Fahrenheit or Celsius as per your preference, but the result it gives should be in proper without creating any confusion.
5. Speed of the thermometer
Babies get cranky and don't have the patience for keeping the thermometer in their mouth or ear so pick the one takes few seconds of wrangling. Unnecessarily holding them to take the temperature from a thermometer that takes 1 minute will only give you an impatient baby along with an inaccurate reading.
6. User-friendly
Its a personal choice to choose the thermometer that is easy to use with a single touch button or you want the one with unique features with additional buttons that can tell you your child's fever history or save the readings.
7.Sound and Backlit display
A thermometer that gives sound when the reading is done is comfortable for some parents as they know it's done. Also, make sure that your thermometer has a light display as it can help you see the reading while your baby is sick early morning and you don't want to turn on the lights.
Best thermometer for Babies Review
Keeping in mind the above features and types of thermometer I have curated some of the Best Thermometer for Babies in 2019 with all their Pros and cons that might help you choose the one you can trust and is best for your baby.
1. iProven DMT489 Gray Cap – FDA and CE Approved – Clinical Accuracy Suitable for Baby, Infant, Toddler and Adults

The iProven DMT489 is a forehead thermometer for baby that offers reading at great speed and with accuracy. The best part is that its very user friendly and keeps the reading in its memory Up to 20 readings.
Key Features
Dual Mode thermometer
Consistent and reliable
Gives fast accurate results
Unique features that displays fever indicator which lights up in green or red to alert you
Save readings in memory
Buyers Feedback
Pros
Suitable for all ages
Very easy to use
Fast reading
Accurate reading
Good sound to notify the reading
Cons
The beep sound doesn't get switche4d off by any button
Shop iProven DMT489 Gray Cap – FDA and CE Approved
Buy on Amazon.com
2. QQcute Dual Mode Thermometer

The QQcute Digital forehead baby thermometer is suitable for all ages and use the latest infrared scanning technology that gives most reliable and accurate readings. It has been tested clinically and was available with only medical practitioner but now its available for you to buy online.
Key Features
Can be used on both forehead or in-ear
Can be used when a child is sleeping
Simple button activation
Accurate reading in seconds
Buyers Feedback
Pros
Dual mode
Suitable for all ages
Auto shut off in 30 seconds
Handy and easy to use
Reading in both Celsius or Fahrenheit
Shop QQcute Dual Mode Thermometer
Buy on Amazon.com
3. Dr. Madre Medical Infrared Digital Forehead Non-Contact Thermometer

Dr. Madre digital forehead thermometer gives accurate and consistent reading with non contact mode so in that way you child never gets disturbed. It also keeps record of 12 previous readings and has a big display screen that makes it easier to note the temperature.
Key Features
Easy to use without disturbing the baby
track up to 12 previous readings
Easy reading even at night
Offers a silent mode that enables you to switch off the speaking mode
Buyers Feedback
Pros
Fast and accurate reading
Instant results in one click
Displays result in English & Spanish
Easy to operate
Silent mode laser thermometer
Shop Dr. Madre Medical Infrared Digital Forehead Non-Contact Thermometer
Buy on Amazon.com
---
Best Rectal Thermometers for Babies
Rectal thermometers are considered to be the most accurate one and give perfect temperature readings in babies less than 6-month-old. It's always advisable to choose the rectal thermometer based on your baby's small body, and it's important that you read the instructions before using it so the baby doesn't feel uncomfortable and is safe while inserting the probe accurately.
1. Vicks Baby Rectal Thermometer

Vicks Rectal Thermometer for babies is designed keeping in mind a baby's sensitive and tiny body. The smart design of this thermometer is safe to use as it has a short probe that doesn't allow the probe to be inserted too far that can cause accident to the baby. Trust me that this one is the most invasive and comfortable way to take temperature in smaller babies.
Key Features
Small Size and flexible tip
Big digital display for clear reading
easy to handle grip
Delivers a reading in 20 seconds
Buyers Feedback
Pros
Short probe for safe insertion
Very reliable and accurate readings
It has a big screen and backlit
Easy to clean with waterproof design
Cons
Only for rectal use so its not versatile
Doesn't have an audible indicator
Shop Vicks Baby Rectal Thermometer
Buy on Amazon.com
2. Iproven Rectal dual-mode thermometer

The iproven Rectal thermometer is best recommended for taking the temperature on a baby under 1 year old. It can give a very fast and accurate reading in just 5 to 12 seconds. Its flexible and can be used in any way, orally, axillary (armpit), or rectal but I would recommend to use it through rectal on infants as thats how it gives a proper reading. It's waterproof so you don't have to worry about the hygiene.
Key Features
Proven to be 100% accurate
Flexible tip for highest comfort
Very versatile
Quick and easy to use
Water resistant
Buyers Feedback
Pros
Easy to use
Very reliable and accurate
Baby friendly and convinient for their body
Sensing tip that measures temperatre in seconds
Soft beeping sound
Shop Iproven Rectal dual-mode thermometer
Buy on Amazon.com
---
Best Digital Thermometers for babies
A digital thermometer is always better than the old glass thermometers as they give a quick reading and comes with extra features that can be comfortable and safe for the baby.
1. Kinsa QuickCare Smart Digital Thermometer

The Kinsa QuickCare smart thermometer is a digital smart thermometer that allows yout o connect to an android smartphone and iOS 1 or higher for tracking of data and free medical advice through their app. The design is simple yet accurate and reliable. It can be used in many versatile ways. It gives readings in 8 seconds or less.
Key Features
FDA-cleared for safety & accuracy
Very fast reading
Versatile as it can be used rectally, orally or under the arms
Flexible probe for baby's comfort
Features Sesame Street design
Buyers Feedback
Pros
Setup of app is very easy
probe or tip is solid yet flexible
Tracks up to more than 50 readings and other symptoms
Great battery backup
Easy cleaning
Cons
Its water resistant not water proof
Shop Kinsa QuickCare Smart Digital Thermometer
Buy on Amazon.com
2. Braun Digital Thermometer, 3 in 1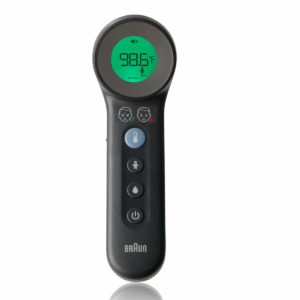 The Braun digital thermometer is 3 in 1 as it can be used for baby food for easy feeding, fever and for measuring bathing temperature for babies. It measures temperature fast and is gentle on baby's body. The reading is done through infrared heat wihout being in contact with the body.
Key Features
3 in 1 temperature recordings
Age Precision button
Displays fever mode with diffrent color light
Safe and hygienic
Buyers Feedback
Pros
No touch thermometer which doesnt disturbs the baby
Easy to use
Measures temperature of three diffrenet things, food, water and fever
Takes few seconds to give the reading
Fever guidance for the whole family
Shop Braun Digital Thermometer, 3 in 1r
Buy on Amazon.com
---
Mercury-free Glass thermometer for babies
These are the most affordable thermometer and still safe for the baby as they are mercury-free and still gives accurate results.
1. Geratherm Mercury-Free Thermometer
I have taken into consideration this one because it's important to have a backup in life, The geratherm Mercury-free glass thermometer, Because the thermometer has no mercury, it is safe and environmentally friendly. The scale is easy to read and features dual measurements, both Fahrenheit and Celsius. Geratherm glass thermometers are made with a patented, FDA approved nontoxic substitute for mercury called galinstan.
Key Features
Safe & comfortable for the baby
Easy to read
Environmnet friendly as it's mercury free
FDA approved nontoxic substitute for mercury inside the thermometer
Buyers Feedback
Pros
Can be used both orally and rectally
Accurate and reliabel
Easy to read the reading
No batteries required
Easy cleaning
Cons
This one takes omre than a minute to give a proper reading
Shop Geratherm Mercury-Free Thermometer
Buy on Amazon.com Buy on Amazon.in