Pregnancy is a miracle, an experience to create life in this world — an exciting journey of nine months that brings so much happiness, but nothing is easy, so even this journey comes with a lot of challenges. A women's body goes through a lot of changes during these nine months to create life. These changes come with a lot of difficulties, struggle, sleepless nights due to a massive transformation in the body. For proper healthy growth of the baby, the mother must get adequate & stress-free sleep, which becomes a struggle during the end of the second & third trimester, and there is only one solution to this problem, a right pregnancy pillow. Since we know the importance of comfort during pregnancy for any woman, we made sure to research on the subject of the best "pregnancy pillow in India".
A pregnancy pillow or maternity pillow helps a lot in reducing any discomfort, back pain, hip pain, etc. A maternity pillow comes in many sizes, shapes, different filling that relaxes your body, and comforts you. With so many options available in the market, selecting the right pregnancy pillow can be very confusing. To make it easy, we have listed down some of the best pregnancy pillows in India 2022 along with their review and things to always look for while buying a pregnancy pillow along with their types, benefits, and best brands. Do not forget to go through our detailed buying guide as well.
Our picks for the Best Pregnancy Pillow 2022
Product Name
Shape
Material
Features
Leachco Pregnancy Pillow
horseshoe (U shaped)
Poly Fiber
Reduces Beat sciatica and lower-back pain

Easy to clean
Amazon.in
Coozly Premium Lyte Pregnancy Pillow
C Shaped
Cotton Fiber
Multipurpose pillow
Great for full body support
Amazon.in
COOZLY Pregnancy U Lyte Pillow
U shaped
HQ fibres inside and Cotton Knitted Jersey fabric for cover
Good for people who switch sides
Takes the shape of your body
Amazon.in
Momsyard Full Body C Shape Maternity/Pregnancy Pillow
C shaped
Polyfiber & Velvet cover
Supports your back, hips, knees, neck and head
Amazon.in Flipkart

Angel Mommy Luxurious Pregnancy Pillow
C Shaped
Microfibre & Velvet
Ergonomic design improve blood circulation and aches, pregnancy swelling or leg cramp.
Amazon.in Flipkart

Mom's Moon Upgrade Model Shape Pregnancy
U Shape
Cotton & Micorfiber
Provide quality sleep and keep your neck, shoulder, back and hip aligned during sleep
Amazon.in Flipkart

Ultra Soft Body Pillow - Long Side Sleeper Pillows
long shaped
Premium high quality fibres & Cotton
Breathable , hypo allergic material perfect for side, stomach and pregnant sleepers.
Amazon.in
Bedding King Cotton Satin Body pillow
Long King sized
microfibre Balls
Multipurpose, lightweight and extra soft large shaped pillow
Amazon.in
Here is the detailed review of the Best Pregnancy Pillow in India
We have selected some of the most reviewed brands for the best Maternity Pillow in India that are affordable, high quality, multipurpose, and gives the best possible comfort to expectant mothers.
1. Leachco Pregnancy Pillow

The Leacho pregnancy pillow is an excellent choice for comforting expecting mothers from back pain, sciatica pain, etc. It's shaped like a horseshoe that gives supports to your upper body and head. The shape lets us place your folded arm under the horseshoe-shaped part of the Pillow and sleep comfortably. The extra-long segment provides complete tummy support. It always soothes heartburn, as well as quite a few other health-related problems that tag along with pregnancy.
Key Features
– Removable and washable cover
– Gives whole-body support
– Beat sciatica and lower-back pain
– Easy to clean
– The material is soft and comforting
Buyers Feedback
Pros
Excellent quality product
Very soft and protective
Perfect fit for spine
Replaces the need for multiple pillows
Buy Leachco Pregnancy Pillow
View on Amazon.in
2. Coozly Premium Lyte C Shaped Pregnancy Pillow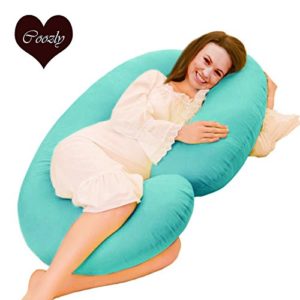 Coozly Premium pregnancy pillows are the best pregnancy companion made from premium high-quality Coozly HQ Fibres and detachable 100% cotton cover. Its a C shaped pregnancy pillow that contours your back and provide vertebrae and belly support. The fine precision cut and denier fiber give it so much flexibility to adjust with any sleeping position that is comfortable for you.
Key Features
– Made from Fine precision-cut Coozly HQ fibers
– Variety of color options available
– Coozly Pillow covers are detachable
– Offers vertebrae plus under belly support
– Suitable for Persons with weight above 65 Kgs Plus
– Multipurpose & can be used for Pregnancy, Reading, Lounging, baby safety guard, etc.
– Includes 50 % off Cover Coupon with every purchase
Buyers Feedback
Pros
Worth the money
Very comfortable and useful
Works for Back, thighs, lower back, and abdomen
Flexible to move around
Highly durable
Buy Coozly Premium Lyte C Shaped Pregnancy Pillow
View on Amazon.in
3. COOZLY Pregnancy U Lyte Pillow

Another pregnancy pillow by Coozly brand is the U shaped horseshoe design for people who tend to switch sides while sleeping. This Pillow is designed to give twin side support where the upper part provides support to head and shoulders covering the entire vertebrate, and the front side takes care of your growing belly. It is built with a material that takes the shape of your body and compresses easily for filling gaps.
Key Features
– Made of HQ fibers which are hypoallergenic & non-reflexive
– Gives twin side support
– Suitable for body alignment during pregnancy
– Flexible shape and material make it multipurpose
– Detachable cover is machine washable
Buyers Feedback
Pros
Great for side stomach sleepers
Pillow comes with neat packaging
Very comfortable to sleep in or around
Suitable for people with backache
Comes in both light and dark color options
Buy COOZLY Pregnancy U-Lyte Pillow

View on Amazon.in
4. Momsyard Full Body C Shape Maternity Pillow

Momsyard Full Body Pregnancy Pillow is a great choice. It can be used as a baby nursing cushion or Maternity Pillow for Pregnant Women. Its C shaped design supports your back, hips, knees, neck. It made of stretchable polyfill material & 100% Velvet Pillow Cover.
Key Features
– Relieve back pain associated with pregnancy
– Proper support when laying on the side
– Replaces the need for the multiple pillows
– Made of polyfill and soft velvet
– The cover is removable & machine-washable
Buyers Feedback
Pros
Soft and robust quality
Boon for expectant mothers
Supports and comforts your back
Good quality fabric
Varied color and weight options
Very reasonable than other brands
Cons
Few customers did not like the cover quality
Buy Momsyard Full Body C Shape Maternity Pillow
View on Amazon.in View on Flipkart
5. Angel Mommy Luxurious Imported Velvet

Angel mommy Luxurious Pregnancy pillow is a U shaped pillow designed to give comfortable support for your entire back, hips, knees, neck, and head to help relieve pain. Its oversized maternity pillow is long enough for you to stretch out and support both sides of your body. The outer cover is a pure velvet zipper that makes the filling easily removable. The body pillow doesn't contain phthalates/latex/lead and is BPA-free.
Key Features
– Premium high-density soft cotton filling
– Contours body shape
– Relieves back pain, neck stiff, lower back pain
– Versatile & multi-functional
– Reduces tossing and turning to help sleep quietly
– Hypoallergenic and breathable material
– 30 days replacement warranty
Buyers Feedback
Pros
Removable cover which is soft, breathable and hypoallergenic
Easy cleaning and machine washable
Pillow is foldable into multiple positions
Comes in 8 different colors
Cons
Stitch quality of velvet material could have been better
Buy Angel Mommy Luxurious Pregnancy pillow
View on Amazon.in View on Flipkart
6. Mom's Moon U Shape Pregnancy Pillow

The Mom's Moon Upgrade Pregnancy pillow is a multi-functional U shaped pillow that creates cushion when you are sleeping, reading, resting, or even watching TV. It cradles your whole body, thereby reducing extra tossing and thus provide quality sleep. It keeps your neck, shoulder, back, and hip aligned during the night. The best part is that it can be folded in any position where you can elevate your legs to improve blood circulation and relieve pregnancy swelling. Its made of high-density soft cotton filling that gives you the most comfortable Good night sleep.
Key Features
– U shaped with longer side is designed for full-body support
– Relieves all kind of pregnancy stiffness & pain
– Premium & high-quality cotton filling
– Foldable & flexible for multipurpose
– Available in 10 different colors
– The outer cover is machine washable & durable
Buyers Feedback
Pros
Gives good back support
Good and durable material
Softer & sturdy
Multipurpose Pillow even after delivery for nursing
Value for money
Cons
It's quite heavy so not suitable for Spondylitis patients
Mom's Moon U Shape Pregnancy Pillow
View on Amazon.in View on Flipkart
7. Ultra Soft Long Side Sleeper Pillows

The Ultra soft Long side pillow is the most versatile body pillow than all other brands as its perfect for supporting your stomach, sides, and belly. It gives proper orthopedic support to the entire body, meant not just for pregnant women but even older people. The material is a mixed combination of fluffiness s yet resilient wit its microfiber filling. It doesn't involve any zipper fuss and self adapts to all your needs. It can even be used just as your neck pillow. The Long shape allows you to use it both horizontally or vertically.
Key Features
– Replace any standard pillows due to its shape
– Medium firmness supports the neck perfectly
– Multipurpose – Lounging, sleeping, relaxing and holding under the arms
– Made from premium high-quality Fibres
Buyers Feedback
Pros
Soft & comfortable material
Breathable Material
Supports full body along with strained neck
Long length makes it useful for all age groups
Cons
Available in just one color
The filling is lesser than other pregnancy pillows
Buy Ultra Soft Long Side Sleeper Pillows
View on Amazon.in
8. Bedding King Cotton Large Pillow

Bedding King Pregnancy pillow is a large shaped full-size pillow made to support the entire body in the right sleeping position. The fillers are soft, comfortable microfiber that is meant to take the shape of your body. It can be used by all age groups, especially older people and pregnant women, due to its full-length large rectangle shape. The ball fiber inside the Pillow makes it extra lightweight that can be easily carried around in the entire house.
Key Features
– Very lightweight
– Keeps the body in the right position while sleeping
– Ball Fiber Filling makes it extra supportive & handy
– Available in two colors, White & dark Navy Blue
– Machine washable
– very long king-sized
Buyers Feedback
Pros
Very fluffy & soft
Can be easily carried around
The material retains its shape
Buyers Feedback
Buy Bedding King Cotton Large Pillow
View on Amazon.in
Best Pregnancy Pillow in India – Buying Guide
A complete guide to help you select the best pregnancy pillow during your most challenging days.
Do I need a Pregnancy Pillow? (Benefits of Pregnancy Pillow)
A pregnancy pillow is meant for comfort and takes care of the following things during pregnancy-
Helps you sleep on stomach, sides or your favorite position
Relieves heartburn by elevating our body
Relieves from sleepless nights due to twisting and turning on the bed
Promotes proper blood flow by promoting side sleeping
Help reduce pressure on the back, hip, and pelvis
Helps in sound sleep free of stress & aches
Even great after delivery while nursing & feeding the baby
Few body pillows can be used for reading, watching TV, or just relaxing by anyone
Types of Pregnancy Pillow
A pregnancy pillow is available in the market in different types according to their shape, size, or material. If you know their types, it will be easier for you to choose the right one that suits your sleeping styles.
1. Long or Full body Pillow
It s just like a regular pillow but longer in length that offers support from your head, neck to knees. It helps you sleep by controlling too much moving around, thus giving sound sleep. It also doesn't occupy much space and can be used by anyone. They are also called hugging Pillow as they are very fluffy, soft but doesn't really give under support the growing belly.
2. U-shaped Pregnancy Pillow
Just like a horseshoe, "U shaped pregnancy pillow" is meant to give support to your back, hip. It's ideal for someone who has a habit of sleeping on their back but cannot sleep during pregnancy. Usually, all U shaped pillow contours to warp your body all round from back, knees, front. The only downside is that they are huge and not really useful after delivery, but if you want, you can use them as a nursing pillow.
3. C-shaped Pregnancy Pillow
A "C-shaped pregnancy pillow" looks like the letter C and fully supports and comforts your back, tummy, full body. It replaces the need for extra pillows if you need one on your knees too. It helps you sleep by resting your head on the upper side and slide in your knees in the C curvy position, which is very comforting, but they are costlier than other pillows.
4. Wedge Pregnancy Pillow
The smallest of all pregnancy pillow is the wedge pillow. They are useful after delivery too. They support a particular area, mostly your back, hip, or under the belly. They are very affordable and take less space but doesn't offer that cuddling support to the whole body.
Things to consider while buying a good Pregnancy Pillow
1. Body Height & weight
You must look for the Pillow that will support and comfort you properly, which is possible if it matches your body type, height, weight, etc. for example, a plus-sized woman only C or U shaped Pillow will be comforting.
2. Sleeping Position
Some people are only fond of sleeping on their stomachs, but in pregnancy, mothers need to sleep on their sides for good growth of baby due to increased blood flow in that position, so look for the Pillow that can help you sleep that way.
3. Size of Bed
It's essential to consider your bed size before buying a pregnancy pillow as some pillows are huge and only fits in a king-sized bed.
4. Firmness
A good support is only provided by a firm pillow, not a soft one, so look for a pillow with medium to high firmness. A soft pillow will not be able to support our growing belly.
5. Hypo-allergic material
Look for a pillow material that is hypo-allergic as its important for pregnant women to be free from any allergies, breathing problems, skin issues, etc.
6. Filling material
The fillers inside the Pillow play a great role in providing support to your body, Pillows are filled with polyester fiber, micro-beads fiber, memory foam, Styrofoam, etc., A memory foam filler is considered to give proper support and comfort than polyester fibers while a ball fibers make the Pillow softer and fluffy.
7. Removable cover
During pregnancy, a woman's body goes through a lot of hormonal changes; it could be sweaty sometimes, so look for a pillow that has a removable cover and can be easily cleaned to maintain the hygiene.
Best Pregnancy Pillow India – Conclusion
Pregnancy Pillows are great companions that will ease all your discomforts, but only if you choose the best one that suits your body, need, sleeping position, etc. You can read the blog and pick the best pregnancy pillow in India for yourself, and I hope the review will help you get your stress free sound sleep, and even your family can enjoy the benefits of these super comfy pillows.