Do we need the best Disinfectant Spray or anti-viral spray for our home or office? This question might have fallen irrelevant before the COVID 19 outbreak in the world, but now after how this deadly pandemic has affected millions of lives around the globe, we feel the importance of using the most effective disinfectant spray everywhere we can to keep our family safe.
According to Central for Disease Control and Prevention (CDC) guidelines for household settings did a research and found that any virus droplets may remain viable for hours to days on surfaces made from a variety of materials and cleaning of these surfaces with a disinfectant sprays is the best practice measure for prevention of COVID-19 and any other viral respiratory illness in household objects or community settings like offices, malls, etc. Sometimes, the air inside a room occupied by an infected person remains potentially infectious, so it is best to use an air disinfectant spray and consider the ventilation facility or exhaust vents improvements. These disinfectant sprays can also be used for cleaning the household items where any symptomatic or an asymptomatic person is in self-isolation.
A bigger challenge comes with the asymptomatic patients who don't show any symptoms of the virus but do transmit infection much more commonly through respiratory droplets than through objects and surfaces, like doorknobs, countertops, keyboards, toys, etc. To avoid any infection transmission, it's important to use the Best Disinfectant Spray for Home and offices till at least we get a vaccine against this viral transmitting disease.
In this blog, we have researched to find some of the Best Disinfectant Spray in India that can be used every day to clean and disinfect any surface, objects, etc. We have also tried our best to give you all information as to how to make disinfectant spray at home and tried to review all good multipurpose disinfectant sprays, including surface liquid disinfectant and air disinfectant sprays that can help to protect you and your family from any transmitting virus.
Our pick for the Best Disinfectant Spray for home & office
Here is the list of best available Disinfectant sprays in India available online that can be used to practice an everyday routine cleaning of frequently touched surfaces like doorknobs, lift buttons, tables, light switches, handles, desks, toilets, faucets, sinks, electronics, etc.

| Disinfectant Spray Brand | Size Available | Alcohol content | See Price |
| --- | --- | --- | --- |
| BodyGuard Multipurpose Disinfectant Spray | 500 ml Bottle | 70% v/v Denatured Ethyl Alcohol q.s equivalent to 70% Isopropyl Alcohol | Amazon.in |
| Savlon Surface Disinfectant Spray | 170 ml Bottle | ETHANOL IP (95% V/V) – 62.00% W/W EQUIVALENT TO 84.24% V/V ABSOLUTE ALCOHOL DENATURED WITH ISOPROPYL ALCOHOL 3.1% | Amazon.in |
| Micron Omega-C12 Surface Decontaminant Spray | 500 ml Bottle | Micron Omega-C12 Surface Decontaminant Spray | Amazon.in |
| NATURAL LIFE Disinfectant Surface Sanitizer | Combo Pack with two 500 ml bottle and 5 liter can | 10% alcohol made of natural ingredients | Amazon.in |
| Bacto-V Gadget Disinfectant Spray | 10 ml Bottle | 99.7% alcohol | Amazon.in |
| Dettol Multi-Purpose Disinfectant Spray | 170 gms | 76.99% alcohol | Amazon.in |
IMPORTANT NOTE:
– All the products listed below are subject to availability due to high demand due to COVID 19.
– Please do keep checking every few hours for the availability of the products on these e-commerce platforms.
You can also see more options in Best Disinfectant Spray for home here on Amazon.in in case the below products are currently unavailable.
Best Disinfectant Spray in India Review 2021
Here is a detail Review of the best Disinfectant Spray in India available online that you can use every day at objects in your home, office or any community place. Please be sure to read our [ Surface Disinfectant Buying Guide ] given below the reviewed products list.
1. BodyGuard Multipurpose Alcohol Based Disinfectant Spray
The multipurpose disinfectant spray by BodyGuard seemingly clean all diverse range of surfaces and objects and kills 99.9% of germs. It's effective for all disease-causing bacteria and ideal for use on hard and soft surfaces like bathroom, furniture along with mattresses and curtains, car seats, doors and knobs, office desk, kids toys, etc. This natural alcohol-based disinfectant will help you maintain the highest level of hygiene without any health side effects from its ingredients.
Key features of BodyGuard Disinfectant Spray
– Made of 100% natural ingredients
– Disinfectant and sanitize as many places/ objects
– Made using alcohol and other sanitizing agents
– Alcohol-based disinfectant for killing 99% germs, virus and bacteria
– Nice fruit floral smell
– Also kills cold and flu virus
Buyers Feedback
Pros
Works on any hard or soft object
A very nice fragrance like a room freshener
Easy to use
The smell is not like a chemical
Effective on even mattresses and beds
Cons
Few users found that smell is too strong
Buy BodyGuard Multipurpose Alcohol Based Disinfectant Spray
Buy on Amazon.in
2. Savlon Surface Disinfectant Spray

The 50 year old and popular antiseptic brand Savlon has come with another great product with its effective disinfectant spray that works on all hard and soft surfaces to kills a wide range of viruses, bacteria, molds & fungi. It's ideal for use on all high traffic surfaces like a chair, tables, doorknobs, packages, carpets, curtains, etc. It is a versatile and multipurpose disinfectant spray and kills 99.9% germs on surfaces touched by a number of different people.
Key Features of Savlon Surface Disinfectant
– Works for a wide variety of high traffic surfaces
– Disinfects and Deodorizes as well
– Protects from H1N1 virus, Rotavirus & Flu virus
– Easy to use packaging
– Effective in killing 99.9% germs and bacteria
– Alcohol-based disinfectant
Buyers Feedback
Pros
A pleasant and fresh smell
Useful and easy to handle
Sprays a large amount in a single tap
Buy Savlon Surface Disinfectant Spray
Buy on Amazon.in
3. Micron Omega-C12 Surface Decontaminant Spray

Micron Brand has been operating as specialty chemicals and aerosol Manufacturing company since 1989. They have come up with this Omega -C12 Surface disinfectant spray that has a high level of alcohol content and comes in a high-quality Spray bottle with an ergonomic grip that decontaminates any surface in 20 Seconds & makes it safe to touch again. The spray makes the surface safe to touch with a clinical fragrance. It is effective to prevent the spread of harmful germs spread through touch that loiter on commonly touched surfaces like Taps, Door Handles, elevator buttons, etc.
Key Features of Micron Omega C12 Surface Decontaminant Spray
– 70% Plus Alcohol content
– Touch-free experience to decontaminate surfaces
– Effective for all kind of surfaces
– Comes in safe easy to use a spray bottle
Buyers Feedback
Pros
Easy to use a spray bottle
Effective for anything that can be touched by other people
Leaves a nice strong medical fragrance
Include a long red tube for spraying in precise areas
Doesn't need wiping after disinfectant application on the surface
Cons
Due to high alcohol content, it can leave stains on soft surfaces or fabrics
Buy Micron Omega-C12 Surface disinfectant Spray
Buy on Amazon.in
4. NATURAL LIFE Disinfectant Surface Sanitizer Combo Pack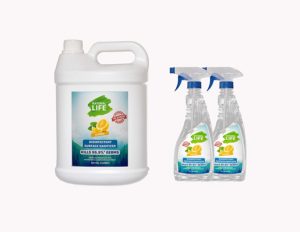 This Disinfectant Spray by Natural Life is formulated with all natural ingredients and advance technology to create an effective germ destroying spray that is free from any toxin. The spray comes in a recycling bottle packaging which is environment friendly,safest yet 99% effective in killing all kind of germs, virus, bacteria.
Key Features of Natural Life Disinfectant Surface Sanitizer
– Over 99% Natural Ingredients
– long-lasting fresh and natural fragrance
– FDA approved content
– Can even be used on groceries
– Safe and environment friendly
Buyers Feedback
Pros
Mild scent
Value for money
Very easy for spraying
The combo pack is perfect during a pandemic
Cons
Alcohol content is less and requires wiping after spraying as its water based
Buy NATURAL LIFE Disinfectant Surface Sanitizer
Buy on Amazon.in
5. Bacto-V Gadget Disinfectant Spray

Bacto-V brand is popular for manufacturing both gadget and Multipurpose disinfectant sprays that kill all types of Bacteria & Viruses. This one is specially formulated to protect your expensive phones and gadgets against bacteria and viruses. The product has no water content like the other hand sanitizers and surface disinfectants that might harm the sensitive parts of your gadgets. This gadget Disinfectant contains 99.7% alcohol safe to use on a wide range of gadgets, including mobile phones, laptops, tablets, smartwatches, remote controls, gaming consoles, and many other gadgets that can be home to millions of disease-causing viruses and bacteria.
Also see – Bacto-V Multi Surface Disinfectant Spray available in 250 ml bottle which is perfect for all kind of surfaces.
Key Features of Bacto-V Disinfectant Spray
– High alcohol content for only gadgets use
– Not water-based
– Safe for sensitive parts of your gadgets
– Hassle-free spray bottle
– Portable and easy to use
– Pleasant fragrance
Buyers Feedback
Pros
Safe on mobile phones and electronics
Perfect for use after exposure from the outside world
Effective in disinfecting and cleaning the screen too
It instantly kills 99.9% of germs
Cons
Cannot be used on soft surfaces
Buy Bacto-V Gadget Disinfectant Spray
Buy on Amazon.in
6. Dettol Multipurpose Disinfectant Spray

No other brand can beat the 80-year-old Dettol with their disinfectant range they have been manufacturing since ages. The Dettol Multipurpose Disinfectant is very reliable to be used every day to maintain your home hygiene. This all in one disinfectant spray has antibacterial properties that protect from illness-causing germs. It helps to kill cold and flu viruses, including the H1N1 virus. This Dettol spray is an alcohol-based surface disinfectant spray to sanitize your home and eliminates any odor-causing bacteria. It is perfect to use in the toilet area, dustbin, kitchen sink, shower bases, taps, sofas, curtains, carpets, car seats, etc.
Also buy another variant – Dettol Multipurpose Disinfectant Spray in another Spring blossom Fragrance
Key Features of Dettol Disinfectant Spray
– Multipurpose disinfectant spray
– Effective on both hard and soft surfaces
– Deodorize surface and air with a pleasant smell
– Kills 99.9 percent germs, bacteria, and viruses, including h1n1 virus
– Approved by Indian Medical association
Buyers Feedback
Pros
Nice and mild fragrance
Doesn't need wiping
Perfect for the soft surface without leaving any stain
Long-lasting freshness
Easy to carry anywhere
Buy Dettol Multi-Purpose Disinfectant Spray For Hard & Soft Surfaces
Buy on Amazon.in
Best Disinfectant Spray in India Buying Guide
What is a Disinfectant Spray ?
A Disinfecting process refers to using chemicals, for example, EPA-registered disinfectants, to kill germs, bacteria, or viruses on surfaces, which lowers the risk of spreading infection. According to Wikipedia, Disinfectants are chemical agents designed to inactivate or destroy microorganisms on inert surfaces. Disinfection does not necessarily kill all microorganisms, especially resistant bacterial spores; it is less effective than sterilization, which is an extreme physical or chemical process that kills all types of life. Disinfectants can work on a surface by destroying the cell wall of microbes or interfering with their metabolism. The difference between a sanitizer and disinfectant is that it kills more germs than sanitizers, so it is effective for use in medical facilities or high touch surfaces.
Unlike sanitizing, disinfecting won't be a super common part of your cleaning routine. It's really meant for serious messes like those involving bacteria or germs contamination on high touch surfaces like toilets, sinks, doors, lifts, furniture, etc.
Most of the bacteria or germs are harmless for the human body, but with the onset of the new deadly virus like COVID -19, we do require disinfecting the high traffic surface that comes in contact with many people and spread enormously. To fight these kinds of viruses, a disinfectant spray is an easy way to completely kill any infectious germs and be safe.
The Environmental Protection Agency (EPA) has issued registered lists in March of antimicrobial products effective against common pathogens and the disinfectant effective to kill the Coronavirus. All disinfectants are not made of the same ingredients, so its best to refer to these lists that can help you be aware of the right product.
How to make Disinfectant spray at home?
With the high demand for these disinfectant sprays, it could be difficult to find the EPA suggested ingredient-based disinfectant sprays online or in the market so even if you are not able to find the best disinfectant spray the CDC has also recommended to use a homemade disinfectant solution by using simply a household bleach.
Easy steps to make Disinfectant Spray at home
Step 1 : Take a regular household bleach and water.
Step 2 : Mix them together and dispense it in a spray bottle on any contaminated surface
Note:
This method is effective for cleaning or disinfecting vegetables, fruits, and even groceries.

Another way to make disinfectant Spray at home
Step 1 : Take 75 ml or ⅓rd cup sterile distilled or boiled cold water
Step 2 : Take 175ml 3/4th cup of 99% isopropyl alcohol
Step 3 : Mix them together and use through a spray bottle

Watch the video to learn more on How to make Disinfectant spray at home
Buy the ingredients on Amazon.in & make your own homemade disinfectant Spray
1) Isopropyl alcohol S
2) Spray Bottles
3) Bleach for making Disinfectant Spray
4) Fragrance for making Disinfectant
How to safely use Disinfectant Spray at home?
It's important to follow all steps to safely clean, and disinfectant surface at your home as few of the disinfectant spray has a high alcohol content that can be dangerous for your health or environment. Follow these steps to use a disinfectant spray effectively and safely:
Step 1 : Always Wear disposable gloves when cleaning and disinfecting surfaces.
Step 2 : Consult the manufacturer's instructions for cleaning and disinfection products used.
Step 3 : check for EPA-registered household disinfectants that are effective.
Step 4 : If surfaces are dirty, they should be cleaned using a clean cloth, detergent or soap, and water prior to disinfection.
Step 5 : Wear skin protection and consider eye protection for potential splash hazards
Step 6 : Remember not to use more than recommended quantity on the label
Step 7 : Store and use chemicals out of the reach of children and pets
Step 8 : Always Clean hands immediately after using disinfecting sprays.
Things to consider while buying disinfectant Spray in India
1. Safety of Ingredient
Always check for all the product ingredients, especially alcohol content or acceptable toxicity and flammability rating, before buying a disinfectant bottle spray or liquid as it will keep an eye on how to store that bottle. High alcohol content sprays bottles should always be kept away from any fire catching objects, and a high toxic ingredient must be kept away from kids and pets. You must also check if the product can cause corrosion and can damage any specific surfaces.
2. Packaging Design
A good quality disinfectant bottle that provides form, ergonomic design, and maybe a pipe to spray on precise surfaces will be a great help while using.
3. Ease of Use
Look for questions like is this disinfectant, ready to use, or have few steps involved to get to the final point? Also, make sure you are aware of the steps involved in cleaning a surface as few sprays require first mixing together and refilling the bottle, etc.
4. Disinfectant Kill & wet time
This is an important factor to consider as it will help you know how to use this product effectively on a surface. Few disinfectants require no wiping at all, but others might need more kill time by keeping the surface wet for a longer time to be effective.
5. User Reviews and Ratings
It's important to check for user reviews, and ratings of such a product as that can be helpful in making the right decision, especially if you are buying the product online, and a correct buyer's feedback will help you wit his/her direct experience with the product.
Best Disinfectant Spray in India – Conclusion
we have tried our best to give you a piece of comprehensive information that will help you select the best Disinfectant spray in India along with how to make a disinfectant at home. Lastly, we would always suggest considering the features like the effectiveness of the product, its ingredients, safety, compatibility with different surfaces, and straightforward usage before buying a disinfectant spray for your home. We hope you all are safe from any virus and have a healthy life. For any feedback or queries, you are always welcome to write to us in our comment section below.