It is the season of the deadly Coronavirus that has managed to infect one of the most populated countries in the world while killing more than up to 2,236 Chinese people, with 118 more deaths reported, and the overall confirmed infection cases have climbed to more than 80,000. This virus is now not just restricted to china but is now devastating people in Italy, Iran, France, and many more international countries. In India, till date, 74 cases have been reported with Coronavirus. If we don't take preventive measures, the virus will infect many more as till now there is no vaccination to prevent this deadly epidemic. The first thing which comes in our minds for protection is to find the best hand sanitizers, nasal spray or keeping a stock of the best mask for Coronavirus and becoming anti-social 😛
Before we understand some preventive measures to fight Coronavirus, it's important to get the complete information on its symptoms. Its always better to get medical help as soon as you deduct any symptom so that you don't get to the later stages of this disease, which is still not curable.
The people who have infected with this virus reported illness ranging from mild to severe, and with some later cases have resulted in death. The following symptoms usually appear after 2 to 14 days of virus exposure:
– Fever
– Runny nose
– Cough
– Sore throat
– Shortness of breath
– Difficulty in breathing (severe cases)
The mild symptoms are just like any other flu for Coronavirus disease including a runny nose, sore throat, cough, and fever but if neglected can result in more severe illness like pneumonia, breathing problems thus resulting in supporting care to help breathe.
Also, Coronavirus can be fatal for Older people and kids below nine years, and with people having other medical conditions like asthma, diabetes, lungs, or heart problems may be more vulnerable to this infection.
To understand the prevention from Coronavirus, first, let me tell you how this disease gets spread.
This virus affects your respiratory organ just like any other flu with symptoms like runny nose, cough, sore throat, and fever. The virus widely spread through contact with an infected person when they cough or sneeze or through droplets.
Although its a new virus so Health organization are still researching its spreading severity and how it affects. Though few of the source reasons till now are as follows:
1. Person-to-person spread
As of now, the Coronavirus has been observed to be spread through close contact with an infected person ware produce when a person coughs or sneezes, and these droplets can land on the face of people nearby and infect their lungs.
2. Contaminated surface or objects
It possible that a person gets infected with COVID -19 by touching any object or surface which is already affected and thereby touching their face, mouth eyes, or nose with their hands.
Moreover, this virus has been noted to spread very quickly and sustainably in a group or community or within an affected geographical area. It has been able to become an epidemic due to being just like any other flu, which we as humans tend to ignore for few days till the symptoms start becoming too severe and within that time has affected many more around us.
It essential to note that there is no vaccine until now to prevent Coronavirus disease (COVID-19), but you can follow a few preventive steps as given below, which can reduce your risk of infection.
1. Clean your hands
The best preventive measure to safeguard yourself from Coronavirus is to wash your hands more often and especially after being in public places. If soap is not available, then you should regularly sanitize your hands with a well-branded sanitizer. Lastly, avoid touching your face, mouth, eyes with unwashed hands.
2. Avoid close contact with people who are sick
Its recommended to be at least 6 feet away from a person who is suffering from a cough or runny nose.
3. Covering your mouth when coughing or sneezing
It is a social responsibility of every individual who is having a cough, fever, or cold must cover their faces or mouth when sneezing or coughing with tissue and throwing the used tissue in the trash.
Another step that can prevent the COVID-19 from spreading is to cover your mouth with antiviral or respiratory masks, especially those who are sick, treating an infected patient or can't avoid going in public.
5. Discard a non-reusable mask in time
Always wash your hands with a proper hand wash or alcohol-based sanitizer before using a mask (any kind). Be sure to discard or dispose off a non-reusable face mask once it has contained moisture. Also dispose off any re-usable mask responsibly once you have stopped using it, do not throw it away anywhere, put it in a waste basket with a lid / cover.
6. Using Nasal defense spray
Using a nasal spray is not medical advice (if you want you can consult a doctor before using a nasal spray) but by default, it's a common-sense that a nasal spray possibly keeps our nose clear of all sinus or infection in any congestion, cold or flu. So, precautionary if you are suffering from any kind of cold, flu you can start using a nasal spray that may prevent the symptoms from spreading to your lungs.
Since we are talking about preventive measures like the best mask for coronavirus protection, I will also cover the best nasal spray to prevent cold in my next blog.
A face mask will not completely protect you from being infected as a viral infection gets transmitted through the eyes also, however, few masks like the N95 respirator masks are very effective in catching droplets from an infected person that has proved to be the main transmission route of COVID-19 virus.
It will be the best preventive measure to use a respirator mask if you are likely to be in close contact with people in your community. Not just a patient, but even a caregiver should wear a mask as it cuts the chance of this COVID-19 to pass on to others.
Also, as a socially responsible person, anyone who is already going through cold, flu or cough must wear the masks and go out in public.
In this blog, we have tried to research multiple anti-pollution masks/face masks, to find the best mask for Coronavirus protection available online that can be used by everyone who wishes to take a preventive measure from the COVID-19 virus.
N95 or respirator masks are the most affordable masks recommended by the National Institute of Occupational safety and health (NIOSH) that helps to prevent us from pollen, dust, widely spread respiratory viruses, or even smoke.
Advantages of N95 respirator mask for coronavirus protection
– They are evaluated, tested, and approved by NIOSH that provides protection against large droplets, splashes, or sprays of bodily or other hazardous fluids and protects a person from any respiratory emission.
– They are intended to reduce any exposure to particles like tiny aerosol and even large droplets.
– They are tested for tight sealed fitting for your mouth and nose.
– These masks filter out at least 95% of airborne particles, including large and small particles.
– These masks are tested for minimal leakage around edges of the respirator when a user inhales due to its perfect sealed fitting.
Also, see the WHO guidelines of how to use the masks for Coronavirus protection.
1. NIOSH certificate & rating
You must always look out for masks that come with NIPSh rating and certification as some inexpensive ones didn't carry NIOSH approval to protect you. According to the NIOSH certification, you can buy the N95 masks for specific purposes like the one that just protects you from dust or pollen or the one that filters put the virus droplets effectively.
2. Positive & negative pressure
Good quality masks always form a tight seal around your face to be effective, and this seal can be tested for both positive and negative pressure. A positive pressure pushes the air to the mask, and a good negative pressure mask lets the user pull the air using the filter or cartridges. When a user inhales deeply, a properly fitted N95 mask should draw inward that suggests good negative pressure, and while exhaling, the respirator valve must open smoothly, indicating good positive pressure. You must check for these qualities.
3. Strap adjustability
You can look for masks that have adjustable elastic straps or a soft metallic nose piece that ensures proper fitting of the mask by creating an airtight seal. The motive is to avoid penetration of any contamination into the masks.
4. Filter layering
A good mask is the one that provides a wide range of protection and is able to filter different types of contagious material, even the smallest particles. So look for a mask that offers multiple filtering layers and with additional carbon-based filters that protect from smoke and filters like medical-grade mesh that gives protection from the various virus.
IMPORTANT NOTE:
– All the products listed below are subject to availability due to the lockdown / Corona crisis around the world.
– Please do keep checking every few hours for the availability of the products on these e-commerce platforms.
– Please ONLY order the amount / quantity which you really require so that other needy people may also get a chance to buy it.
We did some research to find out the best available respirator mask for Coronavirus protection in India that can save you and your family from the COVID-19 virus.
1. VENUS V-4400 Flat Fold Respirator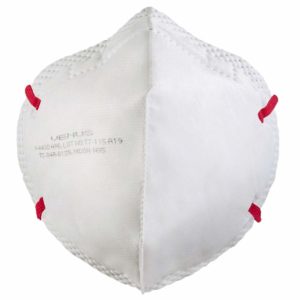 The N95 NIOSH certified respirator masks are available in a pack of 2, 5, 10, and for single use as well. These masks are designed to provide added protection from any kind of airborne viruses. Its superior Micro Fine Filter technology gives protection against RSPM up to 0.3micron. For comfortable wear, the mask material comes in latex-free knitted textile, which is skin-friendly.
Key Features
– NIOSH approved N95 respirator
– Flat fold C style
– Multiple layered filters
– Embedded nose clip for minimal leakage and puncture
– Superior quality microfine filter
– Skin-friendly knitted elastic
– Ear mounted
Buyers Feedback
Pros
Good quality masks
Covers the nose and mouth perfectly
Ten days replacement warranty
Buy VENUS V-4400 Flat Fold Respirator
View on Amazon.in View on Flipkart
2. NSC Venus Occupational Safety/Anti-Pollution Mask and Respirator

The N95 mask by Venus universal series V 44+ ffp1s respirator is made of latex-free braided textile elastic that comes with unique adjustable beads. Its snug fit relives strap pressure, and the elastic sewed outside filter area provides no leakage & puncture. The quality of this mask as compared to similar products is very effective with 50 % increased filtration time.
Key Features
– Active carbon filters
– N95 Respirator mask
– Filters 98% of the dust, chemicals, particulates, gas, pollen, smoke and fumes
– Anti-dust, Anti-vehicle exhaust, Anti-pollen allergy, Anti PM2.5, and haze day protection
– Suitable for all outdoor activities
– Multi-layer protection
– Superior fit and greater comfort
Buyers Feedback
Pros
Good quality mask
Very comfortable to wear
Protects from Coronavirus
Buy NSC Venus Occupational Safety/Anti-Pollution Mask and Respirator
View on Amazon.in View on Flipkart
3. NOYMI Particulate Disposable Respirator Mask

Noymi disposable N95 Respirator masks are made from premium cotton and non-woven fabric that sits comfortably and seals your mouth & face perfectly to help you breathe freely. Its advance particulate respirator protects you from inhaling any small particulates like allergens, pollen, viruses, etc.
Key Features
– Anti-pollution N95 masks
– Protection from PM10.PM2.5, viruses, bacteria, polluting gases, pollen, gases, etc
– Contains activated carbon
– Exhalation valve for breathing
– Nose clip for a better fit
– Activate carbon filter for fresh air circulation
– Vertical flat-fold design
Buyers Feedback
Pros
Value for money
Dustproof masks
Leakproof protection
Lightweight & durable
Cons
It's reusable but not washable
Buy NOYMI Particulate Disposable Respirator Mask
View on Amazon.in View on Flipkart
4. 3M 9004GV Anti-pollution Mask

The 3M Particulate Respirator 9004 GV comes from one of the best mask manufacturing brands that provide secure and comfortable FFP1 protection against dust and mists. The quality of the mask gives reliable protection against certain non-oil based particles. Its low profile design offers better visibility and compatibility with a wide variety of safety equipment. The vertical flat-fold design makes it convenient to store & carry.
Key Features
– 3 layer Filtering efficiency ranging up to 95 percent
– Anti-pollution exhalation valve
– Metallic nose gear for a better fit
– Allows easier breathing
– Vertical flat-fold design
– Adjustable bose clip starp
Buyers Feedback
Pros
Fits properly
Good quality mask
3 layer filteration is effective
Buy 3M 9004GV Anti-pollution Mask
View on Amazon.in View on Flipkart
5. MCP Duck Bill Flat Fold N95 Anti Pollution Protection face Mask & Respirator

The MCP Duckbill Anti-pollution face mask and respirator come with NIOSH certification and approval which makes it safest N95 mask that can protect you from all deadly viruses. It is made of Silicon and is latex-free. The adjustable nose-piece strap with soft inner foam nose cushion ensures proper fit.
Key Features
– NIOSH approved
– High filtration efficiency
– Silicon & Latex Free
– Adjustable nose-piece
– Double Gas Mask Protection Filter
Buyers Feedback
Pros
Good quality
Very comfortable to wear
Easy to use
Buy MCP Duck Bill Flat Fold N95 Anti Pollution Protection face Mask & Respirator
View on Amazon.in View on Flipkart
6. Orange N95 PARTICULATE Respirator Advanced Protection from Airborne Viruses

Orange N95 respirator mask is designed to give superior protection against any airborne viruses and air pollution. It helps to surpass PM 2.5 specifications and meets N99 testing criteria. It comes with an added activated carbon layer that provides extra respiratory protection. The filter absorbs & removes potentially harmful molecules. The extra advance one way exhale valve helps in easier breathing and speaking.
Key Features
– Protect against all airborne infectious and pathogens PM 2.5
– Surpasses PM 2.5 specifications and meets N99 testing criteria
– Added activated carbon layer
– Ideal to safeguard from all respiratory disease
– Convenient over ear straps
– Advanced one way exhale valve
Buyers Feedback
Pros
Allows easy breathing
Quality is ok
Virus protection is taken care
Buy Orange N95 PARTICULATE Respirator Advanced Protection from Airborne Viruses
View on Amazon.in
7. Honeywell Safety Protection Mask

The Honeywell anti-pollution foldable masks are disposable masks available in a pack of three with three-layer filter protection. These masks are specially designed to protect the user from probable respiratory ailments originating from polluted air. It comes with features like cotton ear bands that are soft to wear and comes with adjustable nose clips that help you wear the mask for extended hours without any discomfort.
Key Features
– FF01NRG 2.5 Particulate Mask / Respirator
– High particle filtration efficiency
– Silky smooth, hypoallergenic fabric
– Provides effective respiratory protection from all airborne particles
– Very light design and easy to carry
Buyers Feedback
Pros
Value for money
Comes in a pack of 3
Filtered the pollutants effectively
Very comfortable to wear
The adjustable elastic is soft and doesn't itch the skin
Cons
It's not reusable or washable
Not an N95 mask
Buy the Honeywell Displosable Masks
View on Amazon.in View on Flipkart
8. 3M 3M9010 N95 Particulate Respirator Mask

This one is the N95 Respirator mask designed to protect you from non-oil-based particles that provides reliable filtration against comfortable, reliable, respiratory protection. Its NIOSH certified and CDC approved thus making it the best quality product that can fight even contagious viruses.
Key Features
– N95 disposable particulate respirator
– NIOSH certified masks
– High-quality protection
– Comfortable to wear for a longer duration
– Very reliable respiratory protection
– 95 % efficient against certain solid & liquid aerosols
Buyers Feedback
Pros
Works wonderfully
Clean packing & size
Exhaling is good
Cons
Few users complained an uncomfortable fit
Buy the 3M 3M9010 N95 Particulate Respirator Mask
View on Amazon.in View on Flipkart
These above-mentioned respirator masks are safe for this trending hazardous environment containing highly contagious virus-like COVID- 19 and will act as the best defense against them. I hope my blog is able to provide you with all the important information that you can follow and keep yourself and your loved one free from this deadly Coronavirus and be safe and healthy. Keep yourself clean, keep using sanitizers, wash your hands often, use mask for coronavirus, stay away from public places as much as possible, keep an eye out for symptoms around you and try and have food which is rich in immune-boosting vitamins and minerals.