The World Health Organization (WHO) issued guidelines that washing your hands frequently for at least 20 seconds is the best preventive measure to save yourself from the deadly Coronavirus COVID-19. From the last weeks, the novel Coronavirus cases have risen to over 182,723 positive cases with approx. 7,9994 death cases globally. Those statistics tend to only increase by time if we do not seriously start following the precautionary measures to prevent this pandemic. The good news is that not all positive cases lead to death, and a lot of them have recovered and are in the process of recovering from this dreadful Coronavirus. So to take precautions we need to focus on personal and social hygiene, with simple steps like choosing and using the best hand wash in India, best hand sanitizer in India and the best face mask for virus protection in India.
We can save more lives by following one of the most straightforward precautionary measures by washing our hands with a good liquid hand wash soap more frequently. You can even sanitize your hands with good alcohol-based sanitizer if you don't have access to water or soap. India also currently has 151 reported positive cases, and its time we start investing in the best liquid hand wash in India that will keep us safe from getting infected and thereby put a halt on these increasing infected numbers.
Here, in this blog, we are going to discuss the correct way to wash your hands and review of some of the best liquid hand wash in India 2021. Also, check out the complete Buying Guide on Liquid Hand Wash.
Best Liquid Handwash in India Review
Here is a detailed review of some of the best available liquid handwash in India 2021 that has anti-bacterial properties and can fight any germ or virus effectively.
1. Dettol Liquid Hand wash Refill Original

Dettol has been the most trusted brand for years when it comes to protection from germs & bacteria. Its recommended by the Indian medical association to be 100 % effective in cleaning your hands as it uses high-quality ingredients. It comes in five different fragrances and variants and has always been most reliable in giving protection from 100 illness-causing germs. The ingredients in Dettol hand wash are dermatologically tested which are skin-friendly and can be used even by a 3-year-old.
Best Features
– Effective on various kinds of germs, bacteria, and viruses.
– Gives hours of protection from getting in contact with germs
– Different fragrance keeps the and refreshed for long
– Quality is superior and recommended by the Indian Medical Association
– Made of 85% naturally derived ingredients
– Hygienically clean hands
Buy Dettol Liquid Hand Wash Refill Original
View on Amazon.in
Buy Other Dettol Hand Wash Variants
Dettol Skincare Dettol Tulsi Dettol Aloe Vera
2. Amazon Brand – Solimo Antibacterial Handwash

The hand wash by the brand Amazon Solimo is the most affordable anti-bacterial liquid hand wash. This variant of handwash leaves a refreshing rose fragrance and its free from paraben, triclosan, and sodium lauryl sulfate. As its chemical-free, it is safe and gentle on hands and moisturizes your hand and maintains the pH balance.
Best Features
– Available in various scented fragrance and variations
– Maintains the skin natural pH balance
– Safe and gentle on skin
– Very affordable to buy
– Free from harmful chemicals
Buy Amazon Brand – Solimo Antibacterial Handwash
View on Amazon.in
Buy Other Variants
Neem & Aloe
3. Vaadi Herbals Anti Bacterial Neem Oil and Ginger Hand Wash

The Vaadi Herbals hand wash is an antibacterial liquid hand wash that comes with various different variants like Honey & sandal, Argan oil, and coconut, rose & jasmine, Aloe vera & jojoba oil, strawberry, blueberry, and so many more. This one with Neem and Hinger is one of the best variants that fights germs and effectively due to its natural anti-bacterial properties and is suitable for skin too.
Best Features
– Available in 10 different fragrance & variants
– Made of 10% natural ingredient like Pure neem ext, steam distilled ginger extract, turmeric extract, pure tulsi leaf extract, etc.
– Even cures the skin itchiness & redness caused by germs or acne
– Free of all harmful chemicals
– Great packaging and quality
Buy Vaadi Herbals Anti Bacterial Neem Oil and Ginger Hand Wash
View on Amazon.in
Buy Other Variants
Argan and Coconut Oil Aloe Vera & Jojoba Honey & Sandal
4. Morpheme Remedies Hand Wash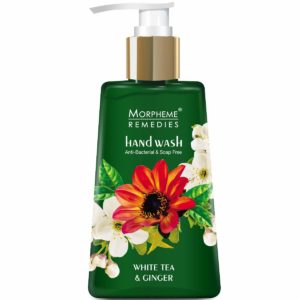 The Morpheme Remedies hand wash is a lightly scented liquid soap, that hydrates, condition and gently clean the skin. Its 10% chemical-free and doesn't contain Sulfate, Parabens or Silicons. All the variants have natural coconut oil-based cleanser and nonsurfactant base. Ut lather less but gives perfect anti-bacterial cleaning. It's available in four different variants and a good quality pump bottle.
Best Features
– Skin-compatible, environmentally friendly & effective
– Plant-based ingredients instead of chemical ingredients
– Anti bacterial, anti-Fungal and anti-inflammatory hand Wash
– Four different variants
– Very reasonably priced
Buy Morpheme Remedies Hand Wash
View on Amazon.in
Buy Other Variants
Lemongrass & Lavender Rose & Geranium White Tea & Ginger
5. Rustic Art Orange Neem Organic Hand Wash

The Rustic Art Orange is natural neem and orange-based handwash. Its a perfect anti-fungal and anti-bacterial disinfectant. It's chemical-free, water-efficient and cost-effective. It's safe for children as it contains no sulfates, phosphates, parabens, synthetic colors and fragrance.
Best Features
– Soft on skin and environment
– Safe for babies and kids
– Organic soap-based hand wash
– No toxic ingredients
– Rich in nature's anti-bacterial
– Handmade and comes with Orange Neem Hand Wash Concentrate refill pack
Buy Rustic Art Orange Neem Organic Hand Wash
View on Amazon.in
6. Nature Trail Citrus Blast Handwash
This liquid hand soap by Nature Trail brand is quite popular for creating a line of premium personal care products that are guaranteed to be effective and family safe. This handwash is free from any harsh chemicals, petroleum, or animal-based ingredients. It's only made with three Pure Essential Oils of lemon, orange and bergamot provide citrus, elegant aroma with a mild tone.
Best Features
– Safely and effectively clean your hands
– Made with the natural power of plants and minerals
– Includes with Vitamin E, Olive Oil, and Glycerine as a natural moisturizer
– Free of all harmful additives like triclosan, parabens, phosphates, SLS, etc.
– Antibiotic and Anti-Fungal
Buy Nature Trail Citrus Blast Handwash
View on Flipkart
7. Lifebuoy Total 10 Active Silver Formula-Germ Protection Handwash

Lifebuoy brand has been the most trusted brand in every house for years. The Lifebuoy liquid hand wash is very effective in killing 99.9% of germs from your hands. It is skin-friendly and makes it clean & refreshed. Lifebuoy Hand Washes are approved by the Royal Society of Public Health, London. It's very easy to use and works great even with a drop and a small amount of water. The brand ensures clean bacteria-free hands in just 10 seconds.
Best Features
– Approved by Royal science of public health
– Superfast 10 seconds handwash liquid
– Perfect for restless kids
– Cost-effective refill pack available
– various variants available
Buy Lifebuoy Total 10 Active Silver Formula-Germ Protection Handwash
View on Amazon.in
Buy Other Variants
Mildcare Menthol Cool Fresh
8. Himalaya Pure Hands Deep Cleansing Tulsi and Lemon

Himalaya brand is the most popular herbal brand in India that makes products with organic, natural ingredients. The Himalaya Pure hand wash is an effective hand-wash solution that is made Neem that is anti-bacterial and lemon that is anti-microbial protection. The ingredient present in this soap detoxify, purifies and deep deep clean our skin.
The brand always make chemical-free products and even this one is free from Triclosan which is the most harmful chemical for the skin.
Best Features
– Made of natural anti-bacterial agents like Neem & Lemon
– Takes care of skin natural pH balance
– Keeps hands 99% germ-free
– Free of all chemicals
– Available in many variants and quality packaging
Buy Himalaya Pure Hands Deep Cleansing Tulsi and Lemon
View on Amazon.in
Buy Other Variants
Litchi Tulsi & Neem
9. Palmolive Foaming Hand Wash Lime and Mint

The Palmolive Foaming hand wash is made with anti-germs ingredients like Cocamidopropyl Betaine, lactic acid, water, sodium Laureth sulfate, Cocamide, Citric Acid, Sodium Salicylate, glycerin and more. The natural agents like lime and mint keep your hands fresh and clean for a longer duration. The foaming property makes it more cost-effective as just one drop is enough to create a lot of lather. It is available in good quality packaging with a refill bottle and many more fragrances.
Best Features
– Made of refreshing lime and cooling agent mint
– Very effective in fighting 99.9 % germs
– Contains naturally derived extracts
– One bottle lasts very long
Buy Palmolive Foaming Hand Wash Lime and Mint
View on Amazon.in
Buy Other Variants
Raspberry Sea Minerals – Refill Pack
10. Santoor Classic Gentle Hand Wash

Santoor is the flagship brand of Wipro Consumer Care. The classic gentle hand wash comes with goodness of sandalwood and Tulsi that fights germs and keeps skin soft and beautiful. The ingredients are natural, anti-oxidant and available in various refill and pump packs.
Best Features
– Available in four variants
– Available in easy to use quality pumping bottles
– All ingredients are skin-friendly and anti-bacterial
– Just a drop is enough for effective cleaning
Buy Santoor Classic Gentle Hand Wash
View on Amazon.in
Buy Other Variants
Refill packs with essential oils Lime Peel & Tulsi Extra Gentle
Liquid Hand Wash Buying Guide
What is a Liquid Hand Wash and How it works?
The most effective way to stop germ from spreading is to keep your hands clean. As mentioned above, the WHO and CDC ensure that cleaning your hands with soap and water is the most effective defense against invisible pathogens.
Few people think liquid soaps are gentle, but these soothing fragrant agents are not that gentle from the perspective of microorganisms. A few drops of liquid soap are extremely destructive for these germs and sufficient to kills and rupture many types of bacteria and viruses, including the new COVID-19 infections.
How to wash your hands correctly ?
– Remove any jewelry like finger rings, watch or bracelet.
– Wet your hands with water
– Take an adequate amount of liquid hand wash soap, Lather up
– Scrub the soap everywhere even under those fingernails for at least 20 seconds
– Rinse your hands thoroughly only under clean running water.
– Lastly, Dry your hands using a clean towel or air dry them.
Why are these 20 seconds critical ?
CDS recommends scrubbing your hands at least for 20 seconds before your rinse with water. See the science behind this CDC recommendation.
Lathering up and scrubbing your hands with soap for 20 or more seconds is essential to kill the germs properly as these microbes, including viruses takes up resident all over your hands, like fingertips, nails, thumbs, and spots between your fingers that can get missed.
Also, in case you don't have access to soap and water, an alcohol-based hand sanitizer is a good backup, but both CDS and WHO have given far more superiority & preference to a liquid hand wash to clean your hands. The reason is that with hand sanitizers, the dirt with bacteria can remain some remote corner of your fingernail or hands; therefore, a hand sanitizer doesn't necessarily reach every virus particle hidden in your hand.
How to make Homemade Antibacterial Liquid Hand Wash?
With an increased number of COVID-19 cases all over the world, it seems everyone has started following the personal hygiene steps to save themselves from this virus, which has led to a shortage and over demand for these liquid soaps. All over the market, the popular liquid hand wash brands are either out of stock or overpriced. The only way to have access to an anti-bacterial soap or hand wash is to make them at home, which is very simple and easy to do. The best part of making your own liquid hand wash is that they are chemical-free, skin-friendly, and can be safely used by your kids and toddlers.
List of ingredients required to make Liquid Handwash at home
– A concentrated liquid soap called unscented Castile Soap easily available online in less price
– Essential oil, a lot of them are anti-bacterial and anti-viral available on Amazon.
– And lastly just fresh clean distilled or boiled water
– You can also use Vitamin E or almond oil and vegetable glycerine to make it super moisturizing, but that's entirely optional.
Method for making Homemade Liquid Handwash
1. Pour 3/4 cup of distilled water in a soap dispense. Buy some best available soap dispenser here.
2. Add 1/4 cup of concentrated Castile soap.
3. Add 10 to 15 drops of your favorite essential oil along with vitamin e, almond or vegetable glycerine (optional)
4. Shake the entire soap dispenser before using it.
Features to Look for Before Buying Hand Wash
I have mentioned above the method to make liquid hand wash at home in case you are not able to buy a good hand wash, but there are few factors that you must consider before choosing the best Liquid Handwash to prevent Coronavirus or any contagious disease that can spread among people.
1. Chemical Concentration
Always check for a hand wash that is Paraben or chemical-free. Few brands that claim that their hand wash is very effective in killing germs are made with harmful chemical ingredients that can cause skin irritation and discomfort. Pick the one with most natural, soft ingredients like glycerine, natural oils with anti-bacterial properties.
2. Different Variants
You have the option of different hand wash variants like for dry skin, sensitive skin, organic & natural, herbal, and most importantly, anti-bacterial hand washes, so choose the one as per your need.
3. Check for the manufacturing & expiry dates
All the hand washes bottles are marked with manufacturing and expiry date and are most effective within one to two years from the manufacturing date. Do not buy the products that have a close expiry date as the ingredient that has expired as it might damage your skin or cause allergies.
4. Check for Leak-proof packaging
Always make sure to check the type of packaging as many handwash soaps come in a refill pack, but many times they leak or spill. The quality of the packaging & nozzle shape will help you save more liquid. Also, you can buy a handwash that comes with a dispenser as its always more convenient to use and works for a longer time.
Best Liquid Hand Wash in India 2021 – Conclusion
Right now, when Coronavirus is terrifying the whole world, personal hygiene is being given most importance and priority by every health & disease preventive organization so just follow these above given steps and liquid hand wash Buying Guide properly and use them to keep your hands germ free because hands are the bridge through which germs the transmitted to one another. I hope this blog will help you to fight back and prevent all of you from any deadly disease like COVID-19.
[amz search="hand wash" count="8″]