Are you searching for the best hand mixers under Rs 10000? Then this blog is a perfect place to pick out your desired choice. We have compiled here the best hand mixers brands for baking that are affordable to make your buying decision easier and also help you to choose the absolute one.
About Hand Mixers and its types
Nothing is special like the fragrance of freshly baked cakes, cookies, pies, etc. warming your home. But if you are making the batter by mixing it with hand, it will be more annoying and irritating. If you want baking your favorite desserts with pleasure, you need something convenient and handy that will make your whipping and whisking task easier. Here comes the most handy and convenient kitchen gadget the "Hand Mixer."
Hand mixers perform whipping, whisking, mixing, and a variety of other kitchen tasks with minimum effort and time. This kitchen gadget is also more affordable than the stand mixers and takes less space, which is an important thing if you have a small kitchen. It makes all your mixing and whipping tasks with ease and even without spraying the ingredients everywhere. And thus, this gadget makes your baking as simple and full of pleasure.
As there are many options available in the market, so selecting the appropriate hand mixer might be a difficult task. You must select the one with the right handle, weight, speed settings and attachments for all your baking needs.
Here is the list of the Best Hand Mixers under 10,000 Rupees or below $ 150 featuring all the points mentioned above. And this will surely help you to pick out the best one.
Best Hand Mixers under 10,000 Rupees or below $ 150
1. KitchenAid 7 Speed 5KHM720AWOB Hand Mixer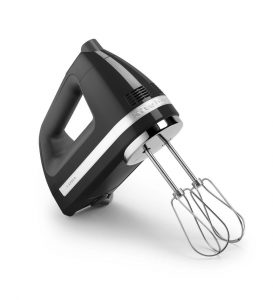 This hand mixer from Kitchen Aid is one of the best and most affordable hand mixer. It is featured with seven-speed settings, and so this powerful hand mixer is ready to tackle any job from whipping creams, whisking eggs, to making the dough. The device evenly adjusts to the resistance of what you are mixing and also prevents the ingredients from splattering with its soft start control. The device comes with a convenient accessory bag as well as stainless steel turbo beaters and stainless steel liquid rod attachments. The very best part of this powerful device is that it is very handy and you do not feel heavy while doing any of the mixing tasks from it.
Key Features
7 Speed settings with Soft Start Feature
Efficient and Powerful motor
Soft grip handle
LED Speed Indicator
Clean Touch Control Pad
Electronic mixing sensor
Lockable Swivel Cord
Ergonomic design
VIEW ON AMAZON.IN VIEW ON FLIPKART VIEW ON AMAZON.COM
2. KitchenAid KHM512IC 5-Speed Ultra Power Hand Mixer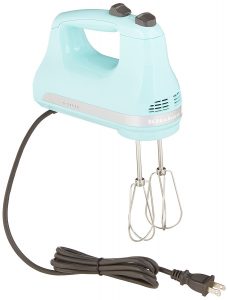 This one model from Kitchen Aid is also a perfect buy if you are seeking for the best hand mixers under Rs 10000. The device performs well for all your mixing needs. It comes with the powerful five-speed settings as well as two stainless steel turbo beater accessories that will offer you the power and control to mix anything with ease. Just make your favorite cookie dough, whip creams, whisk eggs, and much more for baking, with this great hand mixer from Kitchen Aid.
Key Features
Powerful motor
5 Speed Settings
Beater Ejector Button
Lockable Swivel Cord
Stainless steel turbo beater accessories
VIEW ON AMAZON.IN VIEW ON AMAZON.COM
3. Cuisinart HM-50PK Power Advantage 5-Speed Hand Mixer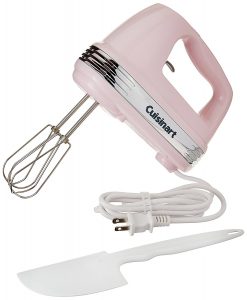 This powerful Hand Mixer from Cuisinart is the best buy with its amazing features. It comes with the five-speed settings that enable you to mix even the heaviest ingredients easily and flawlessly. Thanks to its slide control that lets you make dense cookie dough to whipped cream with just one touch. Equipping a powerful motor, this hand mixer performs very well to mix anything with ease.
Key Features
5 Speed Settings
Easy to use speed control
Swivel cord for both right and left-hand use
Extra long self-cleaning beaters
Beater eject lever
Spatula
VIEW ON AMAZON.IN VIEW ON AMAZON.COM
4. Hamilton Beach 62682RZ Hand Mixer with Snap-On Case
This Hamilton Beach Hand Mixer with Snap-On case is absolutely a great addition to your kitchen with loads of features. The device is perfect for a wide range of mixing needs, from making perfect cookie dough to producing smooth cake batter, and much more. It comes with an impressive six-speed setting which is enhanced by a QuickBurst feature to get optimal results. A snap-on case is included with it for the quick, easy, and convenient storage. This hand mixer also comes with a handy Bowl Rest Stabilizer so that you can rest it on the edge of the mixing bowl as required.
Key Features
Six Speed Settings with QuickBurst Button
250W peak power
Powerful and efficient motor
Bowl Rest feature
Traditional beaters and whisk
Snap-on storage case
VIEW ON AMAZON.IN VIEW ON AMAZON.COM
5. Hamilton Beach Hand Mixer- 62695V
This Hand Mixer from Hamilton Beach also comes under the category of best hand mixers under Rs 10000. This versatile device is your go to appliance for mixing, whipping, whisking, and folding. It comes with the powerful six-speed settings included with a slower first speed to reduce splatter. A QuickBurst function is also there for additional power at any speed. The very best of this handy appliance is that it comes with a bowl rest feature that makes it easier to set the mixer down while adding ingredients. This hand mixer is not just about the performance but also designed for easy storage as well. A convenient snap-on case is included with it to keep all the attachments together.
Key Features
6 Speeds with Quick Burst button
275W peak power
Traditional Beaters and Whisk
Bowl Rest feature
Slower first speed reduces messy splatters
VIEW ON AMAZON.IN VIEW ON AMAZON.COM
6. Oster 2499 5-Speed Hand Mixer

This powerful hand mixer from Oster is perfectly designed to meet all your mixing needs very well. It comes with five-speed settings and smart features that provide you with the precision and control you need. Thanks to its ergonomically designed handle that lets you mix anything with more comfort and ease. The device is also featured with a powerful engine that gives you a robust performance every time.
Key Features
5 Speed settings
Engine power and performance with 240 W
Beaters and dough hooks
Ergonomically designed handle for comfortable handling
VIEW ON AMAZON.IN VIEW ON AMAZON.COM
7. Sunbeam FPSTHM0152-NP 5 Speed Hand Mixer with Storage Case, Black

This one will absolutely be your fantastic pick if you are searching for the best hand mixers under Rs 10000. This hand mixer stands up nice while using it and has a turbo setting if you want a fast mix. The device is so handy and quickly performs a variety of mixing tasks. Its five-speed setting lets you mix anything at variable speeds according to your needs. And you will completely get absolute results with this great and powerful hand mixer from Sunbeam.
Key Features
5 variable speed settings
Powerful and efficient motor
250W peak power
Burst of power Button
Retractable cord for ease of use