Holidays are unique because of the aura it has. Every home has a special recipe book, and the pages are turned during vacations. And to cook such delicacies often the double boilers are popped up. Double Boilers are easy to use, and they take care of all the delicate food by heating them up more gently than your regular saucepan or average utensils. It is a fantastic kitchen tool that will help you in melting chocolates or cheese for your yummy pizza, making your favorite dips or sauces or any other delicate task that would take so much of your kitchen time. I have come across, after a lot of mess in my kitchen with some best double boiler for melting chocolate that would make your life so easy.
For baking the right way, also read our blog on the Best Baking Measuring Tools.
What is a Double Boiler ?
A Double boiler is basically 'two pots assembled together', one is large and looks very familiar to the regular saucepan that we have in our kitchen, and the other one is kept inside which is a more shallow one. These Double Boilers comes into use to cook delicate ingredients which tends to seize grasp when in contact with direct heat. The technique to cook is filling the bottom pan with water to a height of an inch or two. And the ingredient that you want to cook is being loaded in the top part. As the water in the bottom pan will start to simmer, giving an apt amount of heat to the ingredient. It's essential to keep an eye on the water to check it doesn't just boil off.
The issue comes with the inserted pot that sometimes tends to be smaller and doesn't fit securely with the pot underneath and might be of cheaper quality. Also, many users find it difficult to keep it steady. Thus, I have curated some of the Best Double boilers that eliminate such problems, but they are always pricier, so to buy the best, do go through our list of Top Double Boilers 2021 below:
Best Double Boilers for Melting Chocolates 2021
A good Double Boiler works as a magic wand if you want to cook the chocolates; as it is tender and soft. It cannot bear the heat while cooking it directly over the oven. Thus, if you wish to bring one in your kitchen you can put it in your cart as there are different websites that have a huge variety to make a choice from. Please read below:
1. Farberware Cookware Stainless Steel Classic Double Boiler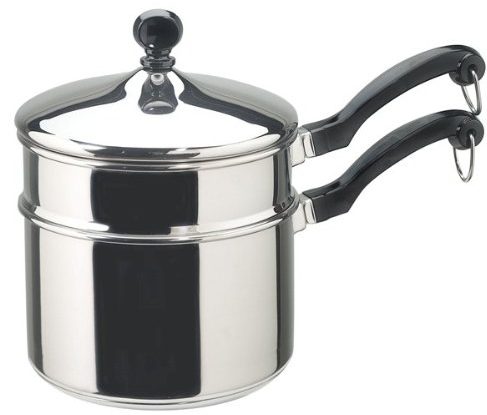 The Farberware Classic Double Boiler works as boiler as well as a saucepan. It comes in a stainless steel body with polished mirror finish. The boiler comes with a basting lid with fast heating process.
Key Features
Easy to clean
Lifetime warranty against defects
Oven safe up to 350 degree Fahrenheit
Handles remain cool on stove-top
High quality stainless steel body
Comes in 1, 2 , 3 and 4 quarts
Suitable for Induction, Solid Plate, Ceramic, Gas, Radiant Ring, Halogen
Buyers Feedback
Pros
High Quality
Thick aluminum core surrounded by stainless steel provides rapid, even heating.
tight fitting lid and good grasping handle
Heat shield with lid and holder
Dishwasher safe
Cons
Users have experienced issues with pan bottom with changing color due to heat
Some consumers found the cleaning of the interior groove tough.
Buy Farberware Classic Double Boiler
Buy on Amazon.com Buy on Amazon.in
2. ExcelSteel Double Boiler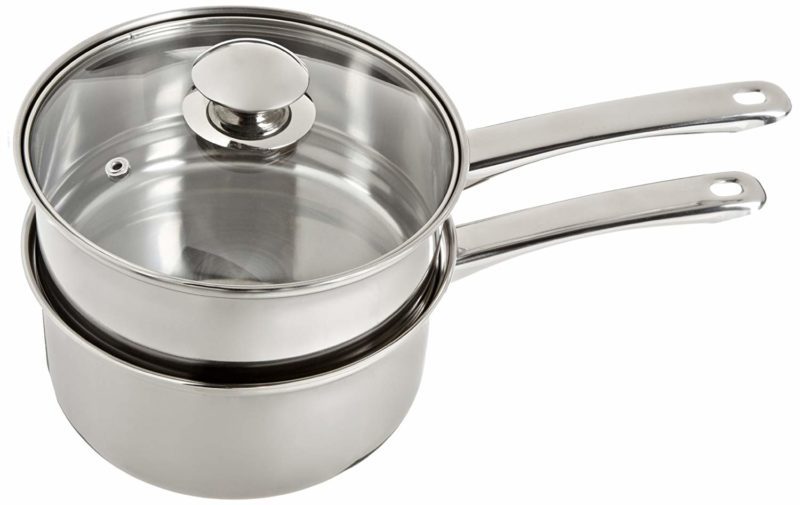 This Product is best if you are looking for a smaller, budget-friendly and high-quality double boiler. Excelsteel Double boiler has a 2.5-quart capacity and allows you to melt chocolates as well as cheese at the right consistency. So be ready for the perfect tasty fondues!!
Key Features
Cool handles while cooking
Hanging loops for easy storage
Glass lid that will help you monitor your ingredient
Dishwasher safe
Highly polished stainless steel Material
Buyers Feedback
Pros
very Affordable as per the quality
2.5 quarts capacity.
Easy to use on gas-tops, induction or oven
Cool handles for easy holding
Easy to clean
Cons
Smaller in size
Not rust resistant
Buy Excelsteel Double Boiler
Buy on Amazon.com Buy on Amazon.in
3. Songziming Stainless Universal Double Boiler

This double boiler is made of durable stainless steel it just doesn't give you a way to enjoy the melting chocolate but is also environment-friendly and rustproof too. This pot is just not specifically for melting your favorite chocolate you may also use it to melt butter, cheese, and candy as well. The boiler is designed in such a way that the grooves at the two end of the pot will help you to pour and will save you from splashing. To make the most tedious job of washing easy by the cool handle.
Key Features
Multiple Uses- Perfect for melting butter, cheese, candy, chocolate and also used a normal container
Works flawlessly
High quality and practical
Easy to clean and durable
High quality stainless steel body
Convenient to use
Buyers Feedback
Pros
High Quality
Front hook to prevent sliding away
Double pour spouts on both sides
Overheating did not heated the handle
User friendly
Made of 18/8 Stainless steel
Rust Resistant
Sturdy,and proper temperature to melt things but not to destroy the nutrition
Designed to perfectly fit sauce pans and smaller pots, ideal for steaming small amount of foods
Cons
Users have found it very small in size
Buy Songziming Universal Double Boiler
Buy on Amazon.com Buy on Amazon.in
4. Small Homeware Universal Double Boiler

This product has also gained a lot of limelight to get hot and smooth melted chocolate. This boiler is made of stainless steel with the right size for melting a lot of things. You can use it to melt butter, milk, and to simmer water. This pot has a feature of twin pouring lips which will allow melting chocolate over any other saucepan. Along with the handle suspension design which will avoid spilling it has a short hook handle as well. Enjoy! Melting your chocolate for all the special days to add some sweetness to it and make it more special.
Key Features
Very Handy
Multiple use
Great Space Saving Product
Easy to clean and durable
High quality stainless steel body
Heat Resistant Handle
Buyers Feedback
Pros
Very Affordable
Good Size and heavy-duty
Easy to clean
Versatile
Lifetime Warranty
Cons
Spatula that comes with this product is of hard material and hardly useful
Buy Small Homeware Double Boiler
Buy on Amazon.com Buy on Amazon.in
5. Cuisinart Double Boiler with Cover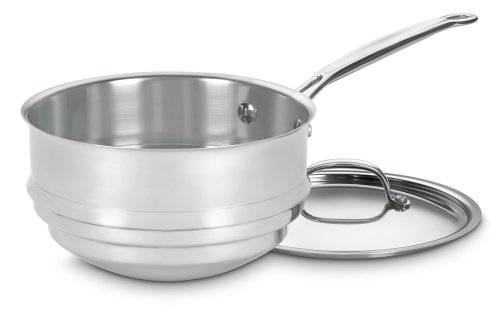 The Cuisinart Double Boiler comes in high quality 18/10 stainless steel material. The handle is also made of stainless steel and is riveted for added durability. It is a perfect fit for a 2 to 4 quarts saucepans and is oven safe till 550 degrees Fahrenheit. It's easy to clean and can be used in a dishwasher.
Key Features
Stainless steel body and handle
Dishwasher safe
Perfect fitted pans
Oven safe
facilitates easy whisking too
Buyers Feedback
Pros
Tight-fitting cover seals
Easy to clean
Versatile
Fits on a variety of your existing saucepans
Handle is comfortable and sturdy
Cons
Round Bottom doesn't allow the pan to sit flat
More effort required to clean between the ridges
Buy Cuisinart Double Boiler
Buy on Amazon.com Buy on Amazon.in
Some of the Best Commercial Double Boilers
6. Calphalon Space Saving Double Boiler

Calphalon Double Boiler is an elegant, sleek looking cookware that saves a lot of space and comes in a high-quality stainless steel body. It excels in durability and functionality, and saves up to 30% more cabinet space. This is one of the best Double boilers for commercial use as well due to its quality and flexible cooking options, it's oven safe up to 450 Degree Fahrenheit.
Key Features
The 3-layer Aluminium metal construction
Dishwasher safe
Safe for use on gas, electric, electric coil, halogen, glass cook tops and even Induction
Flat tempered glass lids
Oven safe
Stainless Steel Handle
Buyers Feedback
Pros
Space saving
Multiple uses
Better heat distribution
High Quality Aluminium body
Flat glass lid
Buy Calphalon Space Saving Double Boiler
Buy on Amazon.com Buy on Amazon.in
7. All-Clad Double Boiler

The All-Clad Double Boiler is crafted of porcelain, high quality and fits perfectly for heavy-duty usage both commercial, homemade bakeries, and restaurants. The 1.5-quart double boiler inserts nests inside the 2 quarts saucepan are ideal for melting chocolates, preparing cream based desserts and awesome sauces on indirect heat. It can be also be used on direct heat for reheating food for change in consistency or flavors. These two pans can be separated if necessary which are induction compatible, and oven safe up to 600 Degrees.
Key Features
Excellent Craftsmanship
stainless steel base and the porcelain insert
Safe on Induction
Oven- and broiler-safe up to 600 degrees F (without lid)
Oven safe
Lifetime warranty
Buyers Feedback
Pros
Dishwasher safe
Excellent high quality
Stick resistance and easy maintenance
stainless-steel handles secured with stainless-steel rivets and flat stainless-steel lid
Flat glass lid
Cons
Pricey
Only the external pot is induction safe
Buy All-Clad Double Boiler
Buy on Amazon.com Buy on Amazon.in
8. Winware Double Boiler

The Winware Double Boiler comes in all sizes and this 16 quarts pot with double boiler insert is a high quality durable commercial grade pot. It has stainless steel encapsulated base that allows even heat distribution that gently warms chocolates, buttermilk icing and making a variety of sauces.
Key Features
Heavy gauge stainless steel cover
Stainless steel encapsulated base
Large volume pot
heavy stainless steel construction
Sturdy with double handles
Buyers Feedback
Pros
Dishwasher safe
Good for large batch cooking
High quality stainless steel body
Solid, heavy and durable
Great price for a home bakery and commercial shops
Distributes heat evenly
Buy Winware Double Boiler
Buy on Amazon.com Buy on Amazon.in
Best Double Boiler for Melting Chocolate 2021 – Conclusion
Double Boilers are the best thing possible for one with the sweet tooth. Boil the chocolate and make the best treaty treats for your loved ones. Get your favorite device and save your time from washing the rigid stains off the utensils by burning your chocolate. And there are fascinating offers along with add-ons with the Double Boilers out in the sale of several online shopping sites. Easy and handy it is for every individual who has knack for cooking or baking.
Also see
a. Melting Furnace Double Boiler Chocolate Fondue Pot Chocolate Fountain for Household

Buy on Amazon.in
b. Sephra Premium Fondue Milk Chocolate

Buy on Amazon.in