Every experienced baker is treasured with essential baking tools without which they can't make the best baked goods. Choosing the right tools for baking is as important as choosing your ingredients. But what is most important, is the right measuring tools that help you to take the proper amount of ingredients while baking. If any of the ingredients is off by half an ounce, the whole recipe will get spoiled. So, proper measuring tools are very much crucial while baking that helps you in the accurate measurements of the ingredients and resulting in a perfect baked recipe. In this blog, I am going to make you understand the various measuring tools for baking and cooking and also discuss some of the Best Baking Measuring Tools without which you can't get the perfection in your recipes.
Click for an Easy Chiffon Cake Recipe
Buying Guide for Best Baking Measuring Tools
It is important for every kitchen to have the right tools for cooking and baking, just like choosing the ingredients to create a delicacy. With social media as the perfect platform, we now get all types of cooking tools around the world but do we actually know which one we should be using for what? It's astonishing that even though some of the measuring instruments look exactly the same, still for best results, you will need to learn to use different tools for different ingredients. For understanding the essential baking measuring tools, you should divide your ingredients as wet and dry. Both of these different ingredients are measured using different tools and to get that spongy cake, you must know the ways to measure both wet and dry ingredients in baking.
How to choose the Best measuring tool ?
Measuring Tools by Volume
Volume is the standard form of measurement for most of your baking recipes, and it specifies the measure of how much space something takes up. If you are going to cook by volume measurements, you must need the accurate set of dry measuring cups, liquid measuring cups, as well as a good set of measuring spoons.
1. Dry Ingredients Measuring Cups
It is an important baking tool to measure all your dry ingredients perfectly. It comes in a set of standard measures that includes a half cup, a third of the cup, a quarter of the cup, and a full cup measure. It also comes in metal, ceramic, and plastic.
How to use dry ingredient measuring cups?
You can easily measure the dry ingredients like flour, sugar in the dry ingredient measuring cups. To measure the dry ingredients, just fill the cup to the top level. You can do it by dropping spoonfuls of the ingredient into the measuring cup. Do not scoop the ingredient as well as push it down. Just level off the ingredient by smoothly swiping the edge of a knife across the top of the cup.
2. Liquid Measuring Cups
It is also an important measuring tool for baking as it measures large fluid units. These measuring cups usually come in 1-cup, 2-cup, 4-cup, and 8-cup sizes. Liquid measuring cups indicates the volume as they have the measuring lines. In these measuring cups, you can easily measure the wet ingredients like milk, water, oil, etc.
How to use Liquid Measuring Cups?
To measure the liquid ingredients accurately, just set the glass measuring cup on the counter. Now pour the wet ingredient into the cup and at the same time check the level on the side of the glass. The transparency of the measuring cup ensures the accuracy of the ingredient.
Buy Some of the best measuring cups on Amazon.in
Buy Some of the best measuring cups on Amazon.com
3. Measuring Spoons

It is another important measuring tool used in baking. They are used to measure teaspoons and tablespoons of the ingredients and comes in a ¼ teaspoon, ½ teaspoon, 1 teaspoon, and 1 tablespoon measurements. You can measure both dry ingredients (baking soda, spices, salt) as well as wet ingredients (honey, cream, vanilla extract) with measuring spoons
How to use measuring spoons?
To measure the dry ingredients using measuring spoons, just fill the spoon to the top and swipe the edge of the knife smoothly across the top of the measuring spoon. In the same way, if you want to measure the wet ingredient, simply fill the spoon to the top and then add to your recipe.
Buy the Best Measuring Cups on 'Amazon.in'
Buy the Best Measuring Cups on 'Amazon.com'
Measuring tool by weight
1. Digital Scale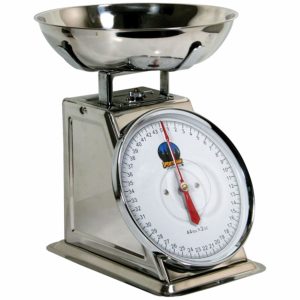 Measuring by weight gives you the most accurate measurement of the ingredients. This time you must need a good digital scale. In fact, some recipes have weight measures like 100 gms, 250 gms, etc. instead of volume like ½ cup flour, ¼ cup flour, etc. You can easily weight your ingredient in measures like grams, kilograms, pounds, or ounces. You can eliminate different tools with this weighing tool as this tool helps you in weighing your dry and wet ingredients directly in a bowl.
How to use a digital scale for measuring the ingredients?
To start measuring with a digital scale, just place your mixing bowl on the top of the scale and push the tare or zero buttons. The scale will show you the weight of the bowl then again set your scale's counter back to zero. Now, add the ingredient to the bowl until the scale displays the weight you desire.
Buy the Best Digital Scale Online
View on Amazon.com View on Amazon.in
Measuring tools for Baking
1. Oven Thermometer
For a perfect oven temperature, this tool is best. If you are fond of baking and want to get perfect results for your home baking by following the recipes exactly, this is a must-have tool. This tool is basically used for gas and electric ovens that already have built-in thermometers but may not be so accurate. With this thermometer, you can compensate for any discrepancy.
Buy the Best Oven Thermometers
View on Amazon.com View on Amazon.in
2. Kitchen Timer

A kitchen timer is one of the best tools, especially for the home bakers. As a home baker, you almost go through various distractions, and thus this tool will keep you keep organized while baking so as not to spoil your wonderful baked desserts. Most of the ovens come with a built-in timer, but if your oven does not have the timer, it is good to have this handy tool.
Buy the Best Kitchen Timers
View on Amazon.com View on Amazon.in
3. Shot Glass Measuring Cup

This tool is actually made for just fun. You can use this tool either as a shot glass or a measuring cup. It looks like a shot glass but having with the measurements on the outer side ranging from 1 teaspoon to 2 tablespoons as well as milliliters measurement. This tool is great for measuring small amounts of liquid.
Buy the Best Measuring Shot Glasses
View on Amazon.com View on Amazon.in
Best Measuring Tools for baking Review – Conclusion
So, this is all about the essential measuring tools used in baking. These tools are really very helpful for making the best-baked goods. I hope, this list of top measuring tools will be helpful for you to bake goods with perfection.
Amazon
Generic 12 Piece Cake Decorating Set Frosting Ic...
Amazon
HPK Branded Kitchen & Bakeware Tools Recipe Meas...
Amazon
Inditradition Imported Baking and Cooking Parchm...
Amazon
Royals Medium Non Stick Carbon Steel Baking Tray...
Amazon
Royals® Teflon Coated Removable Base Microwave ...
Amazon
Grizzly 3pcs/Set Plastic Dough Bench Scraper Cak...