This blog is for all the egg lovers out there. Boiling an egg perfectly is an art which most of us seem to mess up. And an egg that is not boiled properly ruins the whole mood. Some of us also have preferences such as a soft-boiled egg or a hard-boiled egg. Preparing such specific types of an egg requires high precision and awareness. Eggs are considered to be an important source of protein and hold a great position in a nutritional diet. Mornings are usually spent in a rush of getting ready for office and in midst of all of that, it is a difficult job to make the perfect boiled eggs and give constant attention to it. Keeping in mind all of these problems, there is a great appliance we are going to introduce today. An Egg Boiler! It is an appliance which is used to perfectly boil eggs without cracking them and even shuts down the appliance in its own time when the eggs are done. It has a simple look and simple working but you must get to choose from the list of the Best Egg boilers in India so that you can enjoy all the latest features and also get an affordable as well as most advanced technology like an electric egg boiler at the same time. Eggs have such vast benefits to the human body. People who are planning to build muscles look towards eggs as a great protein source. People trying to lose weight have found eggs so advantageous and beneficial in their journey. So we can say that eggs are suitable for everyone and boiled eggs are a way to save the protein from getting burnt and extracting maximum protein from the eggs. Investing in an egg boiler would be a great step towards a healthy diet and a healthy lifestyle.
Egg Boilers in India Buying Guide
Here in this blog we have researched so many facts about this amazing invention and have come up with a comprehensive egg boiler buying guide and also reviewed some of the best egg boilers that are available in the Indian market.
What is the Nutritional Value of Eggs?
As mentioned earlier, eggs have been considered to be a major nutrient source to almost all types of people. One egg constitutes 75 calories of energy along with 6 gms of protein, and 5 grams of healthy fat. Besides these major nutrients, there are some other nutrients as well. Some of them are iron, calcium, potassium and even good cholesterol, sodium, phosphorus and magnesium. Coming to the Vitamin details, eggs can be a source of Vitamin A, Vitamin B, Vitamin E and Vitamin K.
Different types of boiled eggs
Based on the time for which the eggs are boiled, different types of boiled eggs can be prepared. Although all these types do not differ much in nutritional value, they each have a specific taste and people sometimes prefer some over the others. When using the traditional way of boiling eggs, it is very difficult to be precise with the time and you often never get the type of boiled egg you want. Egg boilers come with a measuring beaker, using which you can easily make soft boiled or medium boiled or hard-boiled eggs correctly.
1- Soft Boiled Eggs
A soft boiled egg has a runny yolk and a softer egg white. It is cooked for the least amount of time among the three types. It requires very less water as well. Peeling a soft boiled egg is sometimes a hassle since the eggs are soft and tender, so you should make sure you don't peel into the yolk.
2- Medium Boiled Eggs
A medium boiled egg has an almost cooked yolk with a medium cooked egg white. Boiling an egg for about 8 minutes would give you a medium-boiled egg. Compared to a soft boiled, it requires more water. Medium boiled eggs are often considered as the healthiest form of boiled eggs.
3- Hard-Boiled Eggs
A hard-boiled egg has a properly cooked yolk which is stable and a completely cooked egg white. It takes around 12 minutes to hard boil an egg perfectly. Make sure you do not overcook your eggs as then the nutrition shall get lost and they won't benefit you to their fullest capacity.
Why buy an Egg Boiler / Benefits of Buying an Egg Cooker
Before we get into the facts of an egg boiler a very important question to answer is why should we buy an EGG boiler and how it is going to be useful for us. There are a few factors that we think has contributed to its immense popularity as an amazing kitchen appliance in Indian households. Few benefits of using an Egg boiler are :
– It cooks the eggs evenly, easily and very quickly.
– It helps to save time and you are free while the egg is boiling as there is no mentoring required.
– Few Egg boiler come with an auto timer and turn off features that make it a much safer than a gas stove boiling option.
– It saves a lot of water and stove gas.
– It has a warm feature to serve eggs hot even after long hours.
Types of Egg Boilers in India
Egg boilers can be classified into two main categories depending on their design and their working:
1. Countertop Egg Boiler
2. Microwave Egg Boiler
1. Countertop Egg Boilers
It is the most commonly preferred egg boilers. It is an independent appliance which can be operated easily. It is compact and does not need a lot of space in the kitchen. You can boil or poach eggs without any issues and have different textures of eggs when you are using this type of egg boiler. Some models come with a timer option that makes it easier for you if you want to manage other tasks simultaneously.
2. Microwave Egg Boiler
This next type of egg boiler is called a Microwave egg boiler. This is not an independent appliance. This means that you need to own microwave to use this type of egg boiler. You can even say that they are more of a vessel instead of an appliance that can be placed inside a microwave and boil eggs. They are easier to clean and have a simple design. Microwave egg boiler does not provide the feature of controlling the temperature which would not allow you to have eggs of different textures.
Factors to consider while choosing the Egg Boilers in India
Knowing all about an egg boiler might not be enough when you are planning to buy the appliance. Certain determinants should be given a priority over others so that you can choose the best egg boiler for your home. All these factors should be kept in mind while buying an egg boiler. When you choose an egg boiler, make sure the factors are according to your needs and requirements so that you end up with the most ideal and best egg boiler for you.
1. Body:
The material that is used to manufacture an egg boiler can be either plastic or steel. Stainless steel has often proved to be better than plastic. The question, "Is plastic egg boiler good to use?" can be answered in a simple statement that plastic egg boilers are light in weight and easy to carry but they are not that substantial when compared to a stainless steel egg boiler.
2. Capacity:
Most of the egg boilers are capable of working with many eggs at the same time. It is often better to choose an egg boiler that has at least a capacity of six eggs at once. You can even opt for multiple layered egg boilers if you have many members in the family.
3. Auto Cut-off feature:
Many models come with a cut-off function, where upon reaching a certain temperature, the appliance shuts down automatically and the water stops boiling. This is generally done when the water is converted into steam and the threshold is crossed. This seems like a great feature one should always look for.
4. Dishwasher safe:
It is good to have a dishwasher safe egg boiler so that you don't have to go through all that trouble of cleaning the appliance. Only the washable components should be put in the dishwasher for cleaning purposes and the non-washable parts such as the main unit, power cable etc shouldn't be placed inside a dishwasher.
5. Accessories:
Many models of egg boilers come with additional components that enhance the operation of the appliance. Some of these are necessary while some of them are just an add-on feature. Some accessories include Measuring cup, additional trays, etc.
Our best Picked 8 Egg Boilers in India available online
| Egg Boiler Brands | Watts | Capacity | Warranty | Buy Now |
| --- | --- | --- | --- | --- |
| Kent Instant Egg Boiler | 360 | 7 | 1 year | Amazon.in |
| Goodway Electric Egg Boiler | 200 | 5 | 6 months | Amazon.in |
| Prestige Egg Boiler | 360 | 7 | 1 year | Amazon.in |
| Inalsa Chic Instant Egg Boiler | 350 | 7 | 1 year | Amazon.in |
| Simxen Egg Boiler Electric | 350 | 7 | not given | Amazon.in |
| CurioCity Compact Stylish Electric Egg | 350 | 7 | not given | Amazon.in |
| PETRICE Multi-functional Egg Boiler | 200 | 7 | Not given | Amazon.in |
| SAYSHA electric Egg Boiler | 350 | 7 | - | Amazon.in |
Best Egg Boilers in India 2022 Review
Besides having basic knowledge about egg boilers, one should also know how to handle the appliance after you have bought it. One important thing you must know is "How to clean an egg boiler?" The way of cleaning an egg boiler requires water, a little vinegar, soap and a clean cloth. First, dampen the cloth and wipe the pan to eliminate all residues. Now, prepare a solution which has equal parts of water and vinegar. Wipe the pan with this solution using the cloth again. You can wash the detachable parts of the egg boiler with soap and water or in a dishwasher if they are dishwasher safe. Let us now look at some of the best egg boilers that are available in India so that you can choose the one which suits your requirements and needs the most.
1. Kent Instant Egg Boiler 360-Watt

Kent is a very reputed brand which has provided the Indian household with reliable appliances for more than 20 years. Kent gained great popularity for its range of RO water purifiers and now it has introduced this instant egg boiler which is of the same premium quality. This Kent Electric Instant Boiler has a capacity of 7 eggs which can be cooked in 3 minutes. Three modes are provided for hard, medium and soft boiled eggs respectively. This egg boiler by Kent also has timers and auto cut off features so that you can do other tasks simultaneously. A measuring jar is provided which would guide you about the amount of water that needs to be added in the appliance.
Attractive Features
– High-quality Stainless steel is used
– Capacity: Can accommodate 7 eggs at once
– Power: Uses only 330 watts of power which is very energy efficient
– Transparent lid is provided
– Automatic overheat-protection to prevent the device from over-boiling or over-heating
– Warranty: 1 year of warranty is provided
Buyers Feedback
Pros
Easy to operate the device with the help of a single switch
Does not use much water for boiling
Capable of boiling 7 eggs quickly in only 3 minutes
Automatic turn off makes it easier to handle other tasks simultaneously
Cons
Cleaning the appliance is little complicated
2. Goodway Electric Egg Boiler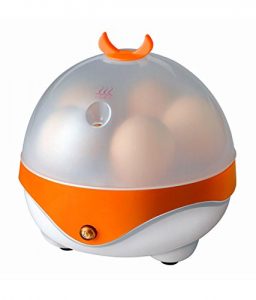 Goodway Electric Egg Boiler provides both aesthetic looks as well as efficiency. It has a very cute orange colour which makes it a great appliance in terms of kitchen décor. It has a translucent lid which is dome-shaped and has a capacity of 5 eggs. You can prepare both hard and soft boiled eggs in this boiler. Auto cut off feature is provided which shall switch off the appliance when the eggs have boiled.
Attractive Features
– Made up of stainless steel along with appealing design
– Capacity: Can cook 5 eggs at a time
– Power Consumption of 200 watts makes it extremely efficient
– Auto cut off feature, one-touch cooking is provided
– Warranty: Not mentioned
Buyers Feedback
Pros
Elegant design for kitchen decor
One touch cooking makes it easy to use
Appliance is compact and easy to carry
Auto cut off feature for safety and efficiency
Requires only 25 ml of water to cook eggs
Cons
Water leakage is reported by some consumers
Not suitable for large families
3. Prestige Egg Boiler – PEGB – 01

Prestige does not need any introduction as it has been a brand that is trusted all over India because of its premium kitchen appliances. This egg boiler by Prestige has similar quality and reliability that comes with Prestige. It has a capacity of 7 eggs and comes with a plastic lid. A measuring cup is included so that you can pour the right amount of water. Three modes are provided for hard, medium and soft eggs accordingly. Automatic cut off feature provided which shall turn off the appliance as soon as the boiling process is completed.
Attractive Features
– The egg boiler is made up of reliable stainless steel
– Capacity: 7 eggs can be cooked in this boiler
– Power Consumption of 380 Watts for boiling the eggs
– Auto cut off feature along with buzzer sound is included and measuring jar is also provided
– Warranty: The appliance comes with 1 year of warranty
Buyers Feedback
Pros
Easy one touch operation
Three different modes to cook different kinds of eggs
7 eggs capacity for large families
Auto cut off feature and measuring cup is provided
Cons
Length of the electric cord of the appliance should be increased
4. Inalsa Oggi 360-Watt Egg Boiler

Most of you know that Inalsa is an Indian company but unique information is that it has a partnership with the Swedish group known as Taurus. Inalsa is known for providing great quality appliances to the Indian household. This Inalsa Oggi egg boiler is a very efficient appliance which is ideal for medium to large-sized families is as it can accommodate 7 eggs. Another unique feature is that it has stainless steel and Aluminum lid which can be easily removed without any hassle although you need to be careful as the lid would be hot after boiling.
Attractive Features
– Elegant and unique design
– Capacity: 7 eggs which are suitable for 4-5 members of the family
– Low power consumption of up to 360 watts of power
– Stainless steel lid and measuring cup is provided
– Warranty: 1 year of warranty is included with the appliance
Buyers Feedback
Pros
Unique and robust design
Easy to clean appliance
Low power consumption and energy efficient
Simple operation with one switch along with indicator lights
Cons
Efficiency in proper cooking of eggs can be improved
5. Simxen Egg Boiler Electric

The next boiler is by Simxen. The Simxen Egg Boiler is an automatic cut-off appliance which has a capacity of 7 eggs. The tray which holds the eggs can be easily removed and a bowl can be attached in which you can even poach eggs so it has multi-functionality. Measuring cup helps to measure the correct amount of water required and also has a pin to put a small hole in the eggs to prevent them from cracking.
Attractive Features
– The kettle is made up of a mixture of plastic and steel
– Capacity: 7 eggs suitable for large families
– Has 350 Watts of power consumption
– Multi-purpose as you can boil, poach eggs and try different recipes for eggs
– Warranty: Not properly stated
Buyers Feedback
Pros
Design is durable and robust
Auto cut off feature prevents from hazards and ensures proper cooking
Suitable for medium to large families
Lightweight and compact which makes it handy
Cons
Sometimes it may take a little time to start up for operation
6. CurioCity EGGPOACH-1 Compact Stylish Electric Egg Cooker

If you're looking for a minimal egg boiler which is easy to use and highly efficient this one by CurioCity is a great deal. The CurioCity Electric Egg Boiler can cook 7 eggs at one which is perfect for medium to large-sized families. A measuring cup is provided so that you can pour the correct amount of water. The automatic turn off feature will switch off the appliance once the water has dried up and the eggs have boiled. You can even steam other items as well such as dumplings, vegetables etc.
Attractive Features
– The outer body is made up of plastic and the inner body is made up of stainless steel
– Capacity: 7 eggs which are best for large families
– The appliance consumes 380 Watts of Power for efficient preparation of eggs
– Overheating protection is provided known as double thermal protection
– Auto cut off feature and measuring cup is also included for added efficiency
– Warranty: There is no manufacturer warranty provided with this appliance
Buyers Feedback
Pros
The appliance is very affordable
You can use the device for other purposes as well
Double thermal protection protects overheating
Simple operation as it has one touch mechanism
Cons
The appliance has no warranty
Quality of the appliance build can be improved
7. PETRICE 2-In-1 Multi-functional Electric Mini Egg Boiler

This Mini egg boiler by PETRICE is perfect for bachelors and individuals who are living by their own and want to try out different recipes. Not only can you boil but also poach eggs in this device. Apart from that, you can even use it for trying out simple and short recipes as well. It has a non-stick cooking base so you can even make a small omelette. Primarily, it can accommodate 7 eggs for boiling. Auto cut off feature and measuring cup is also provided for your comfort.
Attractive Features
– Made up of plastic along with non-stick coating
– Capacity: Can boil 7 eggs at once
– The appliance has a very low power consumption of 200W
– Can be used for many purposes like boiling, poaching eggs etc
– Easy to prepare many different recipes as well
Buyers Feedback
Pros
Multi functional appliance
Can even prepare omelet as it has non-stick base
Automatic shut off for hassle free cooking
Measuring cup is also provided
Cons
Quality of plastic used is not good
Wiring quality can be improved
8. SAYSHA 1 L 7 Egg-Electric Boiler

The next egg boiler is SAYSHA 1 L 7 Egg-Electric Boiler which is a new brand in India and not very popular although it has received good customer feedback. This is because of its elegant design and affordable price. The electric boiler by SAYSHA is capable of boiling 7 eggs at once within 6 minutes. The Automatic shutdown feature ensures that the appliance is switched off when all the water has turned into steam. You can steam other food in this egg boiler as well which makes it multi-functional.
Attractive Features
– The egg boiler has a multi-layer design with a stainless steel plate
– Capacity: Capable of steaming/boiling 7 eggs at a time within 6 minutes
– The appliance consumes 350 Watts of Power for energy-efficient performance
– Auto cut off feature and double thermal protection ensures maximum effectiveness
Buyers Feedback
Pros
Elegant design and appealing look where the plate is made up of food grade material
Auto shut off feature for ensuring safety and proper cooking
Can cook 7 eggs in just 6 minutes
Can steam other vegetables as well
Cons
Brand is not very known
Plastic quality used should be improved
Best Egg Boiler In India 2022 – Conclusion
Egg boilers are certainly a minimal and efficient appliance which shall only take up little space in your kitchen but make the process of boiling eggs far easier for the rest of your life. It does not depend on any guesswork and has precision so you will end up with the perfectly boiled egg every single time. Over boiling often makes the yolk greyish which shall never happen with an egg boiler as it has an auto-turn-off feature to ensure that the device is switched off as soon as the boiling process is complete. We hope our detailed buying guide helps you gain all the information that is needed when buying an egg boiler. Our top picks include all the models that have ideal features and provide great efficiency. Most of the models do not have proper details about their warranty which is a common scenario with egg boilers. It is always recommended to go for an appliance that has all the required features and provides a premium cooking experience.