It is often possible that the atmosphere in your home is very dry and lacks moisture. This dry air might cause irritation to your baby and make him uncomfortable. This is very likely to happen if your child is sick with flu or has allergies. Dealing with a baby is a very delicate affair and it does not feel good when your baby is sick and there are no ways to ease their pain. But to deal with their dry cough, flu, and other symptoms, there is a device that can be used that is known as Humidifier. It is an appliance that is used to add moisture to the air. Its main objective is to increase humidity during the winter season and also to easy symptoms of flu and cold in your baby. The ideal range of humidity in your room should be between 30 and 50%. There are many harmful effects of dry air around you, like, dry skin, cough, respiratory infections and many more. It is very essential that you protect your children from these harmful repercussions of lack of moisture in your room. By using a humidifier, your child shall be relieved of the cold symptoms naturally. By the introduction of moisture in the environment, humidifiers for babies make sure that airborne pathogens that cause cold are unable to travel, thus protecting your child from cold, flu and other allergies.
Another great reason for using the humidifiers for babies is that your baby can also be protected from dry, flaky skin which is a common phenomenon during winters. In the winter season, the air is very dry leading to flaky skin. A humidifier adds moisture to the air and thus preventing dry skin. It is absolutely heartbreaking to see your child suffer from cough and congestion. If your baby is very young, you can't even give him honey let alone over-the-counter medicines which shall leave a feeling of helplessness. The usage of a humidifier naturally eases this cough and congestion and provides comfort to your baby and gives you rest too. It helps to recover more quickly from any illness as it provides moisture in the air. Because of that nosebleeds can be prevented, your baby shall get sufficient oxygen to breathe. Oxygen helps in the circulation of blood which in turns fastens the healing process of different illnesses. Some of the humidifiers produce white noise which is very peaceful when your child is sleeping. A night of peaceful sleep and fresh baby is all that you need!
Best Humidifiers for Babies in India 2022 – Buying Guide
There is a high probability that some healthcare expert might have suggested a humidifier for your baby if he has frequent nose bleeds or symptoms of cold-like cough and congestion. By using a humidifier, there are many symptoms that can be cured without putting in any efforts. Some of those symptoms are:
– Nosebleeds
– Dry throat
– Cough and Running Nose
– Congestion in the chest
– Allergies, Asthma, and many more
All these symptoms are affected by dry air and lack of moisture in some way or the other. A humidifier works with the sole purpose of increasing moisture and improving the dry air in the environment. There are many types of humidifier and it is important you understand all the types, their usage so that you can decide better which type of humidifier would be best suitable for you and your child's needs and requirements.
Types of Humidifiers for babies
On a major view, humidifiers are of mainly two types based on the type of moisture: Warm Mist and Cool Mist Humidifiers. For babies, it is recommended to use cool mist humidifiers as warm mist humidifiers are not very safe when children are around. Further, cold mist humidifiers can also be classified into different types:
1. Evaporative Humidifier
This type of humidifier does not heat water to generate humidity. It makes use of a fan to produce water vapor by blowing on the chamber that has the water.
2. Impeller Humidifier
An impeller humidifier throws water into a diffuser by the help of a rotating disc. The diffuser then changes the water into fine droplets that are blown in the air. This type of humidifier requires that the supply of water is clean to ensure clean circulation of droplets into the air.
3. Ultrasonic Humidifier
This type of humidifier produces cool mist by ultrasonic vibrations. When children are considered, ultrasonic humidifiers are the most commonly used and they pose no safety threat to the baby as well. These humidifiers require very less maintenance and are also easy to operate.
Another area of classification for humidifiers is based on the design. When the size is concerned, humidifiers come in small, medium and large sizes and you can choose the one which is in sync with the area you wish to cover with the humidifier.
Types of Humidifiers – Based on shape & design
1. Tabletop Humidifiers
A tabletop humidifier is the most simple and easy to use device that also performs the function of providing moisture in the air. It is very portable and can be kept easily in the room where your baby is resting or can be easily moved when you wish to do cleaning and other tasks.
2. Console Humidifiers
This type of humidifier basically covers a very large area, so instead of a room it has the capacity to provide moisture to the entire house. They have a large storage capacity for storing water to produce moisture.
3. In-Duct Humidifiers
Another type of humidifier for the entire house is in-duct humidifiers. These humidifiers are fixed directly in the air ducts of the house and it provides moisturized air for everyone in the house. It is a little expensive and it is very complex to install as well.
Working of a Humidifiers for Babies
Depending on the type of humidifier, the working of the device varies. Although the final outcome remains the same, that is, to release enough moisture into the air that can improve the dry air in the environment. There are different mechanisms on which different types of humidifiers function. Evaporative Humidifiers work on a very simple phenomenon: Evaporation. It contains the simplest of elements like a fan and wick filter. This filter is made up of either cloth or also by paper. It is responsible for soaking water and then the fan performs natural evaporation into the air. One advantage of an evaporative humidifier is that as soon as the humidity of the room reaches an ideal level, the rate of natural evaporation automatically goes down. So we can say that it is self-regulating in nature.
Another common type of humidifier, Ultrasonic humidifier, contains a component known as a 'diaphragm' that exhibits high-frequency vibrations. When water droplets come in contact with these vibrations, they are transformed into air bubbles which reach the surface and release into the air.
Impeller Humidifiers use a special part called an impeller which is a disc that spins at high speed. This disc has multiple blade-like structures which break the water into air bubbles and sends them into the air. These type of humidifiers are not very popular because the moisture output of these devices are not very high and other types of humidifiers like, evaporative and ultrasonic provide better results as compared to impeller humidifiers.
Things or Features to consider while choosing the Best Humidifiers for babies
1. Type of Humidifier
Given the great variety of humidifiers, it is important you choose one that is best suitable for your baby and your family. First, if you have a baby at your home, it is always recommended to go for a cool-mist humidifier because it is safer around a child. The child can burn himself when a warm mist humidifier is used. Next is the type of humidifier like evaporative, ultrasonic or impeller humidifiers based on the requirements as well as the budget.
2. Presence of a filter
Humidifiers can be with or without a filter. The purpose of the filter is that when the water is being deposited in the chamber of the humidifier, the filter removes harmful toxins from the water and releases purified water droplets into the air. The presence of a filter would also mean extra maintenance and replacement of the filter from time to time.
3. Diffuser for Essential Oils
Some essential oils have proved to have added benefits like lavender essential oil is known for having peaceful sleep and so on. Some models of humidifiers come with an extra compartment where you can add essential oils and they are released in the air along with the evaporated water. Many models do not have a diffuser as oil can also clog the chamber that produces mist.
4. Features provided
You can look for the latest features in your device like automatic shut down which is that the device shall turn off automatically when the supply of water in the humidifier is finishing. The kind of humidifier that you want to buy totally depends on your budget and your requirements.
5. Budget
The cost of humidifiers vary from low to high and as the prices go up some features keep getting adding up. So if you are just looking for a simple humidifier to increase moisture in the air, a low cost and user-friendly device should do it for you.
6. Power Consumption
Humidifiers are often less power consuming. Many of them even function naturally, like evaporative humidifiers that just have a fan and a wick filter that performs evaporation of water and change them into water droplets to release it into the air. Other types such as impeller might consume more power as compared to the evaporative humidifier. Similarly, a stand-alone humidifier will consume much less energy as compared to an all-house humidifier which consumes a great deal of power.
Best Humidifier for Babies Review 2022
We have listed the best humidifiers available online which are suitable for babies. When babies are concerned, the utmost care and concern is needed. One point to keep in mind is that it is always safer to consider a cool-mist humidifier for a baby room. Another thing is the size of the humidifier. When thinking about a humidifier for a baby room, a small size device should be sufficient but when larger rooms or an entire house is considered, medium or large size humidifiers should be used respectively. We hope the below given Best humidifier for Babies Review will help you choose the most ideal humidifier for you and your baby.
1. Vicks FilterFree Humidifier for babies

Our very first humidifier on the list is Vicks FilterFree Humidifier. Vicks is a brand that has been with us for so long that it feels like family! The performance of Vicks is trustworthy without a doubt. This humidifier is a very simple design device that can be operated very easily. This humidifier does not contain any filter which makes it very simple to maintain as no filter replacement would be required too. Another very attractive feature is that it has a see-through or transparent body so you can easily see the level of water in the humidifier and replenish it accordingly. If in case, you are not able to fill the device on time, it will automatically shut off after the water is finished and your device shall not be damaged. It comes along with Vicks Scents Pads which can be used to impart aromas into the air along with moisture and soothe your baby when he has any cold symptoms.
Buyers Feedback
Pros
Vicks Scent Pads to add special aromas into the air
Simple design which is easy to operate
On one full reservoir, device lasts up to 30 hours
The knob provided can be used to control the humidity level and operation of the humidifier
Buy Vicks FilterFree Humidifier
View on Amazon.in
2. Pure Enrichment Ultrasonic Cool Mist Humidifier

Next, we have Pure Enrichment Ultrasonic Cool Mist Humidifier which is an Ultrasonic Humidifier. It is one of the few devices which provide silent operation and produces very less noise. This humidifier also comes with a transparent body which makes it easier to monitor the water levels in the device. Automatic shut-off is also provided which means that the humidifier will turn off by itself if the water in the reservoir is finished. It also comes with a night light function which will make your baby's sleep peaceful. On a full tank, this humidifier can last up to 16 hours so it can run overnight as well. It has a 360-degree rotation for the nozzle that provides an all-round release of moisture in the air.
Buyers Feedback
Pros
Night light function for good night sleep
Can function for entire night (up to 16 hours)
It is a silent device, does not produce noise while it is turned on
Multiple control options to adjust moisture levels in the air
5 year Warranty is provided
Cons
Difficulty in cleaning the device and small brush is provided
At the highest level of operation, it doesn't last the entire night
Buy Pure Enrichment Ultrasonic Cool Mist Humidifier
View on Amazon.in
3. Allin Exporters Cool Mist Ultrasonic Humidifier Automatic Shut-Off & Mist Level Control Air Purifier

This Allin Exporters Cool Mist Ultrasonic Humidifier is an appliance that can be used to improve the condition of moisture in the air which could relieve symptoms like dry skin, stuffy air. It helps to ease sinus and cough congestion because of cold, flu etc. It comes with three speeds: low, medium and high to control the speed at which the mist is release in the atmosphere. It is a multipurpose device and can also be used as an air purifier to clean the air of harmful toxins, bacteria and viruses. It has a water capacity of 2 litres and with a full reservoir, it can function up to 12 hours at once. One thing missing from this device is that it cannot be used along with essential oils to impart aroma in the air. It also supports auto shut-off which means the device will automatically be turned off if the water in the humidifier is depleted. If you are looking for a simple device just for maintaining moisture levels in your room so that you can breathe easily and your baby does not get sick often, this product would be really suitable for you.
Buyers Feedback
Pros
Can be used both as a humidifier and an air purifier
Automatic shut down feature available
Budget Friendly
Does not produce a lot of noise
One year warranty is also provided
Cons
Essential oils cannot be used in this device
Difficulty in cleaning the humidifier
Buy Allin Exporters Cool Mist Ultrasonic Humidifier
View on Amazon.in
4. TaoTronics Cool Mist Ultrasonic Humidifier
This next humidifier by TaoTronics is the ideal product if you are looking for a large sized humidifier that runs for a longer time. It is a cool-mist
ultrasonic humidifier, and therefore, it releases cool mist into the air and is very safe for a baby. It contributes to relieving symptoms of cold-like cough and congestion and helps your baby to sleep peacefully. It has a four-litre tank and with a full tank, it can work for 30 hours. Such capacity is beneficial when you need a continuous supply of air with standard moisture levels. It also has a built-in feature to monitor the humidity levels in the air by which you can control the settings of the device according to your needs. Your baby can get a peaceful sleep when this humidifier is used as it operates very quietly and smoothly.
Buyers Feedback
Pros
Extra large capacity of 4 liters
Even though it is extra large is capacity, it does not require extra space and is not bulky
Produces very less to negligible noise for a peaceful sleep
Built in monitoring system for humidity and air quality
Cons
The device can be seen as a bit overpriced
It does not purify the water that is supplied to it
Buy TaoTronics Cool Mist Humidifier with No Noise
View on Amazon.in
5. Honeywell Easy to Care Cool Mist Humidifier, HCM-710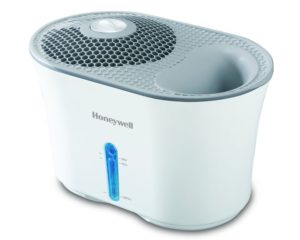 Unlike all the other ultrasonic humidifiers listed above, this humidifier provided by Honeywell is an evaporative humidifier. It contains simple components like a sponge and wick filter. The sponge is responsible of absorbing water and a fan converts this water into water droplets which are then released in the air. Another feature of this device is that it is a naturally regulating humidifier, that is, as soon as the moisture in the air reaches an ideal level, the rate of evaporation of water reduces automatically. It can be said that by using this device, the air in your room shall never hold extra moisture and thus protect from molds and its harmful effects. It contains a filter that needs to be replaced in periodic intervals of time. This humidifier uses Ultraviolet light to purify the water that it holds from harmful toxins, bacteria and viruses so that the mist that is released in the air is clean and healthy for you and your family.
Buyers Feedback
Pros
Purifies the water using ultraviolet technology
Naturally regulates the moisture levels in the air
Simple design and easy to clean also
Cons
The filter needs to be replaced from time to time
The light of the device can be made more soothing to the eyes at night time
Buy Honeywell Easy to Care Cool Mist Humidifier
View on Amazon.in
6. Crane Droplet Ultrasonic Cool Mist Humidifier

Finally, we have Crane Ultrasonic Cool Mist Humidifier which is another ultrasonic sensor which fulfils its basic purpose of increasing moisture in the air that helps is breathing easily. It relieves cough, cold, flu-like symptoms and helps your baby to sleep peacefully and comfortably. A feature that makes this product unique is that it is made up of anti-microbial material which is used to provide protection from mold and bacterial growth with an efficiency of 99.96%. It runs without producing noise and also has the automatic shut down feature where the device turns off by itself when the water is finished. It is suitable for rooms having an area of approximately 500 square feet. It also has a 360 degree of rotation so that the mist can be released in all or any direction that you wish.
Buyers Feedback
Pros
Design is simple and sleek
Does not produce a lot of noise
360 degree of rotation to ensure mist in any direction
Easy to install and operate
Three setting levels to control the operation of the device
Cons
Essential oils cannot be used in this humidifier
Due to small and compact design, it is harder to clean
Price seems little high according to the feature it provides
Buy Crane Droplet Ultrasonic Cool Mist Humidifier
View on Amazon.in
Best Humidifier for babies in India 2022 – Conclusion
When your baby falls sick, there are many different ways you can try out to make him feel comfortable.A humidifier would be the best of those ways. It helps to relieve those symptoms and make your baby sleep peacefully. Having an air that has appropriate moisture level ensures that your child recovers faster and falls sick less often too. It is highly recommended to invest in a humidifier to protect your baby before the cold and flu symptoms worsen. Choose a product according to the needs of your child, the size of the room where you wish to place it and your budget constraints as well. We have mentioned a few models that come with an add-on feature of adding essential oils along with the mist. This would help your child to sleep better and soothes the environment also. One thing to keep in mind is that when using a humidifier, you will need to clean it from time to time because it deals with water and if not cleaned periodically, it might give rise to fungus or bacteria. Molds are very dangerous for health. Humidifiers work by making the mucus lining thin so that the baby can breathe more easily. Increasing the moisture in the air solves the issues of dry cough and relieves problems like congestion. In all, humidifiers are a great investment and it is recommended that you have one to ensure that your baby stays healthy, happy and comfortable.