Before we start this blog, we would like to officially announce that maids are next to God for every Indian homemaker. They are the supreme authority and without them, every Indian wife gets a heart attack, similar to cutting off oxygen to our body, and the result is a sure shot heart attack. So to solve this consistent problem of being dependent on the Indian maid for getting your utensils clean and dry every day, we decided to research about the Best Dishwasher in India for Indian Utensils which will always be available on a flick of a button to give you a clean and dry utensils even when your super-maid is not coming. We hope that our article will help you find the Best Dishwasher for Indian cooking and also read our dishwasher buying guide that will help you with all information on Dishwasher Pros and cons and which is the best dishwasher in India with their review.
Best Dishwasher for Indian Utensils
A dishwasher is one such kitchen appliance that can take away all worries of an Indian family. We all know how boring and tiresome it is to take out time for washing dishes in this busy world. This one kitchen smart gadget actually saves our time and make our work a lot easier. Indian utensils are also not easy to deal with with all those off shaped vessels. We need to have a quality, and best dishwasher not just to clean this Kadai or Tawa but also get rid of the masala stains, grease, and oil of our spicy Indian food. Hence, it's a tough job to choose the right kind of dishwasher for our Indian kitchen. I have read a lot and researched various dishwasher brands online for you, so don't worry, just read and buy the best dishwasher in India that will make cleaning the dishes so much easy for you.
What is a Dishwasher?
A dishwasher is an electronic device (I call it my kitchen robot) that has a sensor technology that can detect dirt, food particles, grime and cleans them easily. Some of the best dishwasher machines clean cutlery automatically, unlike the manual Dishwasher that relies mostly on physical scrubbing. An automatic dishwasher sprays hot water between 45 to 75 degree Celsius as per the material of the dishes. If it's a delicate utensil, it will use a lower temperature. Some dishwashers are made of organic material that increases their life span. A good dishwasher quickly kills bacteria and germs from our vessels. Before I take you to some of the best Dishwasher, let's see things to keep in mind before buying a dishwasher
Best Dishwasher in India – Buying Guide
In India, where we waste a lot of time and water too in cleaning our dishes at home, the Dishwasher was introduced. In the Indian market, you can find different types of Dishwashers depending on their technology and working. There is a freestanding and an integrated one both have their own advantages. Integrated or popularly known as build under Dishwasher are always out of your sight so best for fitted kitchen and more clean uniform look. There are few high-end Dishwashers which are most suitable for a restaurant or huge gathering.
There are mainly three sizes in a dishwasher – slimline, compact, and full size.
The sizes don't really affect the price greatly, surprisingly!
1. Full-Size Dishwasher
This one is perfect for a large family or a restaurant and if you a party every now and then. A Full-size dishwasher can clean a lot of your dishes due to large capacity. A large model has a capacity of16 setting, which means it can wash more than 150 things. It comes in both freestanding and builds under the dishwasher. The best feature of this full-size dishwasher is that it saves a lot of water and electricity but its not good if you have a small kitchen or a small family.
2. Compact Dishwasher
It is slightly bigger than a big microwave and can sit anywhere on your kitchen top. Its compact with 3 to 6 settings and is good for a single individual. It's perfect for those who cook very less and don't have space in the kitchen at all. Even good if you have spine issues and can't bend down with heavy utensils.
3. Slimline Dishwasher
A slimline dishwasher is just 45 cm wide and is a great choice for small or narrow kitchen. Much slimmer than the other dishwasher but with a large capacity of nine to ten place setting so you can wash 10 to 12 utensils in one time. The only drawback is they are not as energy efficient as other machines.
How does a Dishwasher work ?
The working and functionality of dishwashers are different depending on the different types of Dishwasher, as I discussed above. However, there are few step or process that every Dishwasher follows to get your utensils cleaned up, so you can rest.
Step 1- It has a shallow basin that gets filled up with water.
Step 2 – As per the type of utensils, it will heat that water to a particular temperature with the help of a heating element under the jet arms. Dishwashers are smart as they will keep the temperature low for your delicate crockery. bingo !!
Step 3 – A Dishwasher detergent is added.
Step 4 – A pressure is created to spin the mixture of water and detergent, so our utensils get a good pumped up cleaning.
Step 5 – The dirty water is pumped out and again its added without the detergent this time reaching the same level of temperature that was maintained which is pumped through jets on the utensils to make sure no detergent is left on them.
Step 6 – Draining of water and heating of air to dry out the utensils to make ready to be served. And the good thing is that this step is always optional for you.
Do watch the video below to see the process visually and it's interesting:
Things and features to consider that will help you choosing the right kind of dishwasher for an Indian utensils.
1. Easy Usability
A dishwasher is a new thing in India for my Indian families so it would be great for a new user if it's a user-friendly machine. Keep in mind to see if the dishwasher has easy steps to follow with a manual guide. Always see before buying if the dishwasher has a free demo with the first installation, so you understand it thoroughly.
2. Family Size
With a dishwasher, it's essential to keep in mind the size of your family. The capacity of the dishwasher should match with the number of utensils used in your home. A standard dishwasher is open with 12 place setting that can hold at least 12 pieces of dinner plates, glasses, bowls, etc. The tub configuration comes in different ranges of capacity, so choose accordingly.
3. Efficiency
An efficient Dishwasher can be termed as efficient if its energy-saving and still heavy, that means it will clean a lot of utensils in on the go. It should complete the cleaning fast and efficient too.
4. Budget Friendly
Always choose a budget-friendly Dishwasher. The dishwasher usually ranges from 30 to 55 k depending on their different features. It's not an easy task to buy a good quality dishwasher at a good price. A high-end model will come over 40 to 50 K, and if you're short on budget, then you can go on for some affordable ones.
5. Sensor technology
Always keep in mind to choose the sensor-based dishwasher as not all dishwashers have the sensor technology. The sensor ones are more efficient and save a lot of energy. It detects a lot of things like the dirt, temperature level, water level, and even detergent level. A soil sensor helps to detect dirt on dishes and thereby adjust the wash cycles accordingly.
There is a limited choice in India when it comes to buying the Best Dishwasher in India as not many brands are offering this smart appliance that can take care of Indian utensils. So, to make it easy for you, we have researched keeping in mind the above features to get you some of the Best Dishwasher in India for Indian cooking. Please read our Best Picked Dishwasher in India Review below.
IMPORTANT NOTE:
– All the products listed below are subject to availability due to high demand
– Please do keep checking every few hours for the availability of the products on these e-commerce platforms.
You can also see more Dishwasher options Here on Amazon in case the below products are currently unavailable.
6 Best Dishwasher for Indian Utensils Review 2021
1. Bosch 12 Place Settings Dishwasher

The Bosch Dishwasher is packed with some super smart features and great performance. It has a capacity of 12 place settings, that means its perfect for our large utensils. A great buy for a medium size family and very much ideal for cleaning oily stains and patches.
Key Features
12 place setting
Auto Program
Load sensor
Removable rack
Free Standing
6 wash program
Eco Silence Drive
Buyers Feedback
Pros
Stainless steel sturdy body
Saves a lot of time
Easy to maintain
attractive appearance
Cleans silently without noise
Half load option for less dishes
Buy Bosch Dishwasher with 6 Wash Cycles
Buy on Amazon.in Buy on Flipkart
2. IFB Fully Electronic Dishwasher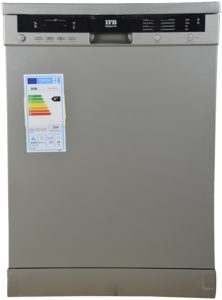 This popular brand, IFB has introduced this amazing 15 place setting dishwasher comes in a stainless steel body with the front-loading feature. It utilizes the maximum space for tall glasses, big pans, cutleries and, many more dishes. It uses just 9 liters of water per day and is very energy efficient.
Key Features
15 place setting
8 wash programs
Silent washing
Flexible half load
Adjustable upper basket
Water softening device
Quick wash options for housewarming parties
Buyers Feedback
Pros
User friendly features
Saves a lot of time
Energy saving and water saving
Appealing appearance
Hi tech control panels/li>
Fully automatic
High quality body
Cons
costlier than other machines
not advisable for wooden dishes
Buy IFB Dishwasher with 8 Wash Cycles
Buy on Amazon.in Buy on Flipkart
3. Siemens Dishwasher 12 Place Setting

Siemens dishwasher is a user friendly appliance in 12 place setting with 6 wash programs and can wash all kind of utensils with any shape and sizes. It has both aqua and load sensor that removes 99% stains and dirt. The Siemens brand is recommended for users for its durability and quality.
Key Features
12 place setting
6 wash Programs
Half load program
Foldable racks
Aqua sensor
load sensor
Eco Silence drive
Buyers Feedback
Pros
Plastic vessel can also get cleaned without any issue.
Great sensor technology
Water saving
LED light that makes the job easy
Auto Programme mode are amazing for different types of utensils/li>
Free standing
Free demo manual
Cons
Its difficult to clean aluminum dishes
Buy Siemens Dishwasher 12 Place Setting
Buy on Amazon.in Buy on Flipkart
4. Whirlpool Dishwasher 14 place setting
The brand Whirlpool has always been considered the best with their Home appliance categories related to washing machines, but this brand has now come out with their dishwasher, which again has the most sturdy body and quality. A perfect choice for any Indian household with its outstanding features and performance. Whirlpool dishwasher comes with the 14 place settings with that is great for medium-sized households. This appliance has Power clean Pro technology that uses high-pressure spray nozzles on the rear of the dishwasher that removes the Oil and toughest stains from the utensils resulting in Power cleaning results.
Key Features
14 place setting
8 wash Programs
Delay Button included
8 fold-able lower racks and 4 foldable upper racks
Silent machine
A++ energy class for energy efficiency
Save time and water with half load option
Buyers Feedback
Pros
Super silent operation
Fit bigger vessels
Stainless steel base tub
Cutlery tray included as third rack instead of basket
Reasonable price
Free standing
Cons
The power cable is very short unlike other brands
Customer service not upto mark
Buy Whirlpool Dishwasher 14 Place Setting
Buy on Amazon.in Buy on Flipkart
5. BPL Dishwasher 12 place setting

A dishwasher for every house, the BPL dishwasher is so much affordable without a compromise to the quality and performance. It has a contemporary design with silver color that adds to the beauty of your kitchen. It comes in 12 place setting and is ideal for a all type of vessels with 8 wash programs. The dishwasher has a feature of ED light display that lets you observe the different functions it performs for monitoring the time, detergent level specially useful while washing your delicate utensils like glassware or bone china.
Key Features
12 place setting
8 wash Programs
Silver sturdy body
Half Load Wash
Silent machine
No pre-scrub of utensils required
LED Display
Buyers Feedback
Pros
Cleans very nicely
Monitor the wash through Led display
reasonable price
Saves water
Good quality
Indian Brand
Cons
Customer support is not that great
Buy BPL Dishwasher
Buy on Amazon.in Buy on Flipkart
6. LG Dishwasher 14 place setting

Lifes' Good or LG is one of the best brands in home appliances and electronics. LG dishwasher is a modern, sleek built with Innovative LG technology. The LG Dishwasher with the 14 place setting feature lets you clean various kinds of utensils at one go. Inverter direct drive gives the most reliable performance with silence.
Key Features
14 place setting
Quad wash technology
EasyRack Plus racking system
Quietest dishwasher
Half wash mode saves water and energy
Buyers Feedback
Pros
Front Control Tall-Tub Dishwasher
Stainless Steel with Stainless Steel Tub
Quietest machine
Saves water
Good quality
Free Standing
Cons
Expensive than other brands
Buy LG Dishwasher 14 Place setting
Buy on Amazon.in Buy on Flipkart
Best dishwasher brands in India 2021 – Conclusion
With all these Dishwasher brands explained in detail, we would recommend you to read our best picked dishwasher review and choose the one depending upon your family size, electricity consumption and time taken in every wash cycles. Dishwasher does have more pros for us than the cons, so choose the best one for your Indian kitchen after considering the dishwasher buying guide.
Also read Best High Rated Dishwasher Brands in India 2020