Love is in the air as Valentine's day is here. A day to express love, and the best way to express love is through chocolates. Love and Chocolates have always been connected, its the most sensual, tempting, and sweetest way to tell someone that you care. Anyone who is gifted with the best chocolate boxes on Valentine's day feels so much special.
In history, also Valentine's day and chocolate have been associated together because it's the most favorite and easy way to express love. Chocolate is called romantic, alluring, and exotic. What more do we need to express love?
There have been so many new trends or options available to make your loved one feel special, but nothing was or will be able to replace the aroma and magic of heavenly chocolates. There must be something special in chocolates that even today it's widely popular among any age or occasion, and if its a day of love, nothing will beat an assorted chocolate box.
Why boxes of chocolates are the best gift on Valentines Day?
1. Chocolates are Aphrodisiac
Yes, Chocolates are considered aphrodisiac food, especially dark chocolates, which means the substance they contain increases your desire, emotions, and makes you open to romance. Scientifically proven, Chocolates release a soothing brain chemical called tryptophan and phenylethylamine, which is released in the brain when people fall in love, and these chemicals elevate mood, increases energy often related to romantic desires. It is an overall mood enhancer.
2. Chocolates are good for health
Dark Chocolate is healthy as it has a lot of positive effects on your body. It's full of antioxidants and flavonoids that fight free radicals, thus helping cure cancer as well as cardio diseases. It lowers blood pressure, considered excellent for the skin. It also increases brain function. It is not right to get addicted to it as anything of too much is also wrong, so indulge in chocolates in moderation and on special occasions.
3. Chocolates affect humans emotionally
Emotions and chocolate are related. It's been considered as a gift to express love, apologizes, or uplift someone's mood as its a powerful mood enhancer, so it does have a lot of psychological and emotional effects in the right way on humans.
So, in this blog, we are going to cover the best chocolate boxes available online that are beautifully wrapped, taste great, and for sure give that perfect message that can make any person feel so unique and melt his/her heart.
I have shortlisted some of the best Chocolate box gifts for Valentine's Day categorized as premium chocolates, best chocolate hearts, best-assorted chocolates, best chocolate box packaging, and most affordable dark chocolates that are ready to be gifted this Valentine's day.
Here is a quick Index for the categories of Chocolate Boxes covered in this blog:
– Best Premium Chocolate Boxes
– Best Assorted Chocolate Boxes
– Best Heart Shaped Chocolate Boxes
– Best Gift Wrapped Chocolate Boxes
Best Premium Chocolate boxes
1. Chocholik Belgium Chocolates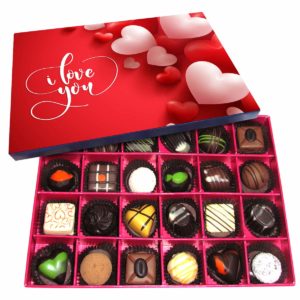 The Chocholik Belgium Chocolate is a pack of 24 premium Belgium chocolate wrapped in an impressive Valentine's gift box with red and pink hearts. A perfect buy for someone who loves to indulge in luxury.
2. ZOROY Luxury Chocolate Assorted Chocolate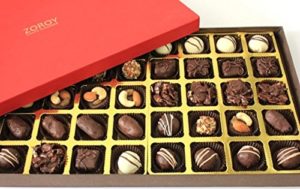 These Luxury chocolates come in attractive packaging with a total of 40 pieces of dark chocolates in various variants like assorted nuts, Date stuffed with almond coated in chocolate, Marzipan balls dipped in white chocolate, orange-flavored ganache coated with rich chocolate, creamy ganache coated with pure chocolate and almond bits, ganache coated with dark chocolate, Caramel fudge, almond rochers all offering distinct taste.
3. Ferrero Rocher Chocolate Box

The most popular premium chocolate pack is Ferrero Rocher chocolate box which is loved by every age group. Its premium quality and hazelnuts are enjoyed and appreciated all over the world.
4. De'Arco Chocolatier Valentine Chocolate Box

De'arco chocolates are premium quality chocolates for valentine's day that are made of 18% dark chocolate and white milky chocolate and comes with a combo of cute teddy along with delicious 48 pieces of chocolates.
5. Godiva Belgium Chocolates

Godiva dark chocolate is a luxuriously deep intense dark chocolate provides the ultimate chocolate intensity. Its full-bodied flavor is accompanied by hints of 72% cocoa rich, smooth Belgian dark chocolate. Perfect for someone who loves that bitter dark chocolate taste instead of the normal milk chocolate.
6. Febelle Chocolate Bar

The Fabelle Chocolate is inspired from all popular desserts like Tiramisu, cheesecakes, etc and gives taste of both chocolate center filled with your favorite desserts.
Best Assorted Chocolate Box Gift for Valentines Day
1. Lindt Lindor Assorted Chocolate

This 20 gm pack of 4 different assorted truffle chocolate flavor by Lindt includes Milk, Dark, White,and Hazelnut Noisette. Its a perfect choice for someone who lives their chocolate sin hard shell and crunchy twist.
2. Ferrero Collection – Assorted Chocolates
A different variant from Ferrero Rocher that consists of 24 pieces of whole roasted hazelnut encased in a thin wafer shell filled with Nutella, hazelnut cream, walnuts, and covered in milk chocolate and chopped hazelnuts and walnuts.
3. ChocoHouse Assorted Chocolate

This one is a pack of 16 Assorted Chocolates with flavors like Chocolate Fudge, Berry Blast, Bon-Bon Chocolate, etc. that gives a unique blend of exotic taste that is fresh and homemade.
4. Butlers Chocolate Collection

A premium assorted chocolate collection in delectable milk, dark and white assortments, Butlers Chocolates produce decadently creamy toffee, velvety soft fudge, deliciously moreish chocolate filled and solid chocolate bars.
5. Hershey's Assorted Chocolates

Harshey's assorted chocolate bag consists of thick blocks of chocolate in 4 different flavors. It includes Milk Chocolate, Milk Chocolate with Almonds, Special Dark with Almonds, and Extra Creamy Milk Chocolate with Toffee Almonds.
Best Heart-shaped Chocolates Box
1. Cadbury Dairy Milk Silk Heart Pop

The Best Chocolate with Nut Experience! Cadbury has come a long way with its different variants of chocolates. This time for Valentine's day, they have come up with heart pop up chocolate that has a naturally smooth and creamy milk chocolate taste along with a cute heart that comes out from the center.
2. ZOROY Luxury Chocolate 14 Milk Hearts

A special box for Valentines Day with 14 milk chocolate hearts with a combo of Greeting card and a cute cuddly along with it to gift someone special.
3. Jus-Trufs Heart Delight Chocolate Box

An assortment of 6 heart-shaped chocolates in flavors like strawberry melody, almond, nougat crisp, orange duet, butterscotch, fruit n nut perfect for your valentine.
View on Amazon.in
4. Skylofts Romantic Heart Box With Heart Shaped Chocolates

The Skylofts Chocolate box includes attractive Heart Shaped Chocolates, nicely wrapped in beautiful wrapping foil, each one of them serving different tastes and fillings inside them, and comes as a combo package with a love card and a cuddly teddy.
5. Valentine Heart Shape Chocolate Gift Box
A great choice to show how much you love someone with a beautiful heart-shaped box and assorted cranberry chocolate for Valentine's day.
Best Gift Wrapped Chocolate Boxes for Valentines Day
1. Chocholik Valentines Day Gift Box

A beautiful chocolate with a lovely love message that doesn't require any extra wrapping, as it already comes with Red color packaging and mouth watering luxury chocolates.
2. Expelite Personalised Wanna Grow Old with You Chocolate Box

Expelite chocolate box expresses love in a unique way with a passion for creativity and presentation. Their excellent packaging speaks for your emotions. It offers customized chocolates to your loved ones ensuring that they get the best gift ever.
View on Amazon.in
3. Zoroy Luxury Chocolate Love Bag

This chocolate box by Zoroy is perfectly wrapped in a complete package that offers 10 chocolate hearts, 2 Love milk chocolates and a cute teddy bear.
4. ChocoCraft Personalised Chocolate Box
A Box Of 12 Delicious Chocolates that can be customized with your loved one's picture on the box. You can customize the chocolate box with any given name and also a personalized photo as well, to make it a bit more personal.
5. Tied Ribbon Chocolate box gift with Ferrero Rocher

This chocolate box by Tied Ribbon is great when words are not enough to express feelings. The box contains 5 Faux rose (petal soap), 1 Ferrero Rocher chocolate pack(4 pcs) and 1 Gift box with hanging loop in color red.
Best Chocolate Box Gift for Valentines Day – Conclusion
Here are a few of the most reviewed and popular chocolate boxes and chocolate that will express your feeling in the most desirable, sweetest way, so don't wait, go and grab one and make your Valentine's day special with your loved ones. In case you want to try out a special breakfast or dinner on Valentine's day you can try these Valentines Drink.
Also Try : Romantic healthy valentines day breakfast
In case you want to make chocolates at Home:
Best Baking Tools
Double Boiler for Melting Chocolates
[amz search="valentine chocolates" count="6″]