Summary
Doorstep Organics Review is a detailed review of an online grocery store offering multiple food options. With little to none disadvantages, this store should be must check out for all busy people. Read on and let us know what you think of the store.
Doorstep Organics Review | Doorstep Organics Coupon Code 2021
We have got the Doorstep Organics Review at your doorstep. So, you can relax, chill, and shop organic without fretting about 'whys' and 'wheres' of organic consumable goods. Read on Doorstep Organics Review that we have jotted down in form of a detailed breakdown of the store. Oh! Before you decide to pig out, let us remind you to click on the link below and save $20 on your next order. Use coupon code 204NEWC. Offer valid till 12-07-2020.
FLAT $20 OFF On Your Next Order
Doorstep Organics Review
­­Bonjour!
To all our lovely companions who have come so far to our expedition of the tastiest and healthiest food and lifestyle stores. Hello to the ones who (we hope) will join us soon! I hope all is well at your end, our side of the world is marred with one natural calamity after another. 🙁 Sorry for starting on such a melancholic note but life is such. There are plenty of times when things are beyond our control, but thankfully things aren't always as morose. Because despite its fair share of sadness life does offer its silver lining of hope no matter the darkness of clouds. One such silver lining is the determination of switching to better eating habits and developing a better sleep pattern. Don't you agree?
If you're a regular Tangylife reader, you'd know our mission is to help you stay updated with the best and the most wholesome that accessible world has to offer. On that note, don't forget to check out other stores below.
Doorstep Organics – The store
If your inner chef or the-disastrous-but-enthusiastic-amateur cook has come out of its long hibernation this quarantine, they must be looking for some gorgeous groceries for sure and some not so elaborate recipes to cook. Recipes you can definitely pick up here on Tangylife and for groceries look no further than Doorstep Organics
Living an absolutely chemical-free life, in my experience, is boarder line impossible. However, choosing a clean living is always a choice. An effectual and smart one for both personal and planetorial health. Organic foods are free of fertilizers, resulting in toxin-free, rich in nutrients, and taste. Moreover, it helps in sustainable growth. So, if you have been wanting to make that choice since forever, you should definitely think along the lines of no time like now.
Buying organic food online is easy if you know exactly where to look. Doorstep Organics is one such store. A 25 years old organic food and ethical product business from Kangaroo Valley, New South Wales, Australia, this is just cooking lover's heaven. They deal in Australia produced farm-fresh fruits and vegetables, a full range of meat and dairy items, eco-friendly household products and gourmet, artisan, specialty groceries. Think Truffle, Caviar, Foie gras, Pâtés, Olives, Artisan Pasta, and Gourmet cheese. Now top it all with a wider range of offerings, reasonable pricing along with doorstep delivery and you've got yourself Doorstep Organics.
Check Out All Doorstep Organics' Products Here
About the Founders of Doorstep Organics
In the year 1986, Geoff Richardson and Carolyn Savage first received Organic certification for their farm in NSW. For a time when the practice was pretty much a rarity, this was an iconic step. As the times changed, Geoff And Carolyn bought a van to sell their organic produce. This will eventually become Doorstep Organics in their present form. In 2004, Peter (Carolyn and Geoff's son) and his partner, Georgia, joined Doorstep Organics and helped move the business to a warehouse in Sydney to get ready for the next expansion phase.
Types of Products at Doorstep Organics
Doorstep Organic has a wide range of food items and groceries, but essentially, we can divide it into 6 categories:
Food Items
Beverages
Household & Cleaning
Personal Care
Pet Care
Gifts and Hampers
1. Food Items
a. Organic Groceries, Fruits, Vegetables & Bulk Buys
Surrounded by both pantry staples and specialty foods, Doorsteps Organics is foodie's heaven be it a gourmet chef or a beginner in the kitchen. You'll also find a wide selection of baby food along with equally alluring choices for en masse buying. I am not a fan of visiting stores every other day, so I prefer bulk buying.
I like to cook once and store the surplus in the fridge rather than dealing with coming up with a new menu every day. Plus, you also have the option of deciding the week's menu well in advance saving a lot of time. If you store it properly trust us, mass cooking and grocery shopping is the best thing to have around. We'd recommend mass buying tropical fruits such as Bananas because they continue to ripen long before getting plucked and you can also store them in a cupboard just in case you don't have a huge fridge.
Shop for Organic Fruits and Vegetables
b. Specialty Food, Gluten-Free, and Vegan Products
Making a conscious decision of adopting a special lifestyle and food choices, is difficult unless you know where to look. The internet is overflowing with blogs and stores that help you maintain such a lifestyle, however, feasibility and accessibility both can be a huge factor before zeroing down to your favorite store. Doorstep Organics solves the issue by asking you to fill in your postal address before you start shopping, so they only show you products available in your area. The idea not only filters out the product choices irrelevant to you but also ensures you get products in their most fresh form. Vegans and people allergic to gluten should especially appreciate this, and cook away. And if you're craving something exotic you can always buy  Asian groceries and spices   from their Asian section.
2. Beverages
What good is any food if you don't have a great liquor to go with it? Doorstep Organics offers some of the choicest Wines, Beers, and Ciders. You can either buy them per bottle or by MLS. If you're a re4gular Tangylife reader, you'd know we love our alcohol. So, we took the liberty of selecting a few alcohols to pick up from Doorstep Organics. May we suggest Lino Ramble Solitaire Grillo? Mediterranean in its core, the wine was cool fermented using wild yeasts in stainless steel and old French oak barrels to preserve primary fruit characters. Natural acid, minimal Sulphur added. Medium intensity with melon and pear characteristics. The palate also has a melon, pear, and citrus blossom. Full rich mouthfeel and a soft waxy finish. You should definitely serve in your dinner soiree with hors d'oeuvre of some scrumptious gouda!
3. Household and Cleaning
When we said Doorstep Organics is one-stop solution, we weren't just exaggerating. Doorstep Organics may come across as a lifestyle-altering store. While most of us don't mind opting for organic food choices, it is an entirely different ballgame when it comes to molding our entire life i.e. Clothing, upholstery, and general cleanliness of the house.
Our lives are loaded with chemical detergents and cleaners. To even think of going organic there can be a hassle, partly because of the lack of stores offering organic alternatives and partly because the hunt seems never-ending. While not completely organic, but amazingly natural Simply Clean Floor Cleaner – Lemon Myrtle got to be on top of your must-try list. The internet, for sure, cannot rave it enough!
Shop for Household & Cleaning Products
4. Personal Care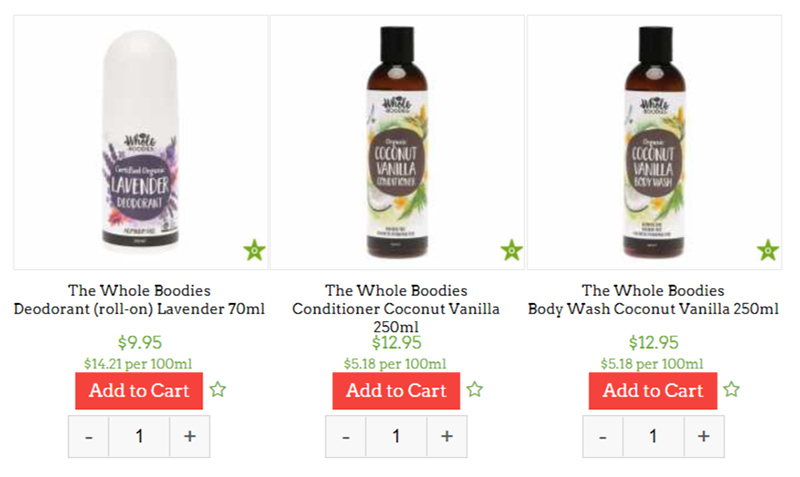 It's been around one and a half years since I began living a more organic and sustainable lifestyle. So, it is safe to say I know the pain of finding products that work for you like the ones loaded with artificially synthesized chemicals.
About a decade ago, when I moved to a bigger and more polluted city, my hair care went to dogs. The result? What used to be a super silky hair dream turned into a frizzy nightmare. After unsuccessfully relying on hair care products with tall claims, and even taller list of chemicals and no deliverables, I decided to go old school and rely on cold-pressed extra virgin coconut oil. And rest, my dear readers, is history. In a nutshell, go as chemical-free as you can even if it appears horrid right now, it's so much better in the long run.
If you have similar trouble, we suggest you give a shot to The Whole Bodies' Coconut and Vanilla shampoo and conditioner. Rich with the goodness of Aloe Vera, Coconut, and vanilla, it is heaven-sent for managing dry hair.
There's an array of chemical and toxin-free Organic personal care items at Doorstep Organics including shampoos, moisturizers, feminine hygiene, and deodorants; they are really hard to come across.
5. Pet Food
Be it your enthusiastic pooch or not-so-cuddly kitty, they deserve the best. Your hairy friend can rejoice as much you do if you have already gone organic. From extremely popular Yoghurt Dog foods to the latest vegan food for cats (seriously, that's a real thing!) Doorstep Organics has an impressive display of pet food items. Get Frozen ones or shelf-stable staples that your doggo can't get enough of, they cater to all pets and all their food-related tantrums!
6. Gifts and Hampers
All you food enthusiasts, give me three cheers…Hurrah! Hurrah! Hurrah!  Food hampers are heavenly compared to every other gift in the world. Ask any food lover and they'll tell you the same. You can pick up food vouchers or gift kits that contain seeds that grow into plants giving ingredients for a meal such as Salad and much more at Doorstep Organics!
Shop for Organic Gifts & Hamper
How to Shop from Doorstep Organics
The store is fairly well designed to make your shopping experience as smooth as possible. They have a make an order section that asks you to fill in your zip-code, algorithmically showing you only the items ready to ship. This ensures the quality and freshness of the food. If you're a frequent shopper at their store you can also opt for Create a recurring Order. A unique service to Doorstep Organics, this service is especially beneficial for the busy shoppers out there.
All you need to do is decide on the items which keep yourself buying pretty frequently and decide how often do you want Doorstep Organics to deliver it to you. You can also edit the list of items or the frequency of the delivery, of course with a deadline. Once that's done, you'll receive an email informing you about the availability of the items around the date of delivery. You have up to the mid-day of the scheduled day to postpone, edit or cancel the order. Create them from scratch or convert existing order into a recurring one, either way, you'll be definitely spoilt for choices. You have free shipping for all recurring orders that are $75 or above.
Click Here To Order From Doorsteps Organics
User Feedback on the Doorstep Organics Review
In Doorstep Organics review we have tried to break down the store to the last strip for you. However, if you are an extremely busy person, we recommend you go through our list of pros and cons to give you a quick glance at what the whole review is all about.
Pros
Extremely convenient
Many product options
Really Organic
Reliable
Wide range of specialty and staple food
Ability to make recurring orders
Recipe Section
Eco friendly
 Cons
No free shipping
The categorization of the products is not very organized
Hard to find products for a normal user due to too many categories
No international shipping
Doorstep Organics Contact Information
Address: 48 – 54 Chapel St Marrickville NSW 2204 (by appointment only)
Phone: (02) 8399 1666
Email: orders@doorstep.com.au
Doorstep Organics Review 2021 – Conclusion
Going organic completely is difficult but nonetheless soul-satisfying. Doorstep Organics can be your fellow traveler on the journey. The store, of course, isn't perfect, but the long list of benefits outweighs the difficulties. Doorstep Organics makes life much easier for a busy soul who cares as much about the earth as they do about themselves. That being said we'd totally recommend this store to someone just beginning their organic, earth-friendly journey.
Although, if you are a seasoned organic shopper you may find their store tad bit expensive yet hey, there's no free lunch in this world! Your feedback is more than precious to us. Do let us know what you think of our Doorstep Organics review. We'll be back with another blog post very soon.
Till then,
Bon Voyage!