Summary
Thr1ve is a meal service program that offers quality and delicious, healthy meal options made from scratch with local and seasonal produce. It gives various options to adopt a healthy lifestyle through restaurants, meal delivery services and thrive protocol to give you a full on diet meal.
Thr1ve Promo Code | Thr1ve Discount Code 2018
Grab Thr1ve Latest offer. Get hold of some of the best deals at thr1ve while you can, and don't forget clicking on the link below to get their low carb box filled with deliciously light meals and snacks!
FREE 'Low Carb Box' worth $135
About Thr1ve Meals
"A healthy outside begins with a healthy inside." I am not sure about you, but in my experience, I think and feel better when I eat better. In today's fast-paced life, it is next to impossible to find a good meal that fills you up keeping you healthy simultaneously. The clash between the diet and the lifestyle you follow causes a lot more harm than one could imagine. Thr1ve is one brand that eats and breathes (pun intended) this philosophy. The aim is to bring a healthy meal exclusively designed for your needs at your doorstep without any hassle.
Josh Sparks, the founder, and CEO of Thr1ve knows exactly how much your diet can make or break your lifestyle. The business was started with a sole intention of making health an integral part of your everyday life without making you cringe in the name of diet. Thr1ve wants you to take care of your body with as much simplicity as possible with a twist of awesome deliciousness. So, without further ado let's see what makes the world thrive on Thr1ve.
What makes Thr1ve Meals different?
While there is a whole world of fitness out there that depends on Protein Shakes and rigorous exercises, Thr1ve is a league of its own. They not only tell you how to improve your physique by doing proper exercise but also what you should involve in your daily food intake, to make you feel good about your overall health. It deducts the possibility of consuming artificially created protein while simultaneously making you feel energetic. They have a four-factor strategy, which is based on various food and diet-related scientific study. Thr1ve cares about what goes into their food and wishes to flourish on best Thr1ve nutritional value. It consists of four major pillars:
1. Local and seasonal produce
Nothing is better than consuming what is fresh. Since fruits and vegetables that are ripened naturally and are harvested at the right time have better nutritional value Thr1ve uses seasonal and locally produced raw material. Hence making them all best choices for a healthy diet.
2. No Added Nasty Business
The brand eliminates the possibility of added sugar or preservatives by using seasonal and local produce. All you sugar-loving health freaks, rejoice! Thr1ve uses Australian Honey for sweetening. This option is totally at the discretion of the client.
3. Good fatty acids
You must be thinking, fat and good!? Are you kidding us? No, we kid around otherwise, here at Tangylife a lot but this most certainly is no joke. Your body does need its fair share of fat to maintain a lot of bodily functions; hormones etc. Now, what matters the most in the case of fat is, what kind of fat you are using and how you are using it. Clarified Butter or Ghee, Olive oil, and coconut oil are known to be good fats due to their higher capacity of remaining saturated even at high temperatures. Thr1ve knows it well and uses these healthier options instead of industrial vegetable oil for the cooking.
4. Gluten-free grains
Carbohydrates are another essential nutrient for a well-balanced diet. For those of you who are athletic and are in need of instant energy but sadly have this eye-gorging mind inflating gluten allergy, Thr1ve must be your one-stop destination. The business uses Gluten-free grains. So, now you can get instant energy without getting worried sick about your allergies.
Thr1ve Menu & Services
The awesome deliciousness of Thr1ve works three ways:
1. Restaurant
You can savor your tongue of some super drool-worthy healthy treats by going to one of the Thr1ve Restaurants. For the time being, they serve at up to 10 locations. All you gotta do is follow the trail of the familiar healthy aroma. Trust your nose, or you can always trust Thr1ve location guide to be your guardian angel. You can also check out their Spring/Summer menu online.Yup!They are super seasonal like that Not only this, but the brand also has a specific chart which mentions Nutritional values of all their meals.Feeling hungry yet? What are you waiting for, go ahead and click the link below? (If I were you, I surely would.
Click here to know nearest restaurant address
2. Meal Delivery Service
So, you're a health freak, and Thr1ve is located pretty far? I know… the feeling of drooling about some scrumptious delicacy and being unable to treat yourself to it a.k.a. feeling lazy. The temptation… Have no fear folks, cause Thr1ve's here. You can order their premade meal for regular food requirements through their our meals section, or If you are looking for something very specific for a more diet conscious purposes, you can opt for their Signature Meal Plans.
3. Thr1ve Protocol Service
Not too long but just a few years ago (100 isn't too long, is it?) Edison said that success is 1% inspiration and 99% perspiration. Now, for us mere humans, that 1% is a silver line on a deep dusty stormy night. In case of Thr1ve Protocol that silver line actually is a huge gigantic light beam. It involves some pretty awesome treats to reach to the rest of the 99%. I mean if you succeed you get goodies somewhere close to $500-$3500. (Goodness! I am blinded by all this gold.)
Click here to know more about Thr1ve Protocol
How Thr1ve Meals works?
At Thr1ve they intend to give the client best for their money. They offer a lot of exclusivity by providing customization of their services. It is best for people who want to follow and commit to a specific diet plan. The method works three ways:
Our Meals
Signature Meal Plans
Thr1ve Protocol
1. Our Meals
This is designed for people who want to eat healthy food but don't necessarily want to commit to a certain something when it comes to eating.
Browse
Thr1ve meals offer over 200 meal choices. You can also see the nutritional value of each meal. You can filter them through allergens.
Pay
Now pay the due amount, and let Thr1ve work their magic.
What do you get? Well, you get to eat healthy, without moving a muscle ( totally figuratively) and your body thanks you for that. And you don't have to feel guilty about cheating on your diet if you do decide to eat an entire cake later on.
2. Signature meal plans
Thr1ve's signature meal plan provides customized and pre-made meals to people who want to start with dieting.
Select a meal that suits your needs
Thr1ve works on Nutritional value based meals. You can easily trust them to favor your diet needs. All you need to do is to select a pre-designed meal, or you can customize one. You can select no off days, meal timings and the ingredients/meal you would like to add.
Commit to the diet
It takes a village and hell lot of dedication and a certain level of commitment to reach your goal. This is your call. Although, Thr1ve highly recommends to sticking to the plan.
Change or cancel at any time
Although commitment is all that it takes, sticking to it, is a really hard task. If you had an option of pigging out on a chocolate ganache cake or eating a green leafy veggie, wouldn't you eat the cake? Oh the delicious blast in the mouth, melting like cotton. See just the thought of it and we are already losing the track. Focus people… focus. Green and healthy is what you need right now. Just kidding! Distractions are unavoidable especially when you are required to focus. Thr1ve knows you are only human. They give you a choice of canceling or changing your diet plans anytime you prefer.
What do you get? The best part about this is, it is very very flexible. You can start, stick to the diet (or not) and still get to cancel it whenever you please and you can even alter the program according to your needs. This is especially beneficial to those people who want to start with diet but are not entirely sure if they can stick to it or are unsure of the duration of diet suitable for them.
3. Thr1ve protocol service
Diet has issues, heck billions of them! Although, the hardest one that comes with it is a commitment. Finding motivation to sticking to the damn commitment is another trouble of its own league.
Don't worry! we've got it all sorted. Join the cult! 'Thr1ve Protocol'. it is super awesome a choice for all the big shots constantly dreaming of getting that lean and strong body but alas, they just don't have enough time, motivation or do not know of it whatsoever! Throw all your worries and excessive weight away with just one click.
Steps to Thr1ve Protocol 
Sign In
As soon as you sign in, you need to purchase Thr1ve Protocol e-book. The bundle will include, The THR1VE Protocol eBook, The THR1VE Protocol Log Book, The THR1VE Protocol Cookbook. Take your 'before' pictures as instructed in the book.
Get started
Join a closed group of fellow protocallers on facebook. This place will help you stay motivated towards your goal, with various tricks and trips.
Keep track
Keep track of your progress on the log book. You can also stay connected with team thr1ve through their forums and weekly emails. Also, keep ordering fresh meals to keep it all healthy.
What do you get? Now comes the fun part that gives you a fantastic treat for your patience, commitment, and dedication for eight weeks. All you need to do is post your 'Before' and 'after' pictures. The transformations will be voted and whoever gets the most votes wins. There are three winners, and the goodies that they receive ranges from $500 – $3500. Even if you don't win, you can be happy that you stuck around, and that's a sign of progress on its own. You're, after all, your own best competitor.  Aren't you?
Thr1ve Delivery & Shipping
Thr1ve delivers to New South Wales, Victoria, Queensland, And to Australian Capital Territory. Other than these you can find their ready-made meals at Woolworths Metro Stores too. It takes Thr1ve about five days to a week to deliver your meal to your doorstep. If you order on Thursday, you can start your diet on Monday. You can also have free delivery on orders above $49 by clicking on the link below.
FREE delivery on orders above $49
Thr1ve Pros & Cons
Now that you are aware of pretty much all details of thr1ve, let us gather all the pros and cons in a nutshell so that you can get the hang of it in a much simpler and concise way:
PROS:
The store is pretty easy to navigate. It gives you a lot more information than you need.
There is a wide range of vegetarian options available.
They have a completely separate menu dedicated to kids.
They use Ghee, Coconut Oil, and Olive oil which are scientifically proven to be much better than their industrial seed oil alternatives.
Thr1ve nutritional value charts help you to be in total control of what you are eating and how does it affect your diet.
All meals are designed under the strict supervision of nutritionists and are based on scientific studies.
You can customize your meals, according to days, content and timings.
You can always cancel out your meal plan, for their signature meal.
Thr1ve uses gluten-free grains, so people who are allergic to gluten but need instant energy can also rely on them.
They offer individual meal options besides proper diet meals.
The thr1ve cookbook provides with more than 60 recipes including healthy waffles.
CONS:
There are very limited options for vegans.
They don't have an immediate delivery option. If you want to have something healthy for, let's say lunch on a random day, you need to rely on their restaurant.
It takes them at least five days to deliver your order.So, users will have to plan for their meals in advance.
The meals are delicious but they may not suit everyone's palate.
Thr1ve Contact details
Order Inquiries: home@thr1ve.me
Phone: 0424 993 623
Days & Timings
Monday: Friday 8:30am – 5:30pm
Saturday: Closed
Sunday: 10am – 3pm
You can request them for their app: app@thr1ve.me
For any other inquiries and feedback, you can contact them at restaurants@thr1ve.me
For careers at thr1ve restaurants: careers@thr1ve.me
Don't forget to subscribe to their blog for updates and new deals. Do click on the link at the beginning of this blog to save $ 25 on your next purchase. Check out their social media platforms for all the latest happenings!
Thr1ve Instagram
Thr1ve Facebook
Thr1ve Meal Delivery Review Conclusion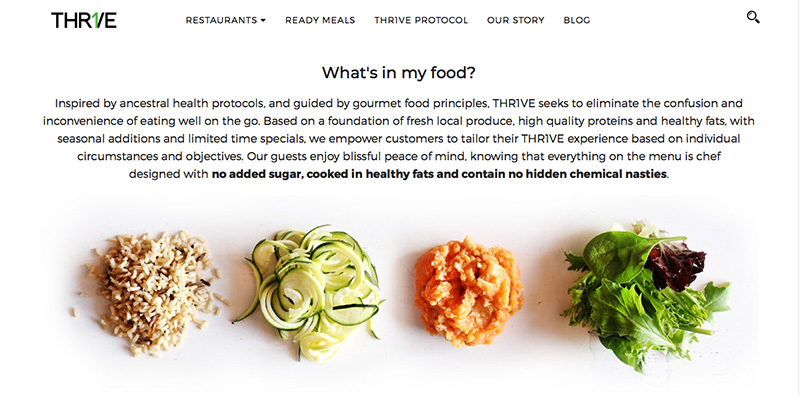 The brand offers deliciously healthy meal options made with local and seasonal produce from scratch. Started in 2012 in Sydney Thr1ve is a scrumptious of Rapid growth purely with dedication and commitment to bring about change in the lifestyle of people. Today's times are fast pacing. In this mumble, jumble health seems to be last of our concerns. Josh Sparks, the founder of thr1ve, started the company solely because of the amazing first-hand experience that he has had by practicing a paleo lifestyle. The process has been pretty transformative for him for mind, body & soul. "I am stronger, faster and fitter than I was 20 years ago when I was a competitive athlete at the university." Says Josh. Health, ladies, and gentleman, is wealth at the end of the day. We, at Tangylife, say sign up now and be Healthy, wealthy and very very wise.