Dinnerly Review Australia
Summary
Dinnerly offers some delicious meal kit at your doorstep that is healthy, convenient and even affordable. Their meal kit is full of healthy ingredient and serves your whole family. Best part about their meal kit is their varied menu option that keeps getting updated and they always try to give you recipes that can easily be prepared just like your homemade food.
Best Dinnerly Coupon | Dinnerly Promo Code 2020
Get hold of Dinnerly Review 2020 with latest Dinnerly coupon offer, Dinnerly menu options and updated Dinnerly promo codes here at Tangylife. Click below to grab the new Dinnerly Promotion.
$8.95 OFF on the First Box
Dinnerly, How did it all began?
We will have to admit, there is nothing that compares to a fresh home-cooked meal. There is some celestial soul satisfaction in staying in the comforts of home and making yourself dinner with fresh ingredients, absolutely from scratch.Speaking of which, what if we told you that you'd have good old home-cooked dinner every night when you come home after a long day at work, without a trip to the nearest grocery store? No, you're not shifting to your parents, and they most certainly, are not leaving their well-organized "uber delicious food making magic land", a.k.a. kitchen. Sorry to burst the happy bubble mate, but don't just bash us yet. Because we got it all sorted and the sorting resulted in to…*drumroll please*… Dinnerly .
Dinnerly is an American meal kit service, which is now launched in Australia, too. The brand knows that the very thought of going to a grocery store just to cook dinner kills your spirits. In the dilemma of ordering from a restaurant and raw ingredient shopping, unfortunately the winner, almost always, is the former. While eating restaurant food daily, is not the best choice, going for grocery shopping is no less a pain. Dinnerly started to ensure your health and taste, win simultaneously.
What Makes Dinnerly different from others?
Started as a budget-friendly spin-off to Marley Spoon, Dinnerly intends to serve quality meal kit boxes that are very affordable, are simple to make, but are at the same time equally delicious as their gourmet counterpart. With their simple recipes that include Spaghetti with Spicy Sausage Meatballs, Dinnerly thrives on serving easy cooking to people for as cheap as $5.75.
"Dinnerly was created for people who like homemade cooking, but don't like overpaying for the good things in life. We know you're busy, so we're here to make your evenings easier with seriously good recipes and fresh ingredients delivered to your favorite weeknight spot: home." – Notes Dinnerly.
All 30 of their recipes consist of quality and nutritious ingredients without any processed material whatsoever. With cooking steps as less as 6, just 6 ingredients and cooking time of just 30 minutes, Dinnerly makes home-cooking fun even to the crankiest of the cooks.
Dinnerly Review – Menu options
The brand offers over 30, Easy-to-make recipes. All their recipes contain less or equal to 6 ingredients, have 6 or fewer steps of preparing the dinner, and are definitely cooked within 30 minutes. All Dinnerly recipes are available on their websites with clear instructions, which are easy enough to be understood by anyone who knows basics of cooking. Dinnerly offers weekly shuffle of their menu. So you can keep enjoying new meals, while you become a pro at their previous recipes without getting bored.
Like they say, practice makes you perfect.You can also opt for the same menu for more than one week. which means you can eventually become a pro at a recipe that is prepared within 30 minutes duration without actually sacrificing on the comfort of your house.
Dinnerly has simplified their recipes to the extent that you actually like to get up, browse through your fridge and actually sprinkle it with a bit of your personality to it. All you hyper-convenience-individuality-seeking Millennials, take a note, this is specially designed for you and me.
Some of their recipes are:
Massaman Chicken Curry
Cheesy Stuffed Pita
Veggie Stir Fry Noodles with Teriyaki Sauce
I can go on with even more drool-worthy dinner or you can subscribe to their meals.
Click Here For More Delicious Dinnerly Recipes
How Does Dinnerly Work?

Dinnerly, swears by serving you a quality meal at your dinner table, without forcing you to choose between, convenience, quality or cost, in just three simple steps. Here is how it works:
1. Select The Meal
They have many options in their healthy menu, which shuffles weekly. You can opt for any one of the three recipes to start off with your healthy treat.
Browse Through Their Weekly Menu.
2. Pickup A Delivery Date
Select for the delivery day, time, and the next week(s), for which you would like the meal kit. Although all meal kits come in the insulated and chilled box remaining cool for, at least 8 hours. Dinnerly requests you to provide them with special instructions should you be unable to make it to home for the duration. Now isn't that sweet of them?
You even have the flexibility to change your boxes, up to 6-7 days before your delivery date. Although, it does depend on your delivery location. Other than this, you can skip weeks, skip delivery altogether and update on delivery preferences, for up to the same duration.
3. Cook
Yayyyy! Your meal is here. Unpack the box and refrigerate all the perishable items.
All the Meat, Fish and Dairy will easily hang in there for as long as 4 days. Dinnerly boxes do not come with recipes and instruction. You need to go to their current recipe section for the same.
Although a little inconvenient, it saves on the costing of printing. In return, Dinnerly is saving your hard earned money per box. You are helping with the environment, by actually saving your own money. Not only this, Dinnerly also places great emphasis on recycling the packaging items. They think about, you, your tummy, tongue, soul, and surrounding!!
Click Here To Subscribe To Dinnerly
Where Does Dinnerly Deliver?
Now… now… I know, you are not the patient-kind, like a major chunk of the world. Have some patience (or plenty) of it, chillax and let Dinnerly do their magic. They deliver to all of Australia, at least all the major areas. Goodness, can this get any better?
Why Choose Dinnerly?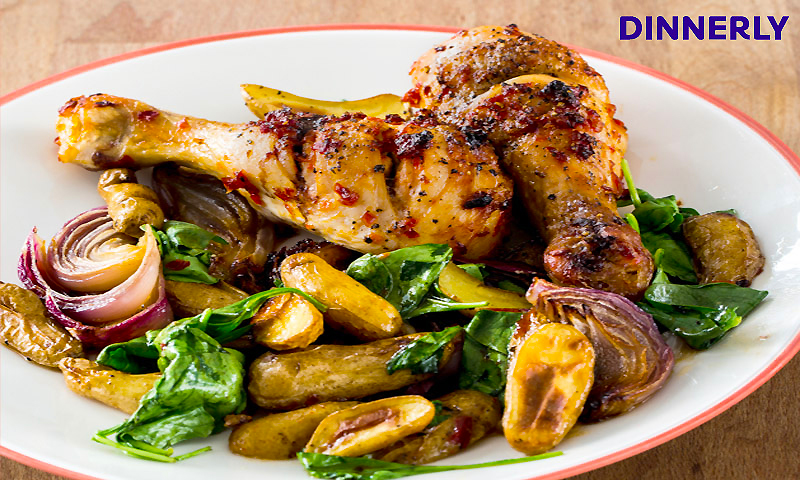 I will describe usual grocery shopping process. It starts with getting up, changing into something presentable, going all the way to grocery store, sorting through million isles, coming all the way back, changing again, putting some stuff in fridge, only to take out again, call either of your folks for the recipe or Google it without any guarantee of it turning out to be awesome and then ultimately cooking it. Meanwhile constantly being bugged with a thought of it not turning out tasty. If by any chance, it does become a huge blunder, you have wasted plenty of fine resources, your energy, and time.
Now, what can be better than all of this super tiresome extra workload? Think people, think!
Eliminating all the troublesome steps, including over complicated recipes that turn out to be absolute rubbish. Dinnerly heard you (Technically Marley Spoon did, but they are a family, so que sera sera.). They simplified the process, to help you cook your meal without making you go bankrupt. All this, that too while ensuring that you are within comfortable confines of home. Need more reasons?
Well, here you go.
Advantages of choosing Dinnerly
All good things come for free. With, their per portion cost being as inexpensive as $5.75, they almost are giving you good for free.
They have digitized recipes, while it may not be very convenient for those who struggle with technology, this is definitely an awesome feature for all hyper-convenience savvy Millennials (Seriously, other than us who hates cooking the traditional way?) It also saves on paper and cost of printing.
All their meals contain less than 6 ingredients, less than 6 steps, and you can definitely prepare them within or less than 30 minutes. You'll be taking a lot less than that with practice.
Their subscription is very flexible. You can opt out of it or alter it up to 6-7 days your delivery.
They have a repetition cycle of recipes. It makes the company economically sustainable which in return works for the convenience of the cooks without boring them.
Dinnerly suggests little pieces of advice to add gourmet luxury to your simple dinner by asking you to combine proper condiments and beverages.
They exclude ingredients that all household tend to store i.e. salt, pepper, cooking oil etc. You pay less and it saves on shipping cost as well because these things are usually cheaper when are bought in bulk.
Their box instructs on how to recycle it. They are environment-friendly too.
Dinnerly Meal Kit Prices
Dinnerly is the cheapest meal kit box service around. To know exactly how broke you could to be, but still have Dinnerly on your dinner plate, read on.
1. For Two Starving Mates
Portions Per Recipe: Two
Recipes Per Week: Three
Cost Per Portion: $6.50
Shipping: $8.95
Total Cost: $47.95
2. For Four Starving Mates
Portions Per Recipe: Four
Recipes Per Week: Three
Cost Per Portion: $5.75
Shipping: $8.95
Total Cost: $77.95
Dinnerly Review – Pros & Cons
Just in case you are in a hurry, which hunger almost always does to all of us, let us give you a gist of everything above in a nutshell. So, you can decide on the delicious satisfaction yourself without tearing your hair out.
Pros
The simplicity of their online store is to die for. It not only helps you with your navigation but also make your hungry stomach feel satisfied much faster.
In all honesty, the subscription policy of Dinnerly, is what takes the cake. Total bang on freedom to alter your order up to 6-7 days to your delivery date, is something a lot of us appreciate in more ways than possible
Super simplified Dinnerly recipes give you an opportunity to add a personal touch to your recipes by adding any ingredients of your choice.
They have a lot of vegetarian dishes, which means no one goes hungry.
Dinnerly mentions all their allergy causing ingredients beforehand, so you are already aware of what you should avoid.
You can select day, time and weeks for delivery.
With their super flexible delivery and subscription policy, you can be sure it will be worth every penny.
Dinnerly serves to all major parts of Australia. So, if you think Dinnerly, you will get Dinnelry.
Cons
Dinnerly serves portions that are either suitable for a couple, family of four, or two friends. It makes their service area pretty niche which disappoints a lot of singles or people who eat dinner all by themselves.
Dinnerly Delivery Areas & Contact Info
You can get all kinds of information you need by getting in touch with the Dinnerly Team through:
Giving them a call personally at 02 9056 7570
Email them at hi@dinnerly.com.au
Get answers to all your doubts through their FAQ section on Dinnerly website.
For latest Dinnerly Coupon and Dinnerly Offers follow them on :
Dinnerly Instagram Page
Dinnerly Facebook Page
Dinnerly Review 2020 – Conclusion
With an enormous no of qualities and bear minimal drawbacks, Dinnerly should be your one shot meal kit destination. Dinnerly has gained its reputation by constantly providing super delicious food without a compromise on either convenience, quality or cost on the consumers part. They claim to be cheapest in the market for meal kit delivery service, which they have served so far.
By constantly, keeping themselves away from harmful contents such as processed food, Dinnerly is delivering nutritious food right at your doorstep. They offer simplest of the recipes, which are super fast in making and are delicious enough that even fussiest of eaters and cooks will enjoy.
Although shipping cost could be a painful amount to pay, there is no free lunch, in case of Dinnerly free dinner, in this world, it is nothing in comparison to what you get in return. In the plethora of mushrooms called "meal kit delivery services", we feel Dinnerly can be counted at the top tier. And after doing a proper "Dinnerly Review", we feel it is at par when it comes to excellence with its affordability, accessibility and downright simplicity. Dinnerly is here to make your life easier, while it saves your money, time and resources, which would otherwise go wasted one or the other way.