When we are amidst a global pandemic, it is natural to feel extra cautious of your baby's immunity. It has become the prime goal of all parents to keep their children safe and healthy. It is very important that your child has a good immune system so that he can fight with the harmful viruses and bacteria that might enter the body. There are many ways to develop a healthy immune system of your child. The main function of the immune system is to fight back any infection which can be in the form of viruses. It does so, by producing antibodies and deal with the infection.
Your child may fall sick every now and then and it is considered normal too as the body can develop stronger immunity but if your child is falling sick more than 5 times a year, then it is time you start to be more careful about his immunity. This would require a supplement to boost your child's immune system that helps to keep the body healthy and ready to fight against any type of infections. There are many natural ways of increasing the immunity of a baby. But having extra supplements as an immune booster ensures that your child has all the required nutrients. Even if your child missed a few of the vital vitamins or minerals by the natural methods these immune boosters can replenish the body. The diet of the child also plays an important role in building the immune system. A child should be provided with a diet which is rich in nutrients like iron and vitamins like Vitamin C, Vitamin B6, and Vitamin E etc. But it is totally understandable that the responsibility, a parent has, is not just limited to food. That is why; there are Immune booster for Kids that cover all-round development of your child's immune system.
Generally, immunity boosters just act as a supplement to enhance the child's immunity and make him cover up for all the nutrients that his body lacks. Taking a good immunity booster helps to develop an overall healthy immune system and prepares the body for any foreign attack of viruses, bacteria or other harmful germs. It is always recommended to be safe than sorry, guess that saying is applicable here as well! It is better to be sure that your child is receiving all the necessary nutrients for maintaining good health.
Immune Boosters for Kids – Buying Guide
Benefits of Immune Booster for your Kids
How difficult it must be to make your child finish his veggies, don't even get us started! It is a big challenge in itself to make your child eat up their nutrient-rich food. When we say that it is essential for your child to get his nutrients regularly, we stand by the word "regularly". But who are we fooling; it is very difficult to do that on a regular basis.
That is where Immune booster plays its role. It doesn't matter whether your child has finished his meal or not, an immunity booster will ensure that your child's body gets all the essential vitamins and minerals every day. Here are some of the benefits of using the Immune Booster for kids.
1. Fill any nutritional "gaps"
Nutritional gaps are basically when your child doesn't receive his nutrients one day it creates a gap which, it continues for many days, may make him deficient in many vitamins and minerals. An immunity booster works to fill these gaps and ensure a continuous supply of nutrients to your child on a regular basis and promote a healthy lifestyle.
2. Stronger bones
Many immunity boosters are rich in nutrients like Vitamin D and Calcium. Where Calcium is required to develop stronger bones in a child; Vitamin D is required by the body to absorb the calcium. This combo of calcium and Vitamin D ensures the bones of your child get strong and being at a growing stage, it is very important for children to have enough supply of these nutrients to build a good bone mass.
3. Mood Booster as well
Having a good concentration of nutrients in the body will make your child more agile and active and thus keep him happy. He would not feel lethargic or lazy which is very commonly observed in the children of today's generation. Immunity boosters would promote this adequate supply of nutrients to the body.
4. Ample energy for all the playing
When kids eat a lot of sugar, they get sugar rush which is a rush of instant energy, often termed as "temporary energy". But this kind of instant energy doesn't last and is also not good for health. What your child needs is the energy that stays with him for the entire day and makes him active and cheerful. The immunity boosters are rich in such vitamins like Vitamin B that is responsible for the conversion of food to energy. When your child has lots of energy, he can play as much as he wants without getting exhausted too soon.
5. Forming healthy habits from a younger age
As a parent, the main purpose is to keep your child healthy. Immunity boosters replenish the levels of nutrients in your child's body and ensure that your child receives the all-round development of the immune system that would prevent him from falling sick very often and keep him energetic and healthy.
Time to get your Vitamin knowledge
It is important for you, as a parent, to clearly understand all the vitamins and minerals that are needed by your child's body before you can go and choose the right immunity booster for your child. We have explained all the essential nutrients, their effect on the body and what could be the drawbacks if there is a deficiency in those nutrients:
1. Vitamin A
This vitamin is responsible for the vision and healthy skin growth in the body. It also plays an important role in developing a healthy immune system. Deficiency in Vitamin A could lead your child to have a loss of vision and weak immune system thus making your child sick more often.
2. Vitamin B
It functions to maintain optimum metabolic rate in the body and regulate the proper functioning of the body. It also takes care of the production of Red Blood Cells in the body. Cases of anaemia, irregular heartbeat, weakness etc are seen when a child is deficient in Vitamin B.
3. Vitamin C
Vitamin C directly works to build the body's mechanism to fight against foreign infections. Strengthening of tissues is also a major role. Scurvy is a rare condition which might occur because of being deficient in Vitamin C.
4. Vitamin D
This vitamin is responsible for maintaining strong bones and teeth because it helps to absorb minerals like calcium. It is seen that the majority of the children and even adults are deficient in Vitamin D as Vitamin D is rarely found in foods. It is always important to keep check of this vitamin level in your child's body to prevent him from diseases like rickets.
5. Iron
Iron is highly essential for children that are at a growing stage as Iron takes care of blood production in the body and development of strong muscles. If your child is deficient in Iron, his growth will be slow, he shall fall sick often and he also might lose his appetite to an extent.
6. Calcium
Calcium is the main source of development of strong and healthy bones and teeth. Having a deficiency in calcium would directly affect your child's growth leading to weakness, fragility and porous bones. It can also lead to osteoporosis in the long run.
Best Immune Booster for kids to buy on Amazon
Growing up, your child needs all the necessary nutrients for all-round development of the immune system and keeping your child healthy. Here we have mentioned the best immunity boosters for kids available on Amazon that you can give your child and ensure that he gets his minerals and vitamins without worrying if he finishes his meals regularly or not.
1. Nutrazee Complete Multivitamin Gummies for Kids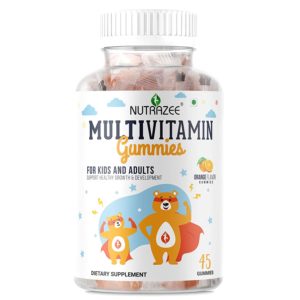 These multivitamins are one of the bestselling immunity boosters in India. These tablets are a complete package of Vitamin A, B12, B6, C, D, E, Folic Acid, Iodine, Biotin and many more. These are very easy to chew for your child and come in different flavours like Orange. They help to fill any nutritional gaps, maintain strong and healthy bones and teeth and also strengthen the immune system of your child's body. Each tablet is shaped in the form of gummy bears which makes it appealing to the child and each one is separately packed to segregate them from each other.
Key Features
– Help fill nutritional gaps and sustain energy
– Contains Antioxidants
– Includes all essential vitamins like A, C, D, E, B3, B6, B12
– Includes biotin, iodine, inositol and folic acid
– Suitable for kids, teenagers, men and women
– Free of high fructose corn syrup
– Mainayks healthy immune system, bones, eyes and brain
– Free of harmful chemicals and allergens
Buyers Feedback
Pros
No Dairy Products and Gluten-free
A good amount of nutrients packed
Easy to chew for the child
Appealing to the eyes
Cons
A little on the expensive side
Some customers did not find any drastic changes in levels of energy
Buy Nutrazee Complete Multivitamin Gummies for Kids
View on Amazon.in
2. BILLIONCHEERS Probiotic Drink-Junior Immunity Booster Probiotic for Kids

Next, we have Billioncheers Probiotic Drink which is an excellent immunity booster for your kid. This immunity booster aims to improve digestion as well as immunity. Unlike the previous immunity booster, this is a powder which is supposed to be mixed with water or milk and drink it as and when required. It works by replenishing the healthy bacterial balance inside the gut. It mainly focuses on working on all sorts of digestive functions of the body. Most of the discomfort caused to a child is because of issues with the digestive system. This immunity booster makes sure that your child has healthy digestion and thus keeps him safe and healthy from different infections and diseases.
Key Features
– Contains good bacteria and enhances immunity
– Helps reduce digestive issues in kids like diarrhea, abdominal discomfort, and constipation
– Approved by FDA and ISO standards
– Suitable for 5 years and above
Buyers Feedback
Pros
Maintains healthy digestion
Works on the bacterial balance in the gut
Reduces bloating and improves digestion health
Comes in different flavours
Cons
Not very appealing to children
It needs to be mixed with water or milk to consume the product
Buy BILLIONCHEERS Probiotic Drink-Junior Immunity Booster Probiotic for Kids
View on Amazon.in
3. PureFoods Multivitamin Sugar-Free Gummies for Kids

This next immunity booster is again in the form of gummies packed with a lot of minerals and vitamins that give ample amount of energy to your child. It does not have any added preservatives and is made up of natural sugars. It contains many vitamins like Vitamin C, A, B1, B2, B3, D, and many minerals such as Iron, Calcium, Zinc etc. Another unique feature of this product is that it is sugar-free so if you worry about your child's sugar intake this could be a nice choice for an immunity booster. Children tend to find these gummies really appealing and thus they are willingly ready to eat it once a day as a treat. The results of this immunity booster are visible after regular consumption for at least a week and increase in energy levels is noticed.
Key Features
– Helps Build Total Health
– Contains all essential vitamins and minerals
– Comes in natural fruit flavours
– Gluten and lactose free
Buyers Feedback
Pros
Sugar-free gummies
Tasty and appealing for kids
Great for iron deficinacy
Cons
No such negative factors were noticed.
Buy PureFoods Multivitamin Sugar-Free Gummies for Kids
View on Amazon.in
4. Carbamide Forte Multivitamin Gummies for Kids with Super foods

Next on our list of immunity boosters is by Carbamide Forte. This product is made keeping in mind the nutrient requirement of both kids and adults. It comes in different flavours like mango, lychee etc. It helps enhance brain development, provide an ample amount of energy. It also boosts and strengthens the immune system of the body and helps prepare the body to fight against any infections from bacteria and viruses. It also works to maintain stronger bones and teeth because it provides calcium and vitamin D as nutrients in the gummies. It is packed with superfoods like Ashwagandha, Alfalfa and Echinacea which have many health benefits like improving the bone health, brain health, and digestive health and also provide a boost of energy to your kids.
Key Features
– Packed with 20 High Potency Nutrients like Vitamins K2-MK7, Vitamin D2 (Ergocalciferol) and Betacarotene (Vitamin A)
– Combination of Multivitamins, multi-minerals, probiotics and superfoods
– Provides energy and vitality
– Great for marinating healthy bones and brain
Buyers Feedback
Pros
Variety of different flavours
Great in taste which makes children ask for more
A pack of 20 multivitamins and minerals
Designed for both kids as well as adults
Cons
Sugar content is not properly mentioned
Buy Carbamide Forte Multivitamin Gummies for Kids with Super foods
View on Amazon.in
5. Centrum Kids Chewable Multivitamins Immune Booster for kids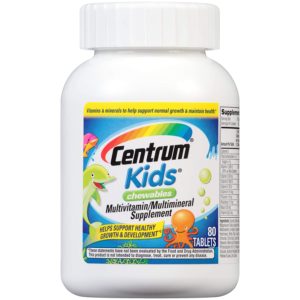 This immunity booster, provided by Centrum, is very well received by the customers. Children love the taste of the tablets. These are also chewable tablets that come in different flavours that make kids want it even more. It contains a variety of vitamins and minerals like Vitamin B, Vitamin A, Vitamin C, Vitamin D3, Iodine, Iron, Phosphorus, Magnesium, Zinc, Copper, etc. This product provides a boost of energy to the body and makes the child agile and energetic. It also helps to fight against various infections and builds a good immune system. It is highly recommended for the picky eaters, they will surely love this immunity booster because it comes with an element of surprise which is its flavour.
Key Features
– Chewable multivitamin for kids
– Contains Micro-nutrients
– Nourish and revitalizes at the cellular level
– Supports growth and development
Buyers Feedback
Pros
Great Customer Feedback
Packed with a lot of multivitamins and minerals
Suitale for all age group
Cons
Cost is high for the Indian Market
Buy Centrum Kids Chewable Multivitamins
View on Amazon.in
6. Nutrabounty Multivitamin immune booster for Kids
Finally, we have Nutrabounty Multivitamin for kids. This immunity booster has been specially designed keeping in mind the Indian diet plan of a child and the nutrient requirements of the child's body. It aims to enhance growth and work on filling the nutritional gaps that are formed when kids generally miss their meals. It promotes the healthy overall development of your child and strives to keep him healthy by making the body fit to fight against infection ns and diseases. It has also been effective for maintaining good eyesight of the child. It contains a number of multivitamins and minerals that are essential for optimal growth of the body and helps to keep a strong immune system.
Key Features
– Gives strong Immunity
– Maintains Bone Health
– Helps in Weight Management and gives Glowing Skin
– An overall development of Kids
Buyers Feedback
Pros
No water or milk is required to take these immunity boosters
It is very convenient to consume them
Kids love the taste of the booster
Each gummy is packed separately making it handy
Cons
No major disadvantage of this product is seen
Buy NUTRABOUNTY Multivitamin for Kids with Minerals in Lemon and Strawberry Flavor
View on Amazon.in
7. Saint Ayurveda Ayush Kwath Immune Booster for Adults, Kids & Aged

This brand of immune booster is recommended by the Ministry of Ayush , a ayurvedic company by the govt. of India which is proven to help in developing immunity against COVID 19 virus naturally. This herbal formulation helps in building strong immunity against flu, cough, cold, congestion & viral infections. It is also efective in improving digestion, enhancing metabolism and loosing weight.
Key Features
– Made form powerful Herbal & natural Ingredients
– Boost Immunity
– Improve Digestion
– Enhance Metabolism thus helpful in Loosing Weight
– Herbal Remedy helps in relieving cough, cold and respiratory problems
– Suitable for Adults, Kids, Men & Women
– Zero side effects
Buyers Feedback
Pros
No Preservatives or Comman Allergans
All natural ingredients/li>
Prolong use enhances immunity without side effects
Cons
Few users found the product to be effective after prolong use only
Buy Saint Ayurveda Ayush Kwath Immune Booster for Adults, Kids & Aged
View on Amazon.in
Best Immune Booster for Kids in India 2022 – Conclusion
As we all know the importance of nutrition for all age groups of children. In order to stay healthy and have strong growth, it is mandatory that your child receives all the essential nutrients and build better immunity. Having a healthy immune system helps your child's body to fight against many infections and keep him safe and healthy. Sometimes if your child misses his meal or doesn't properly eat, there might be a nutritional gap which, if not taken care of, might lead to severe deficiencies and diseases. Immunity boosters help to fill up these nutritional gaps and keep your child's nutritional levels replenished at all times. We have listed some of the best immunity boosters that you can choose for your child's safe and healthy all-round development.