A meal is an essential part of our lives, and a good meal deserves essential cookware that can enhance the culinary process and can give us the best result. Most of us cook our meals at home, and many of us experiment with new recipes, but we end up compromising with the kind of cookware that might be wrong for a particular cooking process. The result is orderings food from outside because the recipe might have got spoiled. Therefore, just like any other kitchenware like our dinnerware sets, flatware sets cookware is an essential part of our food.
A good Cookware sets turns can highly motivate our culinary instinct and create a passion for cooking. Some of the best cookware sets help us to enjoy the cooking process. So I have brought this comprehensive article of some of the best cookware sets and Cookware sets buying guide that will help in making the right choice with your cookware you need the most in your kitchen.
What is a Cookware
A Cookware is a Container use to do food preparations that are found in our kitchen, commonly consists of a frying pan, saute pans, saucepans, pressure cookers, woks, etc. In the market these days, there are endless Cookwares available with different functions, material, and price. It's pretty obvious to get baffled and puzzled by so many choices. There are many cookware sets for everyday use as well as the one that can are made of high-quality stainless steel or the most popular ones like the Nonstick cookware. You can buy them depending on your style of cooking, food preparation, size, or material.
Also, due to less information about the cookware types, material we tend to buy the wrong ones. Unnecessarily we end up cluttering our kitchen with cookware we rarely use, therefore, wasting our money and also using too much of our kitchen space. So to have the best cookware that is suitable for your kitchen, I have researched few of the best cookware sets depending upon their material, heat conduction and add on features that will make you life easy.
Types of Cookware set
Whenever we plan to buy kitchen cookware, we face a lot of confusion due to varied choices, and we either end up buying individual pots or pan every time or buy a whole cookware set, but somehow we end up with lots of non-matching appliances in our kitchen. This is due to less information about the types of cookware available in the market. So before you spend your money on buying the best cookware set that will cover all your need, let's have a look at various types of cookware sets.
1. Frying Pan or Skillet
A frying pan is the most versatile cookware in our kitchen this pan is designed with a flat bottom and round sides that makes them a perfect choice for cooking anything that needs to be cooked fast with high heat. They don't come with a lid, and most durable material is of cast iron. Though nowadays you get a frying pan of various materials.
2. Saucepan
A Saucepan has a wide bottom and is most suitable for deep coking. It has a round bottom and straight side with two loop handles. The sloped sides help to prevent steam from forming inside the pan. It comes with a lid and is ideal for soups, tea, stews or even boiling eggs, pasta or noodles on slow to medium heat.
3. A Wok or Kadai
This one is the most popular cookware among Indian but originated in China. A wok pan or Kadai as we call it is a pan with a round bottom which is ideal for stir-frying and promotes excellent food movement. It is quite hot at the bottom and cooler on the sides.
4. Roasting pan
A Roasting pan is a rectangular pan that has low sides that can be placed on roasting racks n an oven. It elevates the food from the surface and helps to cook food from inside by heat reaching evenly. The handles help in easy overloading and loading of food. It is perfect for roasting turkey, chicken, etc.
5. Stockpot
A stockpot has a thick base that allows slow simmer that is required for making stews, soups, bulk vegetables, and seafood. This pot preserves the liquids for a longer time to its tall height, thus maximizing the flavors by forcing the liquid to bubble up through the ingredients.
Best Cookware set Buying Guide
Cookware material is an essential point to be considered while buying cookware as a different type of cookware construction will result in different cooking experiences. There are few more things to be kept in mind like the cooking surface, exterior body, even heat distribution or heat conducting cores of the cookware or being dishwasher safe that may result in a creating a good recipe without much hassle. So to make it easy for you all here is the buying guide to consider before you purchase a cookware sets.
1. Cookware Material
There are so many materials in which we get cookware sets, from sturdy stainless steel that can be long-lasting and durable or non-stick cookware, that is easy to clean and great for cooking low-fat food. You also get the option of copper and aluminum cookware. The aluminum one is not very heavy and is cheaper than the other material. One disadvantage of copper cookware is that it is a reactive material that can react with acidic food though its one of the best content for high flame cooking to making delicate sauces on low flame.
2. Weight and Size
It will make it convenient for you to cookware properly if you consider the weight and size of a cookware set. You can choose the size of a pout depending upon the number of family members you have for whom you need to cook. Also, portable cookware can always make your life easy, so it's essential to buy a cookware that you can lift comfortably, it is required to be lifted for mixing ingredients as well, so its good to have cookware that has comfortable weight.
3. Heat Distribution
A cookware that is made up of a material which allows even heat distribution is best for cooking a good meal. It helps in reducing your cooking time as well and saving gas too.
4. Maintenance
An everyday cookware set requires a lot of maintenance, so it's essential to have a material that is easy to clean and maintain. Stainless steel and non-stick cookware don't need much attention, but copper cookware requires a lot of special cleaning to maintain its shine.
5. User-friendly
Its always good to buy a cookware that is dishwasher safe, induction safe or microwave safe. Stainless steel is dishwasher safe but cannot be used in a microwave.
6. Number of Pieces
A cookware sets are available in the market in different pieces of sets that covers almost all functionality and uses. It's better to buy a 7 or 8 pieces cookware sets as it covers all cooking needs from boiling, sauteing, stirring, etc.
Here are some of the Best Cookware Set Brands Review
1. AmazonBasics 15-Piece Non-Stick Cookware Set

This cookware set by Aamzon basics doesn't wears off easily and is induction and gas compatible. It has high durability as its made of Teflon TM 3-layer coating that is nonstick
Key Features
Nonstick coating for seamless cooking and cleaning
Soft-touch handles
Works with gas and Induction stove tops
3mm thick Aluminum material
1-year warranty
Buyers Feedback
Pros
Easy cleaning & maintenance
Lightweight
Comfortable soft-touch handles
Fat free cooking
Contains 8 cookware sets
Value for money
Cons
Cannot be used in Oven
Some users found bottom of set to be thin
Shop AmazonBasics 15-Piece Non-Stick Cookware Set
Buy on Amazon.com Buy on Amazon.in
2. Tramontina PrimaWare 18-Piece Cookware Set
This cookware set will give an elegant modern look to your kitchen. The Tramontina Primaware comes in 18Piece Nonstick Cookware Set that is in Steel Gray color. It has patterned interior nonstick coating that ensures easy cooking and simple cleanup and its strong unbreakable glass lids make it more durable.
Key Features
Easy to clean
Dishwasher safe
Cool handles for easy access
Comes with extra spatula and steamer
Non stick material
elegant design
Buyers Feedback
Pros
Easy to use and maintain
Easy handling
Value for money
Cookware Set works well with most range types
Cons
Size of cookware is smaller as compared to other brands
Shop Tramontina PrimaWare 18-Piece Cookware Set
Buy on Amazon.com Buy on Amazon.in
3. Hawkins Futura Non-Stick Cookware

Hawkins has always been the most trusted brand when it comes to kitchenware. The Hawkins Futura comes in 7 piece cookware made of durable high quality non stick material that is much affordable than any other cookware brands. It can be a great quality gifting option.
Key Features
Made of high quality Non stick and aluminum
Fabulous space saving
Amazing design and look
Dishwasher safe
Buyers Feedback
Pros
Easy to clean and handle
Very durable
Can be used on both gas and microwave
Cons
Only Plastic or wooden spoons can be used on these cookware
Shop Hawkins Futura Non-Stick Cookware
Buy on Amazon.com Buy on Amazon.in
4. Cook N Home Stainless Steel Cookware Set

The cook n Home stainless steel cookware et is made of high quality 18-10 stainless steel with an aluminum disc layered in the bottom for even heat distribution. It has a mirror polished appearance and is highly durable with riveted handles.
Key Features
Made of high quality stainless steel
Induction compatible and Works on: gas, electric, , etc.
Dishwasher safe
Tempered glass lids
Very durable
Buyers Feedback
Pros
Easy to maintain
Silicon wrap handles for easy access
Can be used on both gas and Induction
Shop Cook N Home Stainless Steel Cookware Set
Buy on Amazon.com Buy on Amazon.in
5. GreenLife Ceramic Non-Stick Cookware Set

This cookware is made of Thermolon ceramic non-stick material that is non toxic , free of PFOA, PFAS, lead or cadmium. Even if you overheat your pan, toxic fumes will not be released. It is oven safe and is amde of sturdy aluminum body.
Key Features
Made of non toxic Thermolon ceramic non-stick
STAY COOL SOFT GRIP HANDLE
Easy to clean
Comes in variety of colors
Buyers Feedback
Pros
Absolutely toxic free material
Soft handles with cool grip
Can be used in oven
Dishwasher safe
Shop GreenLife Ceramic Non-Stick Cookware Set
Buy on Amazon.com Buy on Amazon.in
6. Rachael Ray Cucina Cookware Set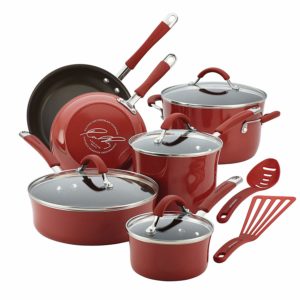 The cookware set by Rachael Ray cucina Hard enamel Nonstick has a modern rustic design which is made of sturdy hard porcelain exteriors and durable aluminum. ALl th sets are easy-to-use with user friendly functionality and time-saving solutions. It has Rubberized stainless steel handles on the pots and pans are dual riveted for added strength and shatter-resistant glass lids seal in heat and moisture. This cookware is suitable for all stovetops, except induction.
Key Features
Great user friendly functionality and design
Available in different modern colors
Durable aluminum construction and sturdy porcelain enamel exteriors
Comfortable and stylish handles
Buyers Feedback
Pros
Easy to clean
High quality material
Stylish modern look
Dishwasher safe
Cons
Not Induction safe
Cannot cook food on high heat
Shop Rachael Ray Cucina Cookware Set
Buy on Amazon.com Buy on Amazon.in