"Coffffeeeeeeeee… I need coffee !!! ", that is the first thing that pops in the minds of some people in the morning. And even though I am not one of them, I can still appreciate the importance of someone's morning caffeine intake to start off the day :). Well today's blog is all about coffee, but with a very small and simple twist, and that is… Coffee in 5 minutes, and that too… anywhere. Coffee that you can just dip and you are ready to sip your first drop of refreshing tasty coffee within 5 mins with no hassles like grinding the beans, complex brewing methods, setting up the coffee machine, etc. Here we are going to talk about our very own "Sleepy Owl Coffee". So we basically did a thorough research and compiled all the details to provide to you the best unbiased Sleepy Owl Coffee Review for all you coffeeholics out there. So I hope you enjoy.
About Sleepy Owl Coffee
So this is basically a startup which started from a group of 3 friends, Ajai Thandi, Ashwajeet Singh and Arman Sood, in the year 2016 based out of Delhi and only focusing on gourmet coffee in the Indian market. They also were able to get huge investments of a few crores (in Indian rupees) to make their plans work and cater to markets all across India. All the 3 friends came from a corporate background with everybody having nice stable jobs but no satisfaction (the usual stuff). So not to go into the entrepreneurial back story of this startup too much, they just ended up having the same idea to make sure that the Indian people have an easy convenient way to enjoy a fresh high quality coffee in their homes without any fancy coffee maker or any additional appliance or utensils. And I believe they struck a cord and now are actually able to sell different version of the high quality coffee they were thinking about.
Types of Sleepy Owl Coffee
1. Hot Brew Coffee – Brew Bags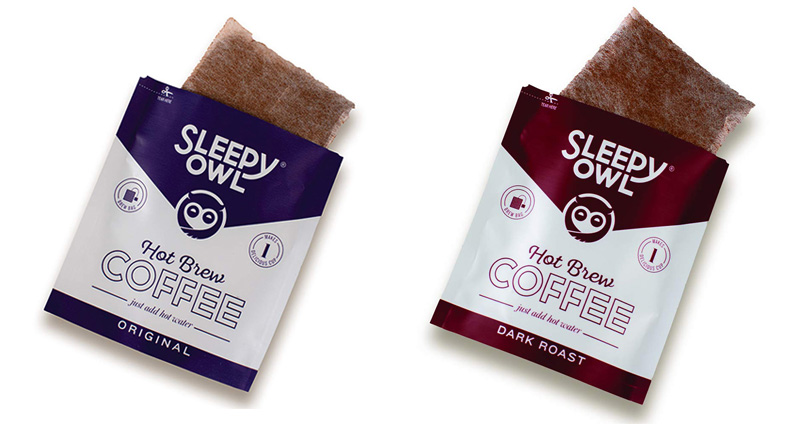 These are simple dip dip coffee bags, just like the tea bags but a bit bigger in size. Just add hot water in the cup and dip the brew bag in the water and it will be ready in just 5 minutes. it is made from 100% Arabica Coffee and one single Brew Bag can make one cup only.
They come in 2 different flavours : Original & Dark Roast.
Buy Sleepy Owl Brew Bag Original Buy Sleepy Owl Brew Bag Dark Roast
2. Cold Brew – Brew Packs

You just have to brew your coffee overnight, 100% Arabica coffee and each bag converts into 3 cups of cold coffee. It has low acidity and lower levels of bitterness as well. It will stay fresh almost for a month when kept in the fridge.
They also come in 2 flavours : Original & Dark Roast.
Buy Sleepy Owl Cold Brew Pack Original Buy Sleepy Owl Cold Brew Pack Dark Roast
3. Cold Brew – The Bottle

Then you have the ColdBrew Coffee bottle with just coffee, milk and a tiny bit of sugar in it, and also doesn't have any preservatives. Same features as the Brew Packs, has low acidity and low bitterness. Should be kept int he fridge as well and best served chilled of course. Total 80 Calories per Bottle.
This also comes in 2 flavours : Classic & Sweet
Buy Sleepy Owl Cold Brew Classic Buy Sleepy Owl Cold Brew Sweet
4. Cold Brew – The Box a.k.a Coffee on Tap

This is a carton which has 10 cups of cold brew coffee, ready to drink from a tap which is attached to the box for ease. Just 100% Arabica coffee with no sugar & no preservatives, and can be kept fresh for a month when kept in a fridge. Another good thing about this is that it can be had with ice cubes as well as you can heat it up and have it like a normal coffee. It has a punch to it but isn't that bitter at the same time.
The only drawback with this is that it is only available in the Delhi NCR area for delivery 🙁 For other places in India, you need to check out the Cold Brew Packs & Cold Brew Bottle. Therefore it is also not yet available on Amazon.in. To buy this one (only for Delhi people) you can order it from their official website.
How to make Sleepy Owl Coffee – Hot Brew ?

Step 1 : Place one Brew Bag in a normal sized cup. Add 250ml of hot or boiling water.
Step 2 : Dip it a few times to activate brewing. Leave it for around 5 minutes.
Step 3 : Have it black with nothing else, or add milk and sugar to your liking.
How to make Sleepy Owl Coffee – Cold Brew ?

Step 1 : Place a Brew Pack in a jar. Add around 500ml of normal or cold water.
Step 2 : Let it brew 12 to 24 hours. The longer you brew it, stronger the coffee.
Step 3 : Now have it black with ice cubes, or add milk into it, whatever suits your taste bud.
Sleepy Owl Coffee Subscription
You can opt for a "subscription model" as well for 3 of their products – Hot Brew bags, Cold Brew Packs and the Cold Brew box (only in Delhi). You can only opt for this subscription option from the official website, not from any other online marketplace like Amazon. You can order different quantity packs or bags to be delivered at particular intervals like 1 box every 15 days or 20 days or 30 days. And this option is given for all these 3 mentioned products just above except the cold brew bottle.
Sleepy Owl Coffee Cancellation & Returns Policy
Once you have placed the order, you can cancel the order within 24 hours from the time of order. If you have already made the payment, and it needs to be refunded, then that would be processed via PayU within 2 working days. The company only takes back the defective and damaged products when returned, and that too within 4 working days from the actual day of delivery.
Sleepy Owl Coffee Contact Details
Their customer support is available from Monday to Saturday, 9am to 5pm IST (Sunday is closed).
You can connect with them over the phone on this number +91 7303111226. And you always drop an email to them anytime, on hello@sleepyowl.co.
Their social presence is also given below
Facebook : @sleepyowlcoffee
Twitter : @sleepyowlcoffee
Instagram: @sleepyowlcoffee
Sleepy Owl Coffee Review – Final Conclusion
So I am quite happy to say that I would genuinely recommend this since it is something new for us Indians and since it is quite affordable and very easily available across the country, atleast most of their products through Amazon. I also feel they have done a great job in designing their website and also have provided all the important information in the most user friendly way for any kind of customer. They cater to all kinds of coffee enthusiasts with different packaging styles, multiple flavours, different quantity and also convenient to use when bought. So it should be a hit with the Indian people especially they can try it out, by just ordering online and taking and sip to know if they like it or not, at a very affordable price range.