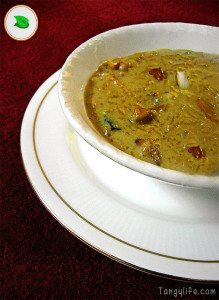 Nolen Gurer Payesh or rice pudding made of palm date jaggery, is a traditional Bengali dessert mostly prepared for celebration or any festive occasion amongst Bengali community.
Bengali desserts are so famous, especially chom chom and rasogulla , but Bengal is not just restricted to these sugar syrup dipped Mithais (sweets), but even the other deserts do take your breath away. Every house does make a bowl full of this traditional dessert on every occasion like Durga Pooja or Bengali new year. A Bengali new year is incomplete without Nolen Gurer Payesh because at this time harvesting of crops is done in Bengal and how can a rice pudding not be a part of it.
Nolen gurer payesh is nothing but Indian or Bengali style Rice Pudding, made by boiling milk, Basmati or any aromatic rice and sugar or jaggery (preferred). Payesh is the Bengali term of Kheer (in hindi). Date Palm Jaggery has a nice Smokey flavour and its caramel color makes the Payesh even more beautiful and tasty.
There is lot of hard work to get this traditional authentic jaggery. To get the Khajur and Khajur ka Ras one has to climb all the way up in the coldest winter morning dawn because the sap of the date palms is best during the winter months and that is the reason we get this jaggery around this time. I have never had Khajur Ras but the Khajur gurer is indeed mouth melting and tastes better than cane jaggery. I hope someday I get this chance to actually see and taste when it is poured out from the tree and collected. It will give such fresh feeling. Nolen gurere Payesh can also be made with sugar but Khejur Gur er paayesh is just heavenly. Try it when it is cooled and then it will actually taste like cool caramel pudding.
Serves:
4 people
Preparation time:
10 mins
Cooking time:
20 mins
Level:
medium
Tip: Adding sugar or jaggery before the rice has boiled hinders it getting cooked properly.
Tip: If you soak the rice for 3 to 4 hours it will reduce your cooking time.
Tips: Use Gobind bhog or basmati rice.
Tip: It's not necessary to use green cardamom, bay leaves and cinnamon to this delicacy as it might supress the flavour of nolen gurer.
Ingredients for Nolen Gurer Payesh
2 handful Fragranced Rice soaked into cold water for an hour(I used Basmati)
1 litre whole milk
1 large Bay leaf
1 stick of cinnamon
3 to 4 crushed Green Cardamom Pods
1/2 cup Palm dates jaggery
Chopped Nuts (raisins, almonds, cashew) for garnishing
2 to 3 Tablespoon Shredded coconut (optional)
Directions for making Nolen Gurer Payesh
Pour Milk in a boiling pan, usually a deep heavy bottomed pan. Keep stirring till its boiled so it doesn't get stick to pan bottom.
Add Bay leaves, crushed cardamom and cinnamon stick..
Wash the soaked rice, drain the water and then smear the rice with a little ghee
When the milk come to a boil add the rice. Keep stirring frequently else the milk might scald the bottom of the pan as it thickens.
After some minutes check if the rice is done. When the rice is cooked add milk consistency has thickened, take off from flame and add Khajur Jaggery and stir well.
At last add your chopped cashew, raisins, almonds and if you want to give more thicker consistency add shredded coconut too.
And here I would say Serve Cold, It tastes better that way.