Summary
MyBottleShop provides some of the best online liquor brands including Beer, liquor, Wines, Spirits, sparkling Drinks, Cocktail Mixers and so many beautiful miniature liquor bottles. One of their best feature is its duty-free exclusive drinks that you can grab just like the airport duty free prices.
About MyBottleShop
Excess of everything is bad, even more so for Mary Jane. The good old 250 ml of wine is definitely good for your heart (and soul) but make it massive and next thing you know is your worst nightmare. The key to a balanced drinking is to when and where to stop. On that note it would not be an underestimation to say drink "less but drink good." My bottle shop was born out of this philosophy of serving you the best in business.
By having unique, small batch and limited edition MyBottleShop is flourishing with over 100,000 subscribers. Drinking, as is class, an experience in its own accord. You drink better, you feel better. Previously, the industry has been dominated by large-scale manufactures, which was fast but lacked uniqueness. Keeping that in mind MyBottleShop preferably curates its drinks from small-scale brewery, family owned farm distilleries to maintain and appreciate the craft.
Started by Steven Rider, a unique drink enthusiast, in 2014, MyBottleShop it is not about just filling your bar shelf, but making drinking best of its kind experience.
How To Shop From MyBottleShop?
Ladies and gentleman, when I say drinking is an experience, I really mean it. Like anything else there is a plethora of brands that practically offer gazillions of drinks.
Drinking, people, is not about gulping down several pegs in one shot. It is about savoring each and every note; a multi-sensorial experience if you will. Now if you are pro at selecting what goes on your bar shelf, and what goes with what kind of food, you're pretty much sorted. But if you're new to it, and would like to explore it you're reading the right kind of review.
Sign up now to get offer on the first order
MyBottleshop categorizes its drinks in accordance with their taste, astringency and notes.
1. Spirits
Hardest in alcoholic content, they're also known liquors. Most of pure Alcohol falls onto this category, around 40% alcohol by volume. It is flavored but is always unsweetened – think Jack Daniels or Cognac. This category also carries, Absinthe,
Just in case if you're new to this, term Absinthe is anise flavored alcohol, which is rich in flavors and is derived from botanicals.
2. Liqueurs
Traditionally made from various spirits, flavored in various ways, Liqueurs are spirits that have been sweetened – think Chocolaty, Crème de cacao. Mostly used as post- meal beverage, they can easily be categorized as dessert beverages. Mostly categorized in two ways in French / Italian:
Apertife / Apervito
– Pure spirits that are known to stimulate appetite, a lower ABV beverage traditionally taken before a meal, flavored in a variety of ways but usually lighter and drier in flavor profile
Digestif / digestive
– Light in flavors, pure spirits with a lower ABV, they are consumed post – meal to help in digestion. They are usually flavored with herbs and spices.
Nonetheless they're the same what they call cordial in rest of the Europe, with an exception of England where you should expect a non-alcoholic beverage when asked for a cordial. Liqueurs in their simplest form are nothing but Sweetened alcohols that can be drunk as Digestif or Apertife depending on the timings. They generally consist of Bitter Liqueres or Amaro, as called in Italian, A brandy or a fortified wine.
3. Beer and Cider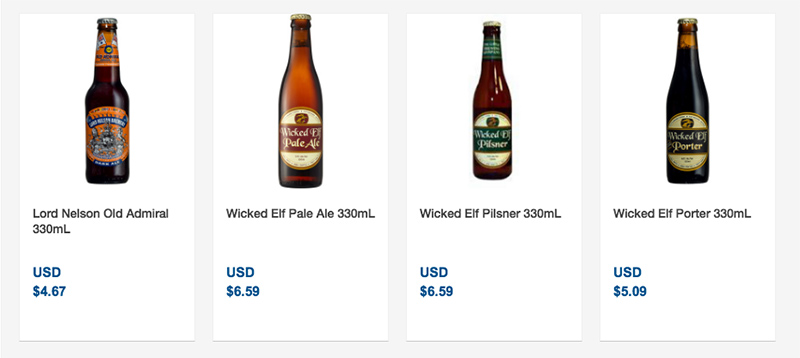 Very low in alcohol content, My Bottleshop stores some of the most unique and handcrafted frothy magic. Beer can be judged by various of its characteristics, some of it as follows:
Aroma – Malt, Hops, etc.
Appearance – Color, Clarity and Head etc.
Flavour – Bitterness, sweetness, etc.
Mouthfeel – Astrigency,Smoothness, Dryness, Acidity etc.
Ingredients – Added ingredient for specific taste.
You can, infact purchase books on beer, at Mybottleshop, to expand your horizon on beer to make it worth the experience.
4. Wines
'Liquor, Beer and Spirits' starting from $7.99
Wines are heavenly, and epitome of drinking experience, so much so, that there are stores solely dedicated to this Spirit. In the spirits (pun intended :D) who does not want to go wine and cheese tasting at least once in their lifetime? Although, easily a rendezvous of romance, a conflict between your personal style and the wine you choose has a highly likelihood of being an ugly breakup. That will keep you away from trying the greatest of the wines that would easily flourish into a long and happy relationship. Anembodiment of sensorial endeavors, great wines never go out of style. Premium quality wines are defined by five ways:
Sweetness
Acidity
Tannin
Alcohol
Body
5. Champagne
What's a celebration without good ol' bubbly? Champagne and celebrations go a long way back. Brought to you from the lush vineyards of France, Champagne is a kind of sparkling wine, which was regal during the 17th, 18th and 19th century. During the late 19th century it saw a rise in consumption by the middle class thanks to its association with royalties and nobilities being promoted as the key factor. Champagne is usually created with finest French grapes of Chardonnay, Point Noir or Pinot Meunier. Essentially, there has been an ongoing battle on the term Champagne to be specific for the sparkling wines specifically created in the Champagne area of France. On that note, may we suggest Moët and Chandon's Imperial Brut 3 liter Jeroboam. Created by one of the most famous Champagne brands, this bottle of bubbly has just the right notes of green apple and citrus fruits along with the nuttiness of blond notes.
6. Mixers
Mixers come handy, when you want to get the taste of full bodies spirits but really don't enjoy that much ABV. They are, in a nutshell, nothing but non-alcoholic cocktail mixes used to add on flavors to a drink. Usually used to dilute the ABV of a spirit, changing the consistency, texture, astringency etc. They can also be used for the purpose of aesthetical changes of a drink. It consist of variety of beverages, Ice Tea, Ginger Ale, Diary Products, to name a few. For instance a concoction of Coconut Milk and Pineapple juice is used as a mixer with rum a spirit to make PinãColada, a famous cocktail from the tropical lands of Puerto Rico.
7. Minis
You can also shop mini bottles of all the aforementioned drinks at My Bottleshop.
8. Bitters
Not much different from Mixers, but they're highly flavored.
9. Gifts
Know any Spirit enthusiast, or are you going to a wedding or a party of someone who likes to collect wines? You can gift them some of the fantastic gift packs that My Bottleshop has to offer.
10. Everything Other Than Alcohol
Although primarily, a drinks shop, Alcohol is not all that they sell there on MyBottleshop. You can buy Merchandise exclusive to the store. The brand was created with the intention of serving you the best, and they do deliver. They offer various offers and opportunities on their website so you get every penny's worth that you spend. The brand has promotional gifts, which you can get for a specific dates. It includes limited edition spirits along with some of the rarest finds. You can try out Jack Daniels 150th anniversary limited addition 1 litre or a good ol' irish classic of Guinness Draught a pack of 6.
The store offers deals on selected spirits from time to time, which in my opinion are to die for. With their selection of books it is a tremendous place of its own league for everyone who is looking for hosting a fabulous party or is simply adrink enthusiast.
You can get any bottle of your bottles engraved and make the gift worth the expression quite literally! Celebrities and Alcohols are synonymic to each other, and I do not mean in a bad way. You do remember the infamous Champagne Bathe of Marilyn Munroe, right? There have been immense incidents of Spirits being endorsed by celebrities and brands creating a signature drink inspired by any famous celebrity. Jack Daniels Sinatra Select 1 liter; curated specifically inspired by its friendship with the legendary Singer Frank Sinatra.
Craving collector's edition anyone? There's an entire category dedicated to Limited Edition bottles of various brands. If you're into this, you'd know how difficult it is to come by Limted Edition bottles that are not counterfeit pieces. Good news, is definitely in, because you can now sell those. Although you must ensure you have a license to sell that.
My BottleShop site has certain unique features; the most noteworthy one being its duty-free exclusive drinks. Who knew you could get those damn slashed prices out of airports? Many of these drinks are exclusive to airports. My suggestion is grab the best before it's gone.
MYBOTTLESHOP Pros and Cons
Pros:
They offer timely deals, slashing price for as less as possible.
With their books on beers, you can be sure toe expand your intellectual horizon on drinking as an experience.
Duty-free alcohols, otherwise exclusive to international airports, is a unique feature of the brand.
Gift packs and engraving make MyBottleShop a must stop for those looking for gifting.
If you have collector's edition bottle andwould like to sell it, you can do that at My BottleShop.
Easy-to-use website
Hassle free shipping and return policies.
On Joining MyBottleShop club, you will receive a bonus of $20. You will also be eligible for special prices exclusive to members. You will also be notified about the latest launches and limited edition products.
They always ask for an ID, which implies that they're careful of who they're selling their drinks to.
Cons
Hmmm… None for me!!
MyBottleShop Contact Details
You can contact MyBottleShop through following means:
34D Fitzroy Street Marrickville NSW 2204 Australia
Customer Enquiries: customers@mybottleshop.com.au
Warehouse Enquiries: warehouse@mybottleshop.com.au
Wholesale/Dist. Enquiries: wholesale@mybottleshop.com.au
Head Office Phone: 02 9516 3816 Customers please use 1300 hotline or LiveChat
MYBOTTLESHOP Shipping & Return
The store offers free shipping for orders above $200.
They use a range of couriers. Delivery will take 1-2 days for Eastern States and 3-5 days for the West.
Sydney Metro Same Day 2 hour or 4 hour delivery is available by Sherpa.
International Secure Shipping with DHL Tracking based on weight. All items are insured up to the value of $1,500 with an excess of $100.