Carrot Beetroot Kanji or Gajar Kanji is kind of a love & hate drink (as I call it) but traditionally it's called as Kanji. This old Indian Probiotic Drink recipe is one of the easiest fermented drinks you can make for an appetizing beverage and is extremely great for good health, especially for digestion.
I call it the 'love hate drink' coz it has a strong spicy and sour taste, so either you'll love the Kanji or just hate it. And if you tend to enjoy it, I'm sure you'll have more than just 2 glasses. This drink is pretty common at my Home during the festival of Holi.
During winters, black carrots are easily available in the market, then this Gajar ki Kanji or Carrot Kanji is the first thing which comes in our mind.
Kanji is made with simple ingredients like carrots, mustard powder, red chilli powder and black salt mixed with water. The mustard added to the Kanji helps in keeping the body warm in the chilly winters in Northern India.
Tip: You can also add some turnips to the Kanji to make it even more healthier, if you prefer.
The mixture is kept in the Sun & allowed to ferment in glass or ceramic jars for 5 – 6 days (obviously depends on the weather). If it's extremely hot, then maybe 2 -3 days are enough.
Kanji is a Probiotic drink as I said before and extremely good for the stomach. Fermented food like Idli, Dosa, Pickles and Yogurt are good for the body.
Tips:
The kanji does not have a very long shelf life and should be consumed within 10 days
You can use Black carrots that will give the perfect pink and purple colour to this drink but if it's unavailable just use the regular carrots with beetroot.
Try to store it in glass jars as the fermentation process works better that way.
Stir Kanji with a wooden spoon every day before keeping in sun.
Do not keep the jar in the sun, after it is ready.
Ingredients for Carrot Beetroot Kanji Drink
5-6 medium sized Dark colour Carrots (Gajar)
2 small Beetroots
8 cups water – approx 2 litres of water (boiled & filtered or purified)
1 or 1.5 teaspoon red chilli powder
3 tablespoon mustard powder (dry grind 2 or 2.5 tablespoon mustard)
Black salt as required
1 teaspoon Roasted cumin powder
Method for Carrot Beetroot Kanji drink
Rinse and then peel the carrots and beetroots.
Cut both carrots and beetroot into 7cm / 3″ pieces, not too thin just like how you cut finger chips.
Boil the water and add carrots and beetroot pieces to it.
When the water comes to a boil again, shut off the heat and leave to cool.
Add the salt and the mustard powder, Cumin powder, Red chilli powder and transfer into a jar with a lid, and keep this in the sun, to mature.
In sunny weather, it takes 5 – 6 days, for the taste of the mustard to become strong. When the kanji tastes sour, it means the drink is fermented.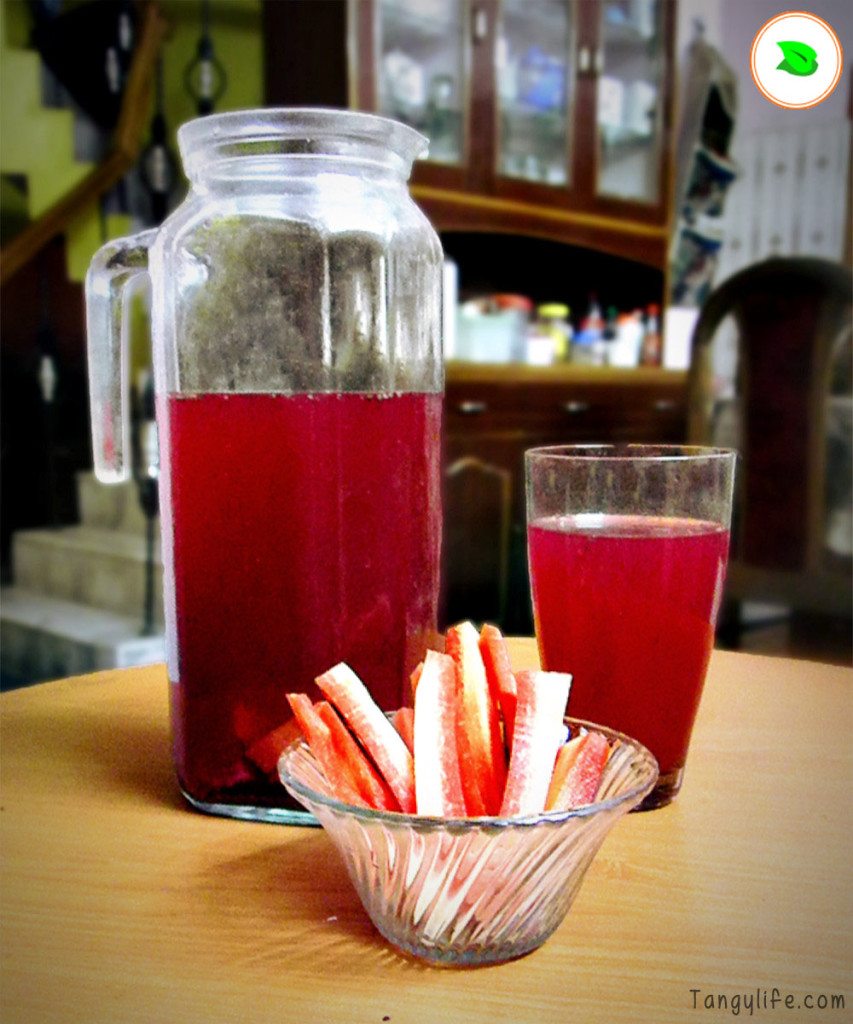 Even though we are amateur food photographers, but we never miss a chance to appreciate the magic a photograph can do for the content written… and I would love to give credit to SinfullySpicy.com for amazing set of clicks for the same carrot beetroot kanji recipe 🙂