Its been 10 months since the outbreak of the deadly COVID 19 and we humans have adapted and changed our style of living in every corner of the world by following WHO guidelines of cleaning our hands with alcohol-based sanitizer or hand wash and regularly wearing face masks or face Shields in public. To protect ourselves from this contagious infection its important for everyone including babies, toddlers or kids to wear a face mask whenever they are getting exposed to human beings in school, hospitals or any small or large gatherings. In a few countries, children have started going to schools raising a big doubt before parents about their kids' protection. In this blog, we have tried to cover the importance of wearing face shields for kids and have picked a few of the best face shields for kids available on Amazon that you can buy.
Importance of Face Shields for Kids for Virus Protection
According to experts, 'Face shields are better protective equipment than a face mask in a classroom full of kids'. The face shields can be very helpful for children to prevent transmission of the virus through eyes also as face masks can only prevent virus transmission through droplets from being inhaled by mouth or the nose, but gives no protection if the child touches his or her eyes which is again a mucosal surface.
Another reason to choose face shields over face mask for kids is that the face is visible in face shield thus making communication easier for kids.
According to the Centers for Disease Control and Prevention recommends all children over the age of 2 and above to wear a face-covering while in public however convincing the young children to comprehend with this new system of living during the pandemic is another set of challenges depending on a child's age. Most of the Pediatric doctors advised parents to acknowledge this challenge and make them get used to wearing masks and shields by making them interested in it.
How to choose Face shields for Kids
1. Face shield for Babies and toddlers (age group 2-4 years)
This age group is the most difficult when it comes to explaining the importance of wearing a protective face shield so the best way is to make the entire family members wear it in front of them and they will want to wear a mask too.
Also, the style, design matters a lot at this age. You can choose a design that is attractive, child friendly and easy to wear.
You can make these age group children wear shield by making it a fun game and choosing the face shield design that is colourful and can be related to things they recognize will surely make them happy to wear it like cartoon characters, animal prints, toys, facial expressions etc.
In any way, if the toddler feels frightened or scared with the shield or mask you can show other kids wearing it or put it on their personal soft stuffed toys face or older siblings to make it a fun-filled game.
2. Face Shields for kids in kindergarten to second grade (age group 5 to 7)
This age group of kids can talk as they are smart enough to understand what's going around in their surroundings and we as the parent have the greatest impact on their mind. You can explain to them the importance of wearing mask or shields will help them fight germs and how they can protect themselves and their friends from getting sick which will motivate them to be responsible and do it more. Kids at this age are compassionate, have a firm understanding of rules and they are learning to do the right things and so this trick will surely help.
3. Face Shields for elementary school kids (age group 8 to 12)
The children in this age group are quite older to understand the situation in the world and so parents of elementary school-aged children can be clear and factual in explaining things. The conversation about wearing face shields can be more like a suggestion to them like how to they help their community by following the easy steps. You can also encourage them by letting them make their face masks or shields by facilitating ownership or you can give them options of choosing their attractive face shields available in with picture their favourite superhero or colours.
Overall whatever the age group of the child is if we encourage them with explaining them the right thing and modelling the behaviour of how they can be a responsible citizen they will know the importance of maintaining social distancing or wearing a face Shield to protect themselves and others.
We have picked up few of the best face shields for kids available on Amazon that are quite attractive and child friendly, give full face protection, comfortable to wear and so surely kids won't hesitate to wear them.
Our pick for the Best Face Shields for Kids
Here is a detailed review of the best face shields for kids available online that we have chosen after considering their features and user reviews so check out below.
IMPORTANT NOTE:
– All the products listed below are subject to availability due to the lock down / Corona crisis around the world.
– Please do keep checking every few hours for the availability of the products on these e-commerce platforms.
– Please ONLY order the amount/quantity which you really require so that other needy people may also get a chance to buy it.
1. FatCat Wall Graphics face shields for kids

This face shield mask for kids by FatCat Wall Graphics is one of the best safety masks made of high-quality Polypropylene(PP) in kid-friendly design. The elastic headband is designed for kids head circumference which is soft, comfortable to wear and easy to put on or take off. It also has an adjustable elastic strap for a perfect fit.
Key Features
– Available in a pack of 6
– High-quality material
– Different cartoon pattern for boys and girls
– Full faceguard against dust, germs, droplets and pollutants
– Anti-fog coating
– Reusable
– soft breathable padding
Buyers Feedback
Pros
Attractive kid friendly design
Easy to use
Reusable and washable
Comfortable to use
Buy FatCat Wall Graphics face shields for kids
View on Amazon.com
2. ANNIE & PANDA Kids Protective Face Shield

The kids face shield by Annie & Panda is a transparent face protective cover with bucket sun protection hat. The face shield comes with dust and windproof safety cover made of high-quality plastic. This product can be washed in machine and air dried.
Key Features
– Available in a pack of 2
– High-quality material
– Light and breathable
– The full faceguard is waterproof, dust-proof and gives sun protection
– Attractive happy face design in a bright colour
– Reusable and machine washable
Buyers Feedback
Pros
Bright happy face design
Fisherman hat with sun protection
Anti Spitting Protective
Suitable for age 2 to 7 years
Cons
Only available in one color
Buy Kids Protective Hat Full Face Shield Bucket Hat for Children
View on Amazon.com
3. Cute Kids Size Face Cover Shield

This cute kids size face shield has covered all basic needs in a face shield. Its comes attractively wrapped up making kids excited and they will love it. The padding across the forehead is soft, comfortable and has an adjustable elastic band. Its plastic face visor gives full ace protection from saliva, droplets, fog, dust, splash and perfect for preschoolers, or any outdoor activities. Always remove the protective layer for clear visibility before using the face shield.
Key Features
– Protects full face from droplets and germs
– Very cute design
– Reusable and washable
– Suitable for age group 1-16 years
– Comes with comfortable sponge headband
– Adjustable elastic strap
Buyers Feedback
Pros
Nice cute design
Easy to wear
Reusable and washable
Comfortable and high quality
Cons
Please remove the thin protective plastic cover before using as its without instructions
Buy Cute Kids Size Face Cover Shield
View on Amazon.com
4. Kabake Protective Kids Baseball Cap with Shield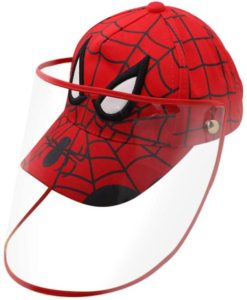 A unique superhero styled face shield by Kabake comes with baseball hat for those baseball lovers who can't stay indoors. The baseball cap comes in 3 different colours with Spiderman design that can be detached from the shield. The face shield material is made of high-quality PVC material with good transparency, waterproof and dustproof.
Key Features
– Removable Protective cover cap
– Available in 3 colours
– Anti-fog and anti-spitting
– Good transparency, water-resistance and dust resistance
– Soft cotton material
Buyers Feedback
Pros
Spider man character design
Easy to wear
Suitable for big kids
Comfortable and high quality
Cons
Not suitable for kids below 5 years due to big cap size
Buy Kabake Protective Kids Baseball Cap with Shield
View on Amazon.com
5. Coolest Shields Face Shields for Teens, kids and adults

The face shields by the name of coolest shields are available in at least 16 unique, attractive animal design and characters like bee, monsters, cats, dogs, dragon, princess, minions, astronauts, shark, Viking, unicorns etc. These reusable face shields are easy to wear, clean and amazingly interesting for kids.
The plastic used to make the shield is of high quality (MADE IN USA) that is designed to protect the full face from any droplets.
Key Features
– Available in 16 different animals, characters and colours
– Comfortable & Durable
– High-Quality Material
– Comes with a removable protective liner
– Easy To Clean
– Reusable
– Available in both adult and kids sizes
– Ideal for Pediatrician Office | School | Daycare | Summer Camp | Grocery | Retail | Dental Office
Buyers Feedback
Pros
Cute attractive design options for kids
Easy to use
Lightweight for kids
Suitable for 10 years and below
Very well-made of great quality
Cons
Little expensive than other shields
Buy Coolest Shields Face Shields for Teens, kids and adults
View on Amazon.com
Best Face Shields for kids for Virus Protection 2021 – Conclusion
All the above-mentioned face shields are quite popular and come in various attractive designs to make your kid like them. These face shields are made of high-quality material keeping in mind the kids' comfort and safety. Please encourage your kids to wear them so they can protect themselves as well as others from any contagious infection.
Also see more Personal Protective Equipment available on Amazon