Summers are here and everyone needs a refrigerator in their homes, offices or shops according to their budget or requirement. There are so many refrigerator options available online that vary in capacity, price, space, and size. The most affordable choice that takes care of all basic requirements is Mini Refrigerator/ Compact Fridges. At least all your beverage, water bottles can be taken care of by investing in this small tiny mini refrigerator and other food items can be taken care of by your bigger fridges. Loads of options are available in the market, and therefore sometimes becomes difficult to choose the best of all that adhere to all your daily needs. We have lined up the 10 Best Mini Refrigerators in India 2020 available online that will save you time and give you the most updated information with regards to their capacity, structure, quality, performance and also actual customer feedback till now.
Also read about:
Best Beverage Refrigerator Brands 2020
Best Double Door Refrigerators 2020
Our Best Picks of Mini Refrigerator in India
Best Compact Refrigerator
Best Mini refrigerators in India Review
The market is full of so many brands that offer varied types of refrigerators models. Choosing the right refrigerator can be tiresome as well as confusing so don't worry, we have compiled the latest models of the best mini refrigerator in India that will be perfect for your home, office and even car. So go through the Features of this mini-fridge and choose the best one for yourself.
1. Haier 52 L 3 Star Direct-Cool Single Door Refrigerator

Haier 52l single door refrigerator is both economical as well as space-saving. Haier single door refrigerator is equipped with Anti-fungal removable gasket and mechanical control system. Designed with a PCM finished single door which effectively seals the cold air inside, this refrigerator is perfect for every household and gives a premium look and style. It comes with a 3-star energy saving certification which means it consumes less power and electricity hence saving your money.
Capacity – 52 litres
Buyers Feedback
Pros
Three star energy saving certified
Mechanical control system
Compact and stylish
Effective cooling
Manual defrost with adjustable thermostat
Freezer compartment with ice cube tray
Cons
Not suitable for large bottles and items
Lacks automatic temperature control
2. Mitashi 52 L 2 Star Mini Refrigerator
The Mitashi Mini Refrigerator is a 52 liters compact size fridge that comes at an extremely pocket-friendly price. This fridge is great for small families, offices, bedrooms, bachelors or for hostel rooms. It is equipped with all necessary features and ensures faster cooling because of its direct cooling system.
Capacity – 52 litres
Buyers Feedback
Pros
Direct cooling system for faster cooling
Elegant color and design
Lock and key feature for safety
2 star energy rating
Manual Defrost button
Stabilizer free operation
1 year warranty
Handy and Portable
Cons
Their is no interior lights
View on Amazon.in View on Flipkart
3.Whirlpool 46 L 3 Star Mini Refrigerator

The Whirlpool Mini Refrigerator offers unlimited food storage with the fastest freezing technology. It comes with a separate freezer section that can store all desserts. The most awesome part is it 7 adjustable cooling modes. It also comes with 2 door racks to store all types of food items in an organized ay. Its stabilizer free operation yet can withstand any voltage fluctuation.
Capacity – 46 litres
Buyers Feedback
Pros
Compact & Elegant
Maintains a consistent temperature
Keeps the food fresh for a much longer time
Direct Cooling system
Toughened glass door
Enough capacity for juices and tetra packs or bottles
Separate chocolate tray
3 star rating
1 year warranty
In-built ice maker
View on Amazon.in View on Flipkart
4.Godrej 30 L Qube Personal Cooling Solution
Godrej Qube Personal Mini Refrigerator is a perfect blend of aesthetical design, Color, and. It's an excellent choice for your office, guest room, bedroom, hostel room or even your car. It's a frost-free fridge with thermoelectric cooling technology that keeps the beverage and food fresh for a longer time. The dual LED light gives a clear inside view.
Capacity – 30 litres
Buyers Feedback
Pros
Dual LED lamp
Thermo electric technology
Easy Maintainence and service
Works on home inverter
Whisper silent operation
Cons
Ice and freezer option not available
View on Amazon.in View on Flipkart
5. Haier 62ltr single door refrigerator
Another great compact refrigerator from the house of Haier. With the capacity of about 62 liters, this refrigerator is perfect for small families. Haier single door refrigerator employs the use of a reciprocatory compressor which makes it easy to maintain and economical. You can save up to 20% electricity with this two-star energy certified refrigerator. Haier single door refrigerator consumes less electricity because of its direct cool technology.
Capacity – 62 litres
Buyers Feedback
Pros
Built in stabilizer to deal with voltage fluctuations
Wide range reciprocatory processor
Less noise
Compact and elegant
Flush lock
Easy to maintain and economical
Cons
No child lock
No wheel support
No freezer lights
No flexible racks
View on Amazon.in View on Flipkart View on Amazon.com
6. Tropicool compact refrigerator
Tropicool refrigerator is compact and portable. This cute little tropicool refrigerator has a capacity of 5 litres which is suitable for a single person. Based on thermoelectric technology, this refrigerator can cool down to 23 degrees Celsius below room temperature. This portable fridge is a very versatile product ideal for medicines, fruits, baby food, etc and it also holds 2 bottles of 500ml. You can also use the heating feature to warm up the food anytime you want.
Capacity – 5 litres
Buyers Feedback
Pros
Supports both cooling and heating
Portable & compact
Thermo electric cooling
Magnetic doors
Cheap and versatile
Used as car fridge
2 in 1 chiller plus warmer
User friendly & maintenance free
Cons
Small capacity
No built in stabilizer
View on Amazon.in View on Flipkart
7. AISEN 100L 2 Star Direct Cool Single Door Mini Refrigerator

Suitable for small families, Aisen 2 star mini refrigerator is a stabilizer free operation with 100 liter capacity. its Ideal for dormitories, gyms, offices, etc. The 2 star rating makes it energy efficient.
Capacity – 100 litres
Buyers Feedback
Pros
Compact and sturdy
Suitable for small families
Effectice cooling
Easy to maintain
Toughened Glass body
Multiple Shelf Adjustment
Removable Anti-bacterial Gasket
Pink Spacious compartment
Cons
No automatic thermostat control
View on Amazon.in View on Amazon.com
8. Godrej 99L 1 Star Direct Cool Single Door Refrigerator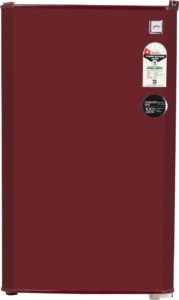 Beautifully designed compact single door refrigerator from the house of Godrej with great features. Its compact nature and sleek design is ideal for small families and bachelors. The direct cool technology ensures that this fridge functions at energy-efficient levels.
Capacity- 99 liters
Buyers Feedback
Pros
Compact and elegant
Large space
Direct cooling technology
High efficiency compressor
In-built stabilizer
fast cooling mechanism
Wired rack and spacious bottle space
View on Amazon.in View on Amazon.com
9. Koryo by Big Bazaar 45 L Direct Cool Single Door Refrigerator
Korya Mini Refrigerator is Ideal for Mini-Bar, Bedroom, Guest rooms, hotels, bachelors and small families. It's durable as well as compact. It comes with wire toughened glass shelves and a cool pack that can maintain the temperature for long periods when there is a power cut. It ensures you a hassle-free and convenient experience.
Capacity – 45 liters
Buyers Feedback
Pros
Toughened Glass Shelves
Includes ice, Egg tray & Drip tray
Eco Friendly Refrigerant
Stabilizer free operation
Lock and Key option
Good capacity and space
5 Years warranty on Compressor & 1 year on Product
View on Amazon.in View on Flipkart
10. LG Direct Cool Refrigerator

With powerful cooling technology, steel material, door lock control options, and frost-free defrosting system, this compact fridge from LG is suitable for small families, gyms, hotels, offices, and hostels. It also comes in a very vibrant premium design which adds a unique touch to your home decor. As an add-on, a separate compartment for ice is also provided which definitely makes it easier for people to store ice for parties and gatherings. Extremely easy to operate and maintain, LG refrigerator is quite a good product in its segment of compact refrigerators.
Capacity – 45 liters
Buyers Feedback
Pros
Compact and elegant
Easy to operate
Easy to maintain
Separate space for ice trays
Frost free defrosting system
Powerful cooling
Strong and durable
Door Lock for security
Cons
Small space
No built in stabilizer
Expensive