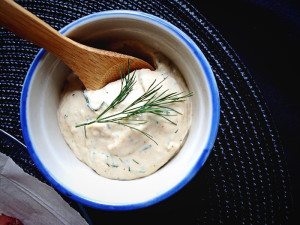 Tahini sauce, is an inseparable part of middle eastern cuisines. Tahini basically means a paste of roasted sesame seeds. The paste is widely used to make salad dressings, dips and sauces.
Tahini sauce is thinner and used in pita sandwiches, marinades, and dips. Tahini sauce is very easy to make. Store it in an airtight container in the refrigerator and it will keep for about two weeks.
This traditional Middle Eastern sauce is served as a common menu item in Israel and in Arab countries throughout the Middle East. The sauce is used as a condiment to accompany dishes like hummus, falafel and babaganoush. It can also be served alongside a kosher meat meal as a dairy-free alternative to cream sauce.
Middle Eastern stores sell pre-mixed tahini sauce. I do notice a big difference between store-bought tahini sauce and the home made one. The flavour of homemade is fresher, creamier and more delicate.
Ingredients for Tahini sauce
1/2 cup tahini (sesame seed paste)
3 gloves garlic, crushed
1 cup thick yogurt
1/2 teaspoon kosher salt
2 tablespoons olive oil
1/4 cup lemon juice
1 teaspoon parsley finely chopped
Directions for making Tahini sauce
For the Tahini Paste:
Roast the sesame seeds in a non-stick tava (griddle) on a medium flame for a few seconds.
Allow it to cool completely, transfer to a bowl and add the olive oil, lemon juice, garlic and salt.
Blend in a mixer to a smooth paste. Keep aside.
How to proceed:
Combine the curds and the prepared tahini paste in a bowl and mix well using a whisk. Mix in parsley. Serve immediately or refrigerate.

Featured image credit: Lovesbylara.wordpress.com
Content image credit: Dispatchesfromthegypsyroller.wordpress.com, Everydayfrenchchef.com