They say dogs are a man's best friend, and what's the point of having a best friend if you can't celebrate their birthday or buy them their favorite meatballs or dog friendly cheesecake every once in a while? I have compiled some famous Dog restaurants in the world where you can relax or just have a coffee with your puppy making him feel all special.
1. The Lazy Dog Restaurant and Bar
Location: Across USA
The Lazy Dog is a place where pets and their families meet over great coffee and food with all dog-themed eatery, cozy surroundings, pet-friendly seating and an eclectic menu.They had a few ground rules for the dogs: canines must always be kept on a leash, need to stay on the floor and not sit on your lap or in a chair, and aren't allowed to bark, beg or bite. Fair enough. It seemed like all the dogs in the patio were just as chill as Cali and Ender that day. Lazy dog, indeed.
Their food menu titled "Bone Appetite" offered a few items for dogs: plain brown rice for $1.95, a grilled chicken and brown rice plate for $4.95, and a grilled hamburger patty and brown rice plate for $4.95. None of the dishes have any seasoning, which is good for dogs since they're usually on bland diets. This is one famous dog restaurant which has healthy food choices for your pups.
Watch an inside look of this famous dog restaurant

2. The Dog Bar
Location: Florida, USA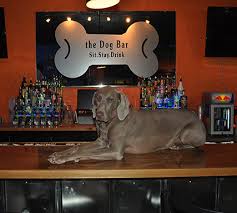 The Dog Bar is best described as a hybrid between a Doggie Day Care or private Dog Park, and a full liquor, beer, wine bar. This famous dog restaurant serves beer, wine and liquor and allows dogs of all shapes and sizes both indoors and out. All dogs are welcome, as long as they are well-behaved and are up to date on all of their vaccinations. They have a Dog play area and the Medium/Large Breed play area. Both are designed with astro turf for a cleaner and more comfortable play surface. They also contain swimming pools, doggie ramps, tunnels, and cots for lounging. These areas will have a Dog Park supervisor on site to ensure the safety of your dog.

3. In 'N' Out
Location: Irvine, California, USA
If you are lucky enough to live near an In 'N' Out, you can order your dog a "pup patty," a plain hamburger patty without the salt, put in its very own doggy bag for your furry best friend. In 'N' out is famous among dogs for serving this patty. Checkout this famous dog restaurant with their favourite Pup patty below.

4. Shake Shack
Location: New York , USA
A restaurant chain in the Eastern United States has canine cuisine right on the menu. They have delectable offerings like the Pooch-ini, which is ShackBurger dog biscuits, peanut butter sauce and vanilla custard or the Bag O' Bones, a bag of five ShackBurger dog treats.

5. The Nauti Dawg Marina Café
Location: Florida, USA
If you are headed to Lighthouse Point, Florida, you must stop at The Nauti Dawg Marina Café. They have a "K9 Cuisine" menu just for dogs, including several dishes served in a dog bowl. Some choices include bacon, chicken breast, Mahi fillet, and even skirt steak.
6. Moss Beach Distillery
Location: California, USA
This fun restaurant, located in Moss Beach, California, has a full doggie menu with everything from kibble to a $16 skirt steak served at their dog friendly patio.

7. Starbucks
Location: Worldwide
On their "secret menu," Starbucks has a Puppuccino. It's an espresso-shot-sized paper cup full of whip cream. Some dogs are bothered by dairy, and your dog should probably not have one of these sugary treats every day, but for special occasions it's fun.It's hard to resist a drink with a great pun, like Starbucks 'Puppuccino'.

8. The Dining Dog Cafe
Location: Pennsylvania, USA
The Dining Dog Cafe and Bakery is not a place where one goes to eat (or bake) dogs, fortunately. It's a restaurant for dogs, run BY dogs. Even the waiters are dogs and they bring you the food by pulling a little cart out to your table.The place is set up like a quaint little French bistro of some sort. They've got linen table cloths, nice place settings and very cozy décor. They have leash tie-ups at each table so you can keep your dog still if they're a little excited.
9. Mutt Hutt
Location: Worldwide
Started by two sisters, this pop up cafe was started for dog owners in Mumbai to feel more welcome in leisure establishments like restaurants and shopping malls. The cafe, that goes by the motto "even humans are allowed", hosts events like camping trips and doggie dates. Activities at such meets include photography, games, grooming, training and just an open space for dog owners to chill out in.
10. Cafe Canine
Location: Gurgaon, India
Situated 9 km from the Badshapur crossing, this pet friendly cafe offers an open space for dogs to run around and have a blast while socialising. Grooming and training tips are also offered on site. The cafe plans to start a doggie creche for families that plan to go on a much needed vacation.
11. Harley's Corner
Location: Mumbai, India

This was started by a couple who prepare and serve gourmet nutritious meals for dogs and cats. You can choose from mighty meals like Harley's signature feast made up of chicken, liver and vegetables served with brown rice flavoured with home made chicken stock and a special herb mix or treats like nuked hot dogs, magic meatballs and a variety of other dishes.
The 35-year-old Chandiok, a certified chef, has worked with JW Marriott and Hyatt and heads Kingfisher Airline's catering operations. With the airline now grounded, Chandiok turned his passion for food, combined it with his love for dogs and started a venture that is gaining acceptance with those looking for home-cooked food for their pets.

12. Paw Puppy Paw
Location: Mumbai, India
Not a restaurant or cafe, this service was started by a couple who deliver packed home cooked nutritious dog food for pet parents who are out of time to fix Fido or Tommy a decent meal. The meals are prepared as per your pooch's diet and include rice, mince and vegetables, all cooked in a specially made stock.
13. Puppychino
Location: New Delhi, India
Southeast Asian countries have a whole host of dog cafés, but it now seems the trend is spreading far and wide. After the US got its first dog café last week, Delhi can now boast of the same, the café will have a dedicated dog space for them to play in and the spot will also stock dog merchandise like leashes, collars, bows, treats and bandanas. Puppychino also has a special dog food menu, including the pancakes, muffins and whole meals to cater to the pets. They also promise delicious treats for the visitors, which will be a mix of Italian, Tex-Mex, American and Israeli cuisines.

14. The Dog Cafe LA
Location: Los Angeles, California, USA
If you love dogs, The Dog Cafe is about to become your new favourite joint. Play with pups as you grab your coffee fix, or catch up with friends over lattes, snuggling lap dogs. And if you fall in love with one? You're in luck – all dogs are rescues looking for their forever homes.


What are you waiting for? You have the list ready with all famous dog restaurants / cafe out there, so take your adorable doggy for a walk and let him have a cup of coffee with you this evening.
After going through all these famous dog restaurants list, have some laughs with this funny Dog dining video !

Featured image credit: Flickr.com